Ukraine, Poland Agree To Hasten Decision On Baltic Pipeline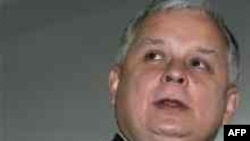 Polish President Lech Kaczynski (file photo) (AFP) 28 February 2006 -- The leaders of Ukraine and Poland pledged today to try to speed up a decision on whether to extend a Ukrainian oil pipeline to Polish Baltic Sea ports.
Polish President Lech Kaczynski acknowledged a lack of progress in the project after talks in Kyiv with Ukrainian President Viktor Yuschchenko. He said the two sides have agreed to complete a feasibility study within three months.
The project calls for the Odessa-Brody oil pipeline to be extended to Plock and Gdansk. The idea is to bring Caspian Sea oil to Poland for export to Western Europe.
(Reuters)