Russia May Ban EU Animal Imports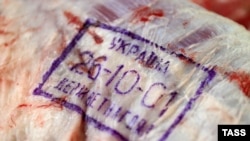 Meat from a number of countries, including Ukraine, has been subject to Russian restrictions in the past year (ITAR-TASS) November 22, 2006 -- Russia has told the European Union it could ban the import of animal products from the EU starting January 1.
The Russian agency charged with controlling farm production, Rosselkhoznadzor, said it could stop issuing licenses for EU imports if it does not receive guarantees about the safety of meat imported from Bulgaria and Romania. Both countries are due to join the EU in 2007.
Russia is reportedly concerned about swine fever, which remains a problem in both countries.
An EU spokesman, Philip Tod, said such a ban would not be justified.
Tod said Brussels has placed its own embargo on pigs and pork products from the two countries until October 2007 and that there is "no risk to the EU single market or to third countries."
The Russian threat comes amid a row between Russia and EU member Poland over a Russian embargo on Polish meat and a number of other food products.
(Interfax, AP)