As part of the attention to Russia, Finland wants to revitalize the EU's so-called Northern Dimension, an assistance policy for northwestern Russia launched in 1999, but losing impetus more recently. To do this, Finland wants to make the policy more attractive for Russia itself, while simultaneously working to secure it a permanent place within the EU.
Finnish History Of Involvement
With its 1,600-kilometer border with Russia, Finland is one of the European Union's natural proponents for a more active approach to the country.
"We want, we would be happy to see strengthened mechanisms, [and]
somebody to be the whip and the motor of the Northern Dimension policy
also when there is not a Finnish presidency ahead." -- Henriksson

The idea of the Northern Dimension was first floated by Finnish Prime Minister Paavo Lipponen in 1997, and gained full EU backing in 1999 -- when Finland last occupied the EU's rotating chair.
The EU has since supported a string of projects in northwestern Russia, mostly involving civilian and military nuclear safety and environmental protection. Its relatively modest investment of 225 million euros ($288 million) has secured total funds in excess of 2 billion euros ($2.6 billion).
But the project came close to stalling in the last couple of years as other, more distant EU presidencies lost interest and Russia felt it had too little control.
Active EU, Russian Involvement Needed
So says Maimo Henriksson, a senior Finnish official in charge of the Northern Dimension who briefed journalists recently in the small town of Kotka, just 50 kilometers from the Russian border.
Henriksson says Finland has worked for a year now preparing to breathe new life into the Northern Dimension. "What do we want? We want [the] commitment of all [the] parties," she says.
"We think we are very well on the way because of the decisions taken last year and the decisions taken by the last November's ministerial [meeting involving EU and Russian ministers]. We think we already see proof of that in fact by Russia actively taking part in the negotiating process," she adds.
Evolving Program
In the EU's driving seat for the next six months, Finland is now looking to draw up a short political document acceptable to both the EU and Russia setting out the policy's main goals. Henriksson said the main outlines of the document should emerge from an EU-Russian expert-level meeting in September. Final political endorsement is expected from the EU-Russia summit in Finland in November.
The main Finnish ambition is twofold. Firstly, to make a full partner of Russia. Henriksson says that with its international stature growing, Moscow has increasingly objected to "being treated as an object, rather than as a subject."
Secondly, Henriksson says, Finland wants to move beyond the short, three-year cycles of "action plans" which have determined the pace of the Northern Dimension so far, and need constant corresponding reappraisal.
Henriksson says Finland wants the policy to evolve into something more permanent. "We want, we would be happy to see strengthened mechanisms, [and] somebody to be the whip and the motor of the Northern Dimension policy also when there is not a Finnish presidency ahead," she adds.
Regional Interest Tug-Of-War
There is a constant tug-of-war going on among EU member states for attention and funding for what each individually feels should be the EU's external priorities.
Thus, Spain, Italy, and others have long since institutionalized a Mediterranean policy for their neighbors. Poland has appointed itself the advocate for Ukraine and Belarus, while other member states attempt to elevate the Black Sea region. The EU's resources, however, are not unlimited.
Apart from being politically significant to Finland and Russia's other EU neighbors, the Northern Dimension also has a more practical purpose.
The policy's environmental slant derives from the fact that Finland stands to suffer directly if something goes wrong in Russia, its immediate vicinity. Hence the proliferation of waste-water-treatment plants and other waste-management facilities under the Northern Dimension so far.
But Henriksson says Finland now wants to look further. Social and health issues are being pushed to the fore, too -- although she admits Russia and the EU have only "partly mutual interests."
"Environment is today one of Russia's fields of interest. It was not like that at the end of the [1990s], environmental issues were absolutely no priority [for Russia then]," she notes. "Social and health [issues are] still not a priority for Russia, it's more important for the EU. Transport, infrastructure...I would say transport [is] interesting for both parties [while] infrastructure is more for Russia, something that Russia mentions. The EU does not, of course, want to pay for Russian infrastructural projects."
Henriksson says Finland is determined to secure greater EU funds than has been the case so far for environmental, and health and social sectors in northwestern Russia. Concerns involving Russia's northern indigenous peoples are also increasingly prominent.
She says the Northern Dimension must become a "permanent forum" for northern issues involving not only the EU and Russia, but also Norway and Iceland -- and the United States as an observer.
Russia And The West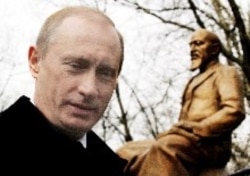 (epa)
COOPERATION, CONFLICT, CONFRONTATION: Relations between Russia and the West are notoriously volatile. "To see the kind of relationship that presidents Bush and Putin have developed and to see Russia firmly anchored in the West, that's really a dream of 300 years, not just of the post-Cold War era," then-national security adviser Condoleezza Rice said in May 2002.
But observers have increasingly called into question the extent of the shared values between Russia and the West, particularly on issues relating to the transformations going on in other former Soviet countries.
RELATED ARTICLES
Silent Diplomacy Versus Public Criticism
Analysts Say New Arms Race Unlikely
Moscow 'Unhappy' With Outcome Of CFE Conference
Moscow And Washington Spar Over WTO Membership
Russia Gears Up To Improve Its Image Abroad
Experts Urge U.S. To Rethink Relations With Russia
U.S. Official Says Russian NGO Law Part Of Antidemocratic Trend
ARCHIVE
To view an archive of RFE/RL's coverage of Russia, click here; to view an archive of RFE/RL's coverage of U.S.-Russian relations, click here.

SUBSCRIBE
For news and analysis on Russia by e-mail, subscribe to "RFE/RL Russia Report."