Poland's decision to resort to a veto has caused tensions within the EU and put under doubt the immediate future of the EU-Russia partnership -- which both sides consider to be of "strategic" value.
Behind the row is Russia's yearlong ban on Polish meat. Warsaw decided the Helsinki summit presents a suitable opportunity to force Moscow's hand. Moscow's failure to comply now means the EU and Russia will be unable to launch talks on a new strategic partnership accord to replace the current Partnership and Cooperation Agreement (PCA).
The Middle Path
The EU's executive European Commission is trying to chart a middle way between veto-wielding EU member state Poland and key partner Russia. Commission President Jose Manuel Barroso said today that the Russian ban on Polish meat imports, imposed on food-safety grounds, is an "overreaction."
Speaking before the collapse of the talks today in Brussels, Barroso said Poland's concerns were "legitimate," but also indicated jeopardizing EU-Russia relations was a failure of solidarity on Warsaw's part.
"Poland has some legitimate concerns and we express our solidarity with them. But they should do it, I believe it, in the framework of the European Union," he said.
The "European Union wants to go ahead with a Partnership and Cooperation Agreement that is more ambitious than the previous one, than the current one," he continued. "We believe the right way to deal with Russia is, of course, in a perspective of dialogue, sometimes a difficult dialogue, yes that's true, but a dialogue, to look at the points that exist, the good ones and not so good ones and to try to solve them in the spirit of cooperation."
EU Mediation
Barroso went on to say that he hopes that "Poland understands that the best way to defend its national interests is through a European position."
The compromise proposal now abandoned by EU ambassadors in Brussels would have guaranteed Poland full EU support in its struggle against the Russian ban, but also conceded the issue could not be settled before the summit.
The European Commission today offered "tripartite" talks with Warsaw and Moscow. Russia has earlier declined EU mediation offers. It has also upped the stakes by threatening a blanket ban on all EU meat and animal-feed imports from January 1, 2007, citing the occurrence of various contagious animal diseases in Romania and Bulgaria, which will join the EU on the same date.
Initially, Poland had linked its veto on new EU-Russia partnership talks with the liberalization of Russia's energy sector, but later dropped that condition.
Problems With Russia
Warsaw has the sympathy of some new member states, but most others appear to view the veto threat as excessive.
Latvian Prime Minister Aigars Kalvitis, whose country also has fraught relations with Russia, said today in Brussels that he believes dialogue, not ultimatums, are the right way forward.
"We [are] also [in solidarity] with Poland regarding their problems, but I could say that Latvia also has similar problems in trade relations with Russia," he said. "But our position is that it is necessary to start dialogue with the Russian government and in the process of dialogue only we can solve these problems. If you are not talking with them, then we will stay everywhere in [the same] position."
Latvia, Estonia, and Finland are all experiencing problems with heavy-goods vehicles trying to cross the border with Russia. Owing to Russia's problems in handling the traffic, lines of trucks in southern Finland are said to run to 40 kilometers and more.
Latvia and Estonia also regularly come under fire from Moscow for not granting citizenship to their Russian-speaking subjects fast enough. Both have also tried, but failed to get Russia to sign border treaties.
Saving The Summit
European Commission officials in Brussels were trying to downplay the implications of the failure to launch new partnership talks in Helsinki on November 24.
Commission spokeswoman Emma Udwin said the EU and Russia had agreed at their summit at Sochi in May to extend the existing PCA should talks on a new accord not materialize.
Udwin said the Helsinki summit will still have a full agenda, citing Russia's bid to join the World Trade Organization, energy cooperation, and international issues such as Georgia, Kosovo, Iran, and the Middle East.
Udwin also said that "as always," the EU will also raise a raft of human rights concerns with Russia's President Vladimir Putin, as well as Chechnya, which remains a standing worry for the EU.
How Much Do The Neighbors Pay?
How Much Do The Neighbors Pay?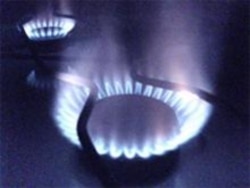 SETTING THE RATES: With Gazprom negotiating new contracts, many states will be paying more for Russian natural gas in 2007.
Belarus, following tense negotiations with Gazprom, will pay $100 per 1,000 cubic meters in -- up from $47 in 2006. Ukraine, which depends on Russia to supply it with about 77 percent of its gas, will pay $130 per 1,000 cubic meters of a Turkmen-Russian gas mix. Moldova, which depends on Russia for 100 percent of its gas, will pay $170 per 1,000 cubic meters, with the price rising to European-level market price by 2011. Georgia has agreed to pay Gazprom $235 per 1,000 cubic meters of gas.
ARCHIVE
A
complete archive
of RFE/RL's coverage of energy issues in the Caspian Sea region and Russia.