A joint dossier compiled by Russia's Memorial rights group and the France-based International Federation for Human Rights (FIDH) said Chechen and Russian security forces acted with impunity in Chechnya, where 143 people have been abducted this year so far. Some 54 are still missing.
Svetlana Ganushkina of Memorial told a Paris news conference that the abuse of human rights in Russia is "not an accident, it is not the exception, it is not a lapse, but the rule."
The report, 109 pages in its Russian-language version, urges Russian authorities to investigate abuses in Chechnya.
FIDH Executive Director Antoine Bernard said the leaders of Great Britain, France, Germany, and the European Union should "give the same priority to human rights as they give gas."
(Reuters)
Remembering Anna Politkovskaya
Remembering Anna Politkovskaya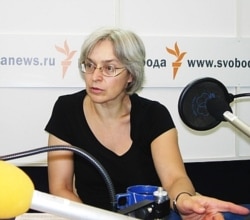 Anna Politkovskaya at RFE/RL in July 2006 (RFE/RL)
A BRAVE VOICE SILENCED. Prominent Russian journalist Anna Politkovskaya was killed on October 7 in her Moscow apartment building. An outspoken critic of the Kremlin, she was best-known for her reporting on the conflict in Chechnya. Former Soviet President Gorbachev called her slaying "a true political homicide, a vendetta."
Chechens Mourn Politkovskaya As 'Last Hope'
Politkovskaya Investigating Chechen Torture At Time Of Death
Two Journalists Die In Contract Killings A Year
SUBSCRIBE
For regular news and analysis on media issues throughout RFE/RL's broadcast area by e-mail,
subscribe to "RFE/RL Media Matters."