Officially, the theme of the summit is "questions of the effectiveness and improvement of the commonwealth."
That is likely to address recent complaints that the CIS has become little more than a talking shop, overshadowed by a raft of competing regional organizations like the Organization for Democracy and Economic Development, GUAM, or the Shanghai Cooperation Organization.
Georgia, Ukraine, and Moldova have all hinted in the past that they might leave the CIS -- a grouping which detractors say was just an attempt by Russia to keep its former client states in the fold.
The CIS meeting on November 28 coincides with a NATO summit in Latvia.
CIS Executive Committee Chairman Vladimir Rushailo said today in Minsk that the planning is coincidental.
"It doesn't make any sense to look for parallels or antagonisms [between NATO's summit in Riga and the CIS summit in Minsk]. The summit in Riga was planned by those who had the authority to plan it, and the date and location of the summit of [CIS] heads of state were determined by the heads of CIS states," Rushailo said.
Russia Talks Up Unity
Russia, as ever, has been keen to play down any divisions within the group.
Speaking on November 23, Russian Defense Minister Sergei Ivanov put a positive spin on meetings between CIS prime ministers and defense ministers that began last week.
"I think the rumors about the end of the CIS Council of Defense Ministers are premature. The Council of Defense Ministers is alive, rather than dead," Ivanov said. "New areas for cooperation are emerging within the Council of Defense Ministers that weren't discussed during the 15 years the Council of Defense Ministers has existed. Reality, real life, is giving us new areas for cooperation."
But some members are still pushing for reform. Kazakh President Nursultan Nazarbaev is proposing a reform of the organization where countries that produce energy be given greater weight.
Divisions Within
The question of who is attending reveals the divisions the organization faces.
Questions still remain about whether Georgia's pro-Western president, Mikheil Saakashvili, will turn up -- and, more importantly, whether he'll meet with Russian President Vladimir Putin. A Georgian presidential aide said today that Saakashvili would not hold a bilateral meeting with President Putin.
The two countries have been embroiled in a standoff since a Russian spy scandal broke in September. Since then, Russia has hit Georgia with economic sanctions and expelled thousands of Georgian migrants from Russia.
But speaking on November 24 at a press conference in Minsk, Russian Prime Minister Mikhail Fradkov hinted that it would be counterproductive to ostracize any CIS member.
"We don't intend to make bilateral alliances within the CIS that work against any other member. We want to pool our general resources and competitive capabilities of our countries, both as individual CIS members and as an overall organization," Fradkov said.
Ukraine-Belarus Union Idea
It's also unclear if another pro-Western leader, Ukrainian President Viktor Yushchenko will attend the summit.
On November 23, Belarusian President Alyaksandr Lukashenka, whose country is chairing the CIS this year, said that Yushchenko had turned down the invitation. Ukraine has neither confirmed nor denied that Yushchenko will attend the meeting.
Lukashenka certainly hopes so. He floated the idea on November 23 of a union state with Ukraine.
The Belarusian president is concerned that Moscow will follow through on its intention of increasing the price it charges for natural-gas exports to Belarus in 2007. That would mean Belarus paying as much as $200 per 1,000 cubic meters compared to the current rate of $47.
Lukashenka said Minsk and Kyiv could work out a joint stance on "oil and gas issues," including a coordinated policy on tariffs for Russian gas transit to Europe.
The Belarusian president said the idea of a union state with Ukraine would be a more feasible political formation than the declared union with Russia because of the "comparable" sizes of Belarus and Ukraine.
Nagorno-Karabakh
A meeting between the Armenian President Robert Kocharian and Azerbaijani President Ilham Aliyev on resolving the conflict over the disputed Nagorno-Karabakh territory is also expected to take place on the sidelines of the summit.
That meeting, which is likely to take place on November 28, would be the presidents' third meeting this year.
Russia And Georgia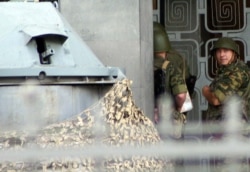 Beefed up security outside Russian military headquarters in Tbilisi on September 27 (InterPressNews)
NOT ALL WINE AND ROSES.
Moscow's relations with Tbilisi since the collapse of the Soviet Union have often been tense and strained. Among the issues that have made the relationship difficult are Moscow's alleged support for the breakaway Georgia regions of Abkhazia and South Ossetia, as well as the continued presence of Russia troops on Georgian territory. Periodically, Georgian lawmakers propose withdrawing from the Commonwealth of Independent States (CIS) altogether. RFE/RL has written extensively about the rocky relationship between these two countries.
RELATED ARTICLES
Saakashvili Seeks Meeting With Putin
Russian-Georgian Friendship Still Warm, Despite Frosty Politics
Georgia To Assess Repercussions Of Quitting CIS
Russia Impounds Georgian Mineral Water
Georgian Agriculture Minister In Moscow For Talks On Wine Ban
Russia Pledges To Complete Georgia Pullout On Schedule
ARCHIVE
RFE/RL's complete coverage of
Georgia
and
Russia
.