WASHINGTON, October 24, 2006 (RFE/RL) -- Three cities in Russia, one in Kyrgyzstan, and Chornobyl in Ukraine are listed among the 10 most polluted places in the world in a report released last week by the New York-based Blacksmith Institute last week.
Richard Fuller, director of the Blacksmith Institute, says that Norilsk, a large city in northern Siberia, has "almost no pollution controls" and that "even 10 or 15 miles away from the city" the landscape has been turned into "an absolute barren moonscape, with no trees."
"There are places -- open water areas and open lagoons -- that you cannot go close to without your eyes burning."
The trees have been cut down to feed the furnaces of the city's nickel production facilities, the largest in the world.
At times, the snow in Norilsk is black, and the air tastes of sulfur. But the damage is not just to the environment: The life expectancy rate among workers in the nickel factories is the lowest in Russia. According to Fuller, official reports say it is 42 years of age for men but others say 37 years old is a more accurate figure.
Dzerzhinsk, in the Volga region of Russia, is just as polluted. However, the culprits here are not metal producers but old chemical-weapons plants.
"This is a place where anecdotally doctors talk about birth defect rates in excess of 70 percent," says Fuller. "There are places -- open water areas and open lagoons -- that you cannot go close to without your eyes burning."
The health problems in the Kyrgyz town of Mailuu-Suu are also profound. The town is built around the waste from a former Soviet uranium plant, a fact reflected in cancer rates that, according to Fuller, are twice the national average.
With a population of some 23,000 people, Mailuu-Suu is far smaller than either Norilsk or Dzerzhinsk. However, the uranium waste that is blighting the health of its population is also a danger to a far larger number of people.
Mailuu-Suu lies in an earthquake zone, Fuller says, and there is a danger that the uranium waste will run the river "and, from there, downstream into a highly populated valley in Kyrgyzstan that is home to around 2.5 million people."
Other places included in the list are in China, India, Peru, Zambia, and the Dominican Republic. In all 10 locations, pollution levels exceed all local and international standards for toxic substances.
The list is not exhaustive, and Blacksmith Institute researchers say that they are many other cities in the world that could have easily made the list, particularly in Russia, China, and India.

The Post-Soviet Environment
The Post-Soviet Environment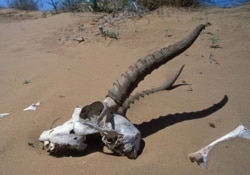 The skull of a male saiga antelope in Kalmykia. Saiga numbers have collapsed disastrously over the last decade. (shpilenok.com)
THE FRAGILE PLANET:
Since the collapse of the Soviet Union, old environmental disasters have come to light and new ones have emerged. War, poverty, and weak central-government control have led to serious environmental problems from Eastern Europe to the Russian Far East. RFE/RL has provided extensive coverage of these important issues and of efforts to cope with them.
RELATED ARTICLES
Saiga Antelope's Saga Attracts New Allies
Project To Reverse Aral Sea Damage Making Progress
Iraqi Marshes Show Signs Of Strong Recovery
Deforestation Rampant In South And Central Asia
Environmentalist Says BTC Pipeline Could Be 'Death Of Caspian'
Scientists Raise Alarm As Man-Made Deserts Spread
Nature Waits For Cross-Border Sanctuaries To Catch On
Central Asian Vllagers Encouraged To Protect Snow Leopards
Environmentalists Raise Concerns About Russian Ecology Policy
ARCHIVE
RFE/RL coverage of environmental issues
.