It comes a day after Belarus accused Russia of violating an agreement on unifying their states by announcing it will impose full duties on oil exports to Belarus.
Putin has said Moscow was losing billions of dollars every year by allowing its firms to send oil to refineries in Belarus, which were then re-exporting refined products to European markets.
(Reuters, AP)
Russia And Belarus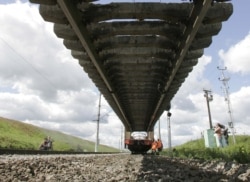 The main Moscow-Minsk railway line(Tass)

TO MERGE OR NOT TO MERGE: For over a decade, Moscow and Minsk have been working on a project to form a single state, the Russia-Belarus Union. However, every time the two countries seem on the verge of making progress, one or the other steps back, leaving the entire effort in doubt.
RELATED ARTICLES
Putin, Lukashenka Press Ahead With Unification
Has Putin Promised Lukashenka Fair Weather?
Tensions Remain In Putin-Lukashenka Talks
ARCHIVE
RFE/RL's
coverage of Belarus
. RFE/RL's
coverage of Russia
.