The dispute with Gazprom threatens gas supplies to Minsk but also to Western Europe.

Gazprom threatened to halt gas deliveries to Minsk in late morning on January 1 if Belarus did not agree to more than double the price it paid for gas.

Last-Ditch Effort

With time running short, Belarus sent its top gas negotiator back to Moscow.

First Deputy Prime Minister Uladzimir Syamashka arrived in the Russian capital early on December 31 in a bid to break the impasse.

Russia's state-controlled gas monopoly says negotiations so far have yielded no progress on prices for gas sales in 2007.

Gazprom is insisting on a price of $105 per 1,000 cubic meters of gas -- more than twice what Belarus currently pays but still below world market prices. Gazprom also wants part ownership of the gas-distribution infrastructure inside Belarus.

"The Belarus side has made a number of statements, but we cannot confirm that an agreement has been reached," Gazprom spokesman Sergei Kupriyanov spoke to reporters today in Moscow. "As far as concessions, Gazprom has already made a sufficient number of concessions in favor of Belarus. And we consider that these offers are absolutely favorable and reasonable, and totally take into account the relationship between our countries in all regards, especially in the gas sector."

International Effect

If no deal is reached, Minsk says it will retaliate by halting flows of Russian gas crossing the country bound for Western Europe.

About 20 percent of Russian gas exports to Europe go through Belarus.
A similar dispute between Gazprom and Ukraine a year ago briefly disrupted supplies to Europe and raised questions about Moscow's reliability as an energy supplier.

Belarusian officials have expressed hope that a deal is imminent.

Until now, the two sides had been communicating by telephone, so the announcement of Syamashka's trip to Moscow could suggest a deal is indeed at hand.

Germany -- one of the biggest customers for Russian gas -- and the European Union have pressed Moscow and Minsk to reach a deal quickly and avoid any disruption to supplies.
Ukraine And European Energy Security
Ukraine And European Energy Security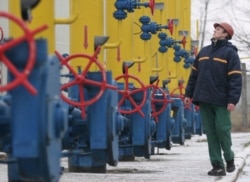 A worker inspects a gas facility outside of Kyiv (epa file photo)

MURKY CONNECTIONS. A year after the so-called gas war between Moscow and Kyiv, energy transhipments from Russia to Europe via Ukraine remain a concern. On December 1, RFE/RL's Washington office hosted a briefing featuring Tom Mayne, an energy researcher for the London-based Global Witness. Mayne discussed the lack of transparency in the energy sectors of Ukraine, Russia, and gas supplier Turkmenistan.
LISTEN
Listen to the entire briefing (about 60 minutes):

Real Audio
Windows Media
RELATED ARTICLES
Neighbors Watch As Russia Moves Toward WTO Membership
Kyiv Announces Terms Of New Russian Gas Deal
Former U.S. Ambassador Says Kyiv Can Cope With Gas Price Rise
ARCHIVE
RFE/RL's English-language coverage of
Ukraine
,
Russia
, and
Turkmenistan
.