But what impact will the dispute have on Europe? RFE/RL correspondent Jeffrey Donovan took up that question with Leo Drollas, the deputy director and chief economist at London's Center for Global Energy Studies.
RFE/RL:
The International Energy Agency said today that European markets will not have any problems coping with the halt to Russian oil exports via Belarus. The Paris-based agency says all of the refineries in the region have stocks of several days. So is it all much ado about nothing -- for now, at least?
Leo Drollas:
Well, at the moment it's not going to effect the European situation because Europe has stocks of oil to cover the loss of the Druzhba oil for 24 months. The EU has a requirement that each country must have 90 days' worth of imports in storage, so there's a lot of oil around in government-controlled storage to cope with such emergencies.
RFE/RL:
Several countries get a good part of their oil from the Druzhba pipeline: Poland, Germany, Slovakia, the Czech Republic. Which ones are most dependent on the pipeline and so stand to lose out most in the event of a prolonged shutdown?
Drollas:
Of the Western European countries, Germany is the most vulnerable. Of the former Eastern bloc countries, Poland would be. Germany gets about 20 percent of its imports from the Druzhba. Europe's as a whole, through this pipeline, are around 10 percent.
RFE/RL:
Some industry experts here in Central Europe have been quoted as saying that if the shutdown lasts one week, no problem; two weeks, and we'll start to see higher prices at the gas station; three weeks or more, and it could get very interesting indeed. What scenarios do you see in the event of a prolonged shutdown?
Drollas:
Europe has ample stocks to cover such an eventuality. 1.5 million barrels a day through the Druzhba pipeline is not a big deal in the overall picture.
RFE/RL:
What alternative sources of oil and transport could European countries tap?
Drollas:
Obviously, oil is very fungible and available throughout the world. There's excess capacity in the [Persian] Gulf, and no doubt supplies will be sought eventually if this dispute continues. Saudi Arabia itself has enough spare capacity to cover almost the complete loss of this oil -- not that it would want to do so, but there is capacity available. But of course, it is [a] long haul; it will take a long time to get to Europe. And the transportation would be much more expensive, of course.
To Moscow's Benefit?RFE/RL:
Do you see Russia's leverage on transit and consumer countries increasing over time, particularly as it builds new pipelines, such as one under the Baltic to Germany that will bypass both Poland and Belarus?
Drollas:
I'm not so sure really [that] Moscow wants this. It doesn't see it as leverage. These are commercial transactions with the West and Russia needs the income. The dispute here with the transit countries has a historical basis; it's about old prices, if you like, that are too low. And somehow the pipelines taking gas and oil to the West got dragged into this dispute about how much these transit countries should pay for their own supplies.
RFE/RL:
Nonetheless, this dispute, as with the Ukrainian one last year, has sparked fresh calls in Europe to diversity its energy supplies in order to lessen its dependence on Russian oil and gas.
Drollas:
That's the obvious conclusion, that Europe is too heavily dependent on supplies from Russia, both oil and gas. That's the obvious conclusion. But I wouldn't be so pessimistic about it, because Europe was paying commercial rates for its oil and gas, and as long as that continues, there is no reason why Russia should wish to block supplies. There are no great political disputes between Western Europe and Russia and there are not many that one can see over the horizon coming. I don't see it that pessimistically.
Difficult ChoicesRFE/RL:
Nevertheless, on January 10 the EU is due to unveil a white paper that calls for achieving greater energy-supply diversification. In particular, the paper will call for stronger ties to Norway, Algeria, and especially the Central Asian, Caucasian countries, and Turkey.
Drollas:
The countries you mentioned, apart from Norway, have problems of their own as suppliers. And if Europe's idea of diversification is to import more oil and/or gas from the Middle East, for example, well that's not a particularly stable region at the moment. It's going through convulsions and might have a serious problem on its hands with the Iranian story. So it's all right for Europe to call for diversification, but unfortunately, the alternative supplies are from pretty volatile parts of the globe.
RFE/RL:
To conclude, that EU white paper will also call for an "industrial revolution" in power generation, with greater promotion of renewable energy, nuclear power, and even coal that uses carbon-capture and -storage to limit greenhouse emissions. Do you believe such a strategy is feasible -- does Europe have the political will and resources to truly put a dent in its dependency on gas and oil?
Drollas:
Well, it's a big question because there are lots of fuel there. If you're talking about nuclear, yes; nuclear is the one fuel in power generation that Europe can certainly go for. And it would enhance Europe's security, because the uranium-enrichment process is not so vulnerable to external threats.
Ukraine And European Energy Security
Ukraine And European Energy Security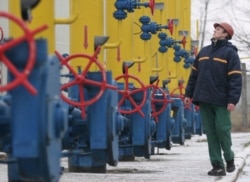 A worker inspects a gas facility outside of Kyiv (epa file photo)

MURKY CONNECTIONS. A year after the so-called gas war between Moscow and Kyiv, energy transhipments from Russia to Europe via Ukraine remain a concern. On December 1, RFE/RL's Washington office hosted a briefing featuring Tom Mayne, an energy researcher for the London-based Global Witness. Mayne discussed the lack of transparency in the energy sectors of Ukraine, Russia, and gas supplier Turkmenistan.
LISTEN
Listen to the entire briefing (about 60 minutes):

Real Audio
Windows Media
RELATED ARTICLES
Neighbors Watch As Russia Moves Toward WTO Membership
Kyiv Announces Terms Of New Russian Gas Deal
Former U.S. Ambassador Says Kyiv Can Cope With Gas Price Rise
ARCHIVE
RFE/RL's English-language coverage of
Ukraine
,
Russia
, and
Turkmenistan
.