Belarus Threatens Russia With Oil Transit Fees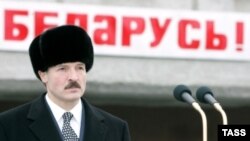 President Lukashenka (file photo) (ITAR-TASS) January 3, 2006 -- Belarusian President Alyaksandr Lukashenka today threatened to charge transit fees for Russian oil being shipped across Belarusian territory.
Lukashenka's remarks come in response to Moscow's recent decision to slap full duties on Russian oil exports to Belarus.
Russia and Belarus recently have been involved in a series of economic disputes.
Minsk and Moscow signed a deal on gas prices earlier this week, averting potential disruptions of gas supplies to Europe.
Earlier today, a top Belarusian agriculture official, Ivan Danchenko, said that Russia has virtually halted imports of Belarusian sugar.
He said that Belarusian sugar producers have lost a lot of money and might not be able to fulfill contracts with Russian candy makers.
(ITAR-TASS, AP, Reuters)

2006 IN REVIEW: A photo gallery of key news events of 2006 from across RFE/RL's broadcast region. ...more