Syamashka said Minks hopes to settle the issue by January 15.
Russian sales of crude oil to Belarus so far have been exempt from export duties. But during a recent dispute with Minsk over gas prices, Russia said it would introduce a duty as of 2007.
Russia and Belarus signed a new gas deal late on December 31, with Minsk agreeing to pay Gazprom, Russia's state-run gas monopoly, more than twice what Belarus was paying last year.
Syamashka said the price increase will be absorbed by companies, not Belarusian consumers.
Under the deal, Gazprom will also gain a 50 percent stake in Belarus's state-owned gas-transit monopoly, Beltranshaz.
(Reuters, ITAR-TASS)
Ukraine And European Energy Security
Ukraine And European Energy Security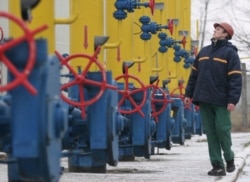 A worker inspects a gas facility outside of Kyiv (epa file photo)

MURKY CONNECTIONS. A year after the so-called gas war between Moscow and Kyiv, energy transhipments from Russia to Europe via Ukraine remain a concern. On December 1, RFE/RL's Washington office hosted a briefing featuring Tom Mayne, an energy researcher for the London-based Global Witness. Mayne discussed the lack of transparency in the energy sectors of Ukraine, Russia, and gas supplier Turkmenistan.
LISTEN
Listen to the entire briefing (about 60 minutes):

Real Audio
Windows Media
RELATED ARTICLES
Neighbors Watch As Russia Moves Toward WTO Membership
Kyiv Announces Terms Of New Russian Gas Deal
Former U.S. Ambassador Says Kyiv Can Cope With Gas Price Rise
ARCHIVE
RFE/RL's English-language coverage of
Ukraine
,
Russia
, and
Turkmenistan
.