It's not clear who did most of the talking during a phone call on January 10 between Russian President Vladimir Putin and his Russian counterpart Alyaksandr Lukashenka. But when it was over, it was Putin who had what he wanted.
Belarus restored oil shipments later that night, bringing relief to nervous officials in Western Europe. Minsk also lifted a hefty transit fee imposed last week. Moscow's refusal to pay prompted Belarusian officials to order the Druzhba shutoff on January 8.

Talks Continue
Belarusian Prime Minister Syarhey Sidorski, speaking in Minsk ahead of his departure for talks in Moscow today, said negotiations on oil shipments will continue.
"We hope that in the next two days we will settle other issues regarding our trade relations -- questions about oil shipments to Belarus, the transit of oil through Belarus, and oil shipments to Belarus via Transneft that were made by contracts with Russian companies," he said.
Moscow is also hoping to receive payment for the 79,000 tons of oil it says Belarus siphoned during the Druzhba shutoff.

Angry EU
The squabble was met with frustration among EU member states. EU Energy Commissioner Andris Piebalgs on January 10 urged Russia and Belarus to find a way to work together.
"We wish good results in negotiations for Russia with Belarus to find the long-term, stable conditions of transit," Piebalgs said. "And if it will be the case, it is the best guarantee for security of supply from Russia."

Under Pressure

Lukashenka is showing possible signs of strain. Looking to shore up support, this week he appointed his son, Viktar, to a post in the country's Security Council.
Viktar Lukashenka, the former head of the Presidential Guard, now has equal status with the country's KGB chairman and interior minister.
(with agency reports)
Russia And Belarus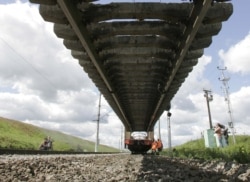 The main Moscow-Minsk railway line(Tass)

TO MERGE OR NOT TO MERGE: For over a decade, Moscow and Minsk have been working on a project to form a single state, the Russia-Belarus Union. However, every time the two countries seem on the verge of making progress, one or the other steps back, leaving the entire effort in doubt.
RELATED ARTICLES
Putin, Lukashenka Press Ahead With Unification
Has Putin Promised Lukashenka Fair Weather?
Tensions Remain In Putin-Lukashenka Talks
ARCHIVE
RFE/RL's
coverage of Belarus
. RFE/RL's
coverage of Russia
.