EU leaders were visibly shocked by the unannounced stoppage of oil supplies on January 7-8 from the Druzhba pipeline that pumps Russian oil to Europe via Belarus. Six EU member states were affected: Germany, Poland, Lithuania, the Czech Republic, Slovakia, and Hungary.
Russia, Belarus Criticized
The president of the European Commission, Jose Manuel Barroso, today reiterated his scathing criticism of Russia and Belarus.
"The cut in oil supplies from Russia is unacceptable," Barroso said. "It is unacceptable that supply or transit countries interrupt the flow of energy to the countries that are consuming the energy without prior consultation. This raises a problem, a real problem, of credibility."
Barroso promised EU "action" to ensure that such events will not repeat themselves. He noted "it is not in the interests" of either Russia or the transit countries to "appear as not credible."
"What action the world takes over the next decade of so will determine whether we reach this objective or not." -- Environment Commisioner Dimas

Barroso's comments echoed German Chancellor Angela Merkel's condemnation of the supply disruption. She warned on January 9 that the interruption of Russian supplies westward "destroys trust" and said she will raise the issue when she meets with Putin on January 21.
The German criticism comes just as the country has taken over the rotating EU presidency and the chair of the G8 group of industrialized nations. Berlin has been one of Russia's main backers within the EU.
The French daily "Le Monde," whose views often reflect official policy, ran an editorial today headlined "Russian Blackmail," evoking parallels with Russia dispute with Ukraine over natural-gas supplies in early 2006.
Removing The Russian Yoke
EU officials in Brussels and Moscow have told RFE/RL the EU sees Russia as the primary culprit behind the oil-supply disruptions. Barroso today said EU Energy Commissioner Andris Piebalgs had summoned the Russian ambassador to the EU, Vladimir Chizhov, for talks today.
On January 11, officials from the 27 EU member states are to meet in Brussels to discuss possible measures that those affected by the oil stoppage can take.
Piebalgs today also indicated that the oil-supply problems will add impetus to the EU's efforts to relieve its dependence on Russia by securing new oil and gas suppliers, and diversifying transit routes.
Commission President Barroso said such moves must be accompanied by greater unity of purpose among EU states.
"The European Union must develop effective solidarity mechanisms to deal with any energy supply crisis and actively develop a common external energy policy to, increasingly, speak with one voice with third countries," Barroso said.
By the EU's calculations its dependence on energy imports, currently at 50 percent, is set to rise to 65 percent by 2030.
The energy-sector reforms proposed by the European Commission were originally inspired by concerns about global warming, rather than difficulties with external energy supplies.
Low-Carbon Diet
Unveiling his plans, Barroso compared the challenges facing Europe to those faced when overcoming of what he called the "coal era" early in the 20th century. He said the EU now needs to turn away from traditional, nonrenewable energy sources, and shift to a "low-carbon" economy.
EU Environment Commissioner Stavros Dimas explained the broader rationale behind the bloc's concerns.
"The European Union's goal is to limit global warming to no more than 2 degrees Celsius above the pre-industrial level," Dimas said. "There is a wealth of evidence that beyond the 2 degrees increase, there would be a much greater danger of irreversible and possibly catastrophic climate change. What action the world takes over the next decade of so will determine whether we reach this objective or not."
The European Commission wants all developed countries to cut their carbon-dioxide emissions by the year 2020 to 30 percent below the 1990 levels. The commission wants the EU to unilaterally commit itself to cutting greenhouse emissions to 20 percent below 1990 levels by 2020.
Domestic Competition
The measures unveiled today also provide for greater competition in domestic energy markets, calling for the dissolution of energy giants by denying energy producers the right to simultaneously own distribution networks.
Apart from driving down prices, this measure is also intended to dampen the Russian gas giant Gazprom's ambitions to acquire large stakes in European distribution networks.
Before they become law, today's European Commission proposals will require the endorsement of all 27 EU member states. EU energy ministers are expected to discuss the plans in March.
Ukraine And European Energy Security
Ukraine And European Energy Security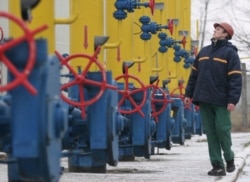 A worker inspects a gas facility outside of Kyiv (epa file photo)

MURKY CONNECTIONS. A year after the so-called gas war between Moscow and Kyiv, energy transhipments from Russia to Europe via Ukraine remain a concern. On December 1, RFE/RL's Washington office hosted a briefing featuring Tom Mayne, an energy researcher for the London-based Global Witness. Mayne discussed the lack of transparency in the energy sectors of Ukraine, Russia, and gas supplier Turkmenistan.
LISTEN
Listen to the entire briefing (about 60 minutes):

Real Audio
Windows Media
RELATED ARTICLES
Neighbors Watch As Russia Moves Toward WTO Membership
Kyiv Announces Terms Of New Russian Gas Deal
Former U.S. Ambassador Says Kyiv Can Cope With Gas Price Rise
ARCHIVE
RFE/RL's English-language coverage of
Ukraine
,
Russia
, and
Turkmenistan
.