RFE/RL:
Russia claims that for the past several days, it has decreased the flow of oil through the Druzhba pipeline to withhold the amount meant for the Belarusian market. How does that work?
Indra Overland:
You'd have to either divert oil that was being pumped from the Russian side to other destinations. That could be done for a short period, but it wouldn't be viable in the long term. So in the long term -- meaning more than a week or two -- you'd actually have to stop production of oil, because it wouldn't be possible to store such large amounts of oil for a long time without having anywhere to send it.
And one of the reasons why Russia is partially dependent on exporting oil through Belarus is precisely because it has limited options for exporting oil. It's theoretically possible that they could try to do it by railway and then put it on ships and so on, but it would be a very large and difficult operation -- extremely expensive compared to using the old Soviet infrastructure, which is just lying there in Russia and Belarus.
RFE/RL:
Belarus, for its part, has admitted to diverting a certain amount of the oil destined for Europe, to keep for its own consumption. They can't control the amount of oil being piped in from Russia, so how do they divert the supplies they mean to keep for themselves?
Overland:
Belarus doesn't actually have the source of the oil, so all it can do is stop pumping. Not having a coastline, it doesn't have the possibility to do anything else with the oil that's passing through. So Belarus's options are more limited. They can stop oil exports even more temporarily [than Russia]; they have some storage space in connection with the refineries which they have -- which is really their key point, the refineries. Of course they can refuse to receive more oil from Russia. But in the end it'll have the same effect upstream as the things that Russia is doing.
RFE/RL:
What the Belarusians call diverting, the Russians call siphoning. How do you siphon oil?
Overland:
Siphoning is very easy to do. These pipelines are very long, they have lots of different valves, and you have the various pumping stations along the way. And a pumping stations is not just like a little hut; it actually looks like quite a large factory, where you process oil and you have to have a lot of power to generate the necessary pressure to force the oil long-way through the pipeline. [So siphoning is possible] especially in pumping stations, but also along the pipeline route.
And illegal tapping is a big problem in countries like Nigeria, where it's done illegally, by poor people. In a country like Belarus, where it would most likely be done by the authorities, and which is a reasonably large country with a long pipeline going through it, there's no limit to the ways and places where you could siphon off oil. And the oil could then be rerouted to Belarusian oil refineries.
Another way of doing this, since most of the oil goes to the Belarusian oil refineries in the first place, is just to underreport the amount received from Russia. They can just say they received a certain level, which is actually less [than what they received], and then the surplus is still turned into petrol [gasoline] and refined and sold on, or consumed domestically.
RFE/RL:
Is monitoring of the pipelines really so poor that such underreporting wouldn't be noticed?
Overland:
There is monitoring, obviously. Actually, it should be quite easy to control how much oil flows. And the same with gas. But even more easy with oil, since it's a heavier product that's easier to measure.
But in spite of the fact that it's technically quite easy to measure, these countries keep quarreling about how much has actually been sent over. With oil it's slightly more difficult to quarrel, because an oil leak is so obvious -- I mean, a large-scale significant oil leak is very easy to trace. Whereas with gas it's much more difficult, because the people who are accused of siphoning off gas can just say, "Oh, we seem to have some leakage problems."
RFE/RL:
The controversy over the Druzhba pipeline raises the question of who has ultimate control over a pipeline that carries one country's fuel over the territories of several other countries. Who has the upper hand in Belarus?
Overland:
Legally speaking, if an outside company or country owns a pipeline, then they will have certain rights to do things with the pipeline -- for example, to stop the flow or do repairs. But in practice, I think the country where the pipeline is located will ultimately always have the power to do things with the pipeline.
It's similar to the question of nationalization. If [Venezuelan President Hugo] Chavez wants to nationalize the petroleum industry or another industry, other countries and foreign companies may dislike it, may protest, but there isn't really that much they can do about it. So it's more a question of whether the country sees it in its own interest or not, in terms of its reputation and the reputation it loses.
RFE/RL:
At one point this week, you had a Belarusian employee of Russia's Transneft pipeline company saying shipments in Belarus were decreased at the request of the Belarusian state petrochemical company. The chain of command has been particularly difficult to follow in this case.
Overland:
It's very difficult and very entangled. We see parallels between what's going on in Belarus and what's going on in Ukraine. A very important factor is the lack of transparency in these countries. In Ukraine it's RosUkrEnergo -- a very shady company, Swiss-based, Austrian offshore -- where it's very difficult to trace who's really responsible, who's making the decisions, and who's making the money.
And most likely these obscure institutions exist because in these countries there's a mixture of national interests, oil company interests, and various private interests, both on the part of politicians and businesspeople -- possibly corrupt interests. And that keeps these institutions very untransparent. So until we get that solved, it's very difficult to say anything specific about who is taking these decisions.
RFE/RL:
Who is more to blame in the current dispute, Russia or Belarus?
Overland:
I don't think the ascription of guilt is the most useful exercise in this context. I think various parties are making both reasonable demands and partly unreasonable demands. I think the most sensible way of looking at this is as the tail end of a very long divorce between Russia and other former Soviet states. This divorce has been going on for 15 years now at least, but it's still not complete.
So this [dispute between Russian and Belarus] involves both economic interests, political interests, geopolitical interests, but also questions of national identity and belonging, and the relationships between these countries that ensue from these identities.
Russia And Global Energy Security
Russia And Global Energy Security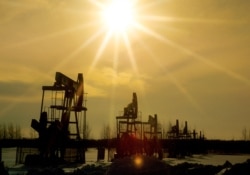 An oil field in Russia's Republic of Bashkortostan (TASS file photo)


ENERGY SECURITY is increasingly moving to the top of the EU's agenda in its dealings the outside world. A recent report identifies the European Union's main energy objectives as not just securing gas and oil deliveries from Russia, but also ensuring that it has reliable alternative sources, including in Central Asia. Nonetheless, EU officials say relations with Russia take center-stage in their thinking....(more)
RELATED ARTICLES
EU Maintains Codependent Energy Relationship With Russia
Turkmenistan: The Achilles' Heel Of European Energy Security
U.S. Official Urges Reforms In Energy-Producing Countries
ARCHIVE
A
complete archive
of RFE/RL's coverage of energy issues in the Caspian Sea region and Russia.