Recently, a number of articles in the Russian press have echoed that criticism, arguing that Gazprom's tactics have damaged Russia.
On December 25, 2006, the "Kommersant" daily attacked the gas monopoly, claiming that by abandoning the sale of cheap gas to the CIS countries in 2006, Gazprom weakened Russia's position in the post-Soviet space. All it did, the article argued, was strengthen the position of the gas monopoly.
Writing in "Rossiiskaya gazeta" on January 2, Sergei Karaganov, head of the Council for Foreign and Defense Policy think tank, said: "The unexpectedly rapid increase in Russia's international weight frightened many people, partly because we succumbed to the temptation to grow giddy with success and sometimes acted arrogantly.... In this context, mistakes have to be paid for particularly dearly. The manner in which we shut off the gas to Ukraine, which tapped into the European sense of political weakness and energy vulnerability, provoked a disproportionate reaction."
Pressure
Sustained international and domestic criticism of Gazprom (and the Kremlin) could force the gas giant into changing its tactics.
Some Western financial firms, such as Bear Stearns, are already advising clients to sell their Russian shares for fear of political instability in the country.
Considering that almost 40 percent of the Russian stock market consists of shares in Gazprom and state oil monopoly Rosneft, any suggestion that they might find themselves in trouble in 2007 is sure to rattle investors.
Other factors could mean Gazprom taking a softer approach in 2007.
Turkmen Gas
The presidential election on February 11 in Turkmenistan could bring a measure of change. Gazprom and Ukrainian energy companies are carefully following developments there, waiting to see if the new regime will continue with the gas deals approved by late Turkmen President Saparmurat Niyazov.
After Russia, Turkmenistan is the second-largest exporter of natural gas in the CIS. In recent years, Turkmenistan has supplied Ukraine with much of its gas needs, although Ashgabat is now exporting most of its excess gas to Russia.
Industry experts have criticized Turkmenistan's gas deals for being opaque. If Turkmenistan can be persuaded to increase transparency in its energy sector, then Gazprom and Ukraine could be forced to renegotiate their deals and a new round of competition for Turkmen gas would ensue.
In the case of Azerbaijan, Gazprom might have fewer cards left to play. Faced with a steep price hike, Azerbaijan announced that it will not buy any Russian gas in 2007. Baku has increased domestic gas production in order to cover its needs.
And in the longer term, planned pipelines, for instance the Trans-Caspian gas pipeline, would bring Caspian -- and most likely Central Asian -- gas to markets, bypassing Russia.
But it's unclear whether a weakened hand will mean Gazprom will listen to its critics. There is the real possibility that the Kremlin will remain intransigent, believing that strong-arm tactics have worked to Russia's benefit -- and will continue to do so.
How Much Do The Neighbors Pay?
How Much Do The Neighbors Pay?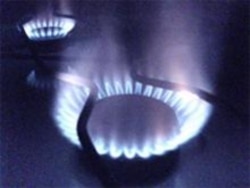 SETTING THE RATES: With Gazprom negotiating new contracts, many states will be paying more for Russian natural gas in 2007.
Belarus, following tense negotiations with Gazprom, will pay $100 per 1,000 cubic meters in -- up from $47 in 2006. Ukraine, which depends on Russia to supply it with about 77 percent of its gas, will pay $130 per 1,000 cubic meters of a Turkmen-Russian gas mix. Moldova, which depends on Russia for 100 percent of its gas, will pay $170 per 1,000 cubic meters, with the price rising to European-level market price by 2011. Georgia has agreed to pay Gazprom $235 per 1,000 cubic meters of gas.
ARCHIVE
A
complete archive
of RFE/RL's coverage of energy issues in the Caspian Sea region and Russia.