January 3, 2007 (RFE/RL) -- Ukraine is believed to be sitting on more gaseous fuel than its principal supplier of natural gas, Turkmenistan.
Estimated reserves of 11-12 trillion cubic meters of coal-bed methane would give Ukraine at least three times the amount of natural gas in Turkmenistan, and four times that in Russia's Shtokman gas field.
Planning Ahead
Considering Ukraine's plans to reduce its dependence on imported natural gas, including through the increased use of coal for power generation, tapping into such a wealth of fuel would be a boon.
However, much of Ukraine's methane goes to waste -- raising environmental concerns as it is released into the atmosphere.
Ukraine's government estimates that up to 3 billion cubic meters of methane escapes from its coal beds every year, contributing to Ukraine's ranking as one of the world's top-10 emitters of methane.
It is believed that taking steps to reduce methane emissions, which constitute 16 percent of all greenhouse-gas emissions globally, may help reduce the impact of global warming.
Yet despite the potential economic and environmental benefits, little has been done to capture Ukraine's methane.
While initiative is not lacking, foreign investment, modern technology, and expertise are.
Ukraine has taken steps to remedy this. In October 2006 the government began to explore the possibility of allowing Florida-based Itera Energy to develop a pilot project for extracting methane in Ukraine's Donbas coal-mining region.
Itera Energy, which has successfully extracted coal-bed methane in the United States, plans to conduct geological tests in select Ukrainian mines to determine how much gas is available and the feasibility of capturing it.
Potential Boon
If the tests pan out, the company plans to extract some 600 million cubic meters of methane in 2007 and sell it to Ukrainian enterprises for around $135 per 1,000 cubic meters -- the same price Gazprom is charging Ukraine for natural gas in 2007.
Locally produced methane could prove to be extremely beneficial to the highly industrialized Donbas region, where chemical enterprises have demanded that the parliament and government lower natural-gas prices in order to remain profitable.
For Ukraine as a whole, tapping into a new domestic energy resource could prove to be both profitable and beneficial. The country could potentially save millions of dollars in import costs as it works to restore its traditional role as an energy exporter.
After all, Ukraine was the largest producer of natural gas in the Soviet Union until the 1970s, when Moscow decided to shift investments in the gas industry to the Yamal Peninsula and Central Asia.
Ukraine And European Energy Security
Ukraine And European Energy Security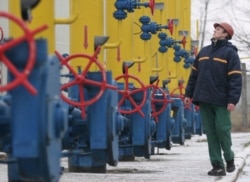 A worker inspects a gas facility outside of Kyiv (epa file photo)

MURKY CONNECTIONS. A year after the so-called gas war between Moscow and Kyiv, energy transhipments from Russia to Europe via Ukraine remain a concern. On December 1, RFE/RL's Washington office hosted a briefing featuring Tom Mayne, an energy researcher for the London-based Global Witness. Mayne discussed the lack of transparency in the energy sectors of Ukraine, Russia, and gas supplier Turkmenistan.
LISTEN
Listen to the entire briefing (about 60 minutes):

Real Audio
Windows Media
RELATED ARTICLES
Neighbors Watch As Russia Moves Toward WTO Membership
Kyiv Announces Terms Of New Russian Gas Deal
Former U.S. Ambassador Says Kyiv Can Cope With Gas Price Rise
ARCHIVE
RFE/RL's English-language coverage of
Ukraine
,
Russia
, and
Turkmenistan
.