Milinkevich's spokesman said he was detained in the morning, while traveling to meet voters ahead of January's local and regional elections, when police said they suspected him of drunken driving.
He was reportedly released after it was determined that he was not intoxicated.
But later today, Milinkevich was again taken into detention, where he remains, reportedly on suspicion of being involved in a traffic accident.
Milinkevich and Alyaksandr Kazulin unsuccessfully challenged incumbent President Alyaksandr Lukashenka in a March election that was dismissed as undemocratic by Western governments.
Lukashenka officially won 83 percent of the vote -- a figure he later said he picked because his actual support would have appeared incredible to foreign observers -- while Milinkevich garnered 6 percent and Kazulin 2 percent.
(AP)
Russia And Belarus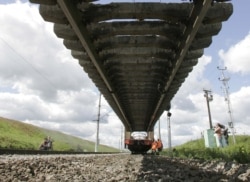 The main Moscow-Minsk railway line(Tass)

TO MERGE OR NOT TO MERGE: For over a decade, Moscow and Minsk have been working on a project to form a single state, the Russia-Belarus Union. However, every time the two countries seem on the verge of making progress, one or the other steps back, leaving the entire effort in doubt.
RELATED ARTICLES
Putin, Lukashenka Press Ahead With Unification
Has Putin Promised Lukashenka Fair Weather?
Tensions Remain In Putin-Lukashenka Talks
ARCHIVE
RFE/RL's
coverage of Belarus
. RFE/RL's
coverage of Russia
.