In highlighting relations with the region, the European Commission has adopted the initiative of Germany, which has long sought to focus Europe's attention on energy-rich Central Asia.
Ferrero-Waldner said the commission is working closely with Germany -- which currently holds the EU's rotating presidency -- and other union members to create a common strategy toward the region.
Winning Friends...
She said failure to do so would leave Russia and China in a position to draw the five Central Asian republics further into their spheres of influence.
In seeking to avoid such a scenario, Ferrero-Waldner said the EU is not simply acting only out of self-interest.
"If we don't engage with these countries, these countries will turn eastwards and turn to Russia and China."
"I think it's not a matter of securing the energy resources only -- it's really a matter of engaging with these [Central Asian] countries," Ferrero-Waldner told Reuters. "If we don't engage with these countries, these countries will turn eastwards and turn to Russia and China. And I think it's highly important that [Central Asians] also look very strongly towards Europe."
Human rights activists fear that the EU's quest for alternative energy sources might prompt it to sacrifice promotion of human rights and democratic reforms in Central Asia.
The search for alternatives to Russian oil and gas has become particularly acute in the past year, when supplies to EU states have twice been reduced because of Moscow's energy rows with Ukraine and Belarus.
...And Influencing People
Ferrero-Waldner said she understands those concerns about human rights.
"I, of course, completely understand the concerns that there are there [in Central Asia] by some human rights groups," Reuters quoted her as saying. "I myself have been chairperson-in-office of the [Organization for Security and Cooperation in Europe] in the year 2000, and then -- for the first time ever -- the focus was put [on] Central Asia. But I think we also cannot let these countries go and just slip back to other partners."
She said it is "highly important" for the EU to work with the Central Asian states -- including to speak up on questions of human rights -- and use this relationship to improve the climates in those countries.
Regional specialist Matthew Clements, of Jane's strategic information organization, told RFE/RL recently that the Western powers have lost their focus on Central Asia.
"The Western efforts in the area [so far] have been disunified," Clements said. "I think the United States has become less interested in the region as the insurgency in Iraq has gone on. The point is, there has not really been a unified EU policy. It would be very interesting to see what the proposal would be, what kind of aspects it would take on."
Ferrero-Waldner's comments came in Brussels ahead of a trip to China, where she will open talks on an EU partnership and cooperation pact with China covering trade and energy ties.
Ukraine And European Energy Security
Ukraine And European Energy Security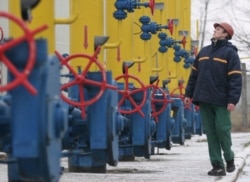 A worker inspects a gas facility outside of Kyiv (epa file photo)

MURKY CONNECTIONS. A year after the so-called gas war between Moscow and Kyiv, energy transhipments from Russia to Europe via Ukraine remain a concern. On December 1, RFE/RL's Washington office hosted a briefing featuring Tom Mayne, an energy researcher for the London-based Global Witness. Mayne discussed the lack of transparency in the energy sectors of Ukraine, Russia, and gas supplier Turkmenistan.
LISTEN
Listen to the entire briefing (about 60 minutes):

Real Audio
Windows Media
RELATED ARTICLES
Neighbors Watch As Russia Moves Toward WTO Membership
Kyiv Announces Terms Of New Russian Gas Deal
Former U.S. Ambassador Says Kyiv Can Cope With Gas Price Rise
ARCHIVE
RFE/RL's English-language coverage of
Ukraine
,
Russia
, and
Turkmenistan
.