The hours that followed the announcement of the president's death revealed only that Turkmenistan's political system, which Niyazov had succeeded in reducing to his own whimsy and wile, had not ground to a complete halt.
Official Turkmen news sources reported that Deputy Prime Minister Gurbanguly Berdymukhammedov would become acting leader. Parliament speaker Ovazgeldy Ataev, whose post would put him next in line according to the constitution, is facing unspecified criminal charges, turkmenistan.ru reported.
Meanwhile, Niyazov's funeral is scheduled for December 24, and an extraordinary session of the People's Assembly on December 26. A new presidential election will reportedly be held within a few months, with the People's Assembly to decide the exact date.
Succession Struggle Begins
Born in 1957, Berdymukhammedov is reportedly a relative of Niyazov. A dentist by training, he has served as health minister since 1997, and deputy prime minister since 2001, Interfax reported. Devotees of Kremlinology were quick to note that Berdymukhammedov was named to head the funeral commission for Niyazov, an honor that often went to the appointed successor in the Soviet period.
The EU depends heavily on gas shipments from Russia's Gazprom,
which itself has increased its reliance on cheap Turkmen gas. Departures from the Turkmen status quo are dangerous for both.
Murad Esenov, director of the Center for Central Asian and Caucasian Studies, told gazeta.ru that Berdymukhammedov is "a typical product of Niyazov's political school, a relative of Niyazov, and a native of the same region as Niyazov."
A number of other observers suggested that Berdymukhammedov is likely to prove a transitional figure, with some pointing to the sudden criminal charges against Ataev as an early sign that the powerful security forces are already involved in a nascent power struggle.
Meanwhile, Berdymukhammed's initial address promising a continuation of Niyazov's policies indicated that no radical break with the past is in the offing, and that whatever jockeying for power may be under way will take place behind closed doors.
The pro forma international reaction to Niyazov's death conveyed unease about the possibility of a rocky succession struggle. The European Union called on the Turkmen authorities to "ensure that the succession to President Niyazov proceeds in accordance with international standards," AFP reported, echoing a declaration by Russian Foreign Minister Sergei Lavrov.
Their concern is understandable. The EU depends heavily on natural-gas shipments from Russia's Gazprom, which itself has increased its reliance on cheap Turkmen gas in recent years. Departures from the Turkmen status quo are dangerous for both.
Finally, representatives of Turkmenistan's fractious expatriate opposition issued a number of statements evincing support for a unified opposition front and a desire to rejoin the Turkmen political arena. Both goals seem overly ambitious. On the latter count, Deutsche Welle reported that Akmurad Rejepov, head of the presidential guard, has given orders to arrest any opposition emissaries at the border.
Murky Goings-On
The first truth to emerge about Niyazov's legacy is the nearly impenetrable murk he leaves in his wake. With Niyazov gone, media outlets have been reduced to reporting scant facts from the biographies of potential successors -- such as Berdymukhammedov and Niyazov's wayward son, Murad -- and the constitutional niceties governing new elections, this in a country where no political figure other than Niyazov has had the slightest clout for years and no law has outweighed the great leader's fickle pronouncements. In point of fact, Ashgabat is surely awash in intrigue, and no one can claim to know what is transpiring behind its tightly closed doors.
The second truth is that the murk matters far beyond Turkmenistan's borders. When Russia briefly halted gas shipments to Ukraine in early 2006 in the course of a price dispute, Europe experienced supply problems. Instability in Turkmenistan, a potential weak link in the chain of suppliers that underpins European energy security, could have a similar effect.
An unnamed source in Russia's natural-gas industry who predicted a "massive fight for power now in Turkmenistan," told Reuters, "There shouldn't be any short-term problems with supplies to Russia and onward but in the midterm it could become a nightmare." Reuters quoted analysts from Deutsche UFG as saying, "If Niyazov's death results in political instability and social unrest, this may lead to gas supply from Turkmenistan to [gas supply agent] RosUkrEnergo and Ukraine being disrupted."
The third truth is that Turkmenistan stands at the center of competing interests. Russia's state-controlled Gazprom, which brings in billions of dollars from its exports to Europe, faces declining yields at existing gas fields and has, in recent years, chosen to boost imports of Turkmen gas rather than invest in the development of new fields in Russia.
Gas Wars
Mikhail Delyagin, director of the Institute of Globalization and a former adviser to Russian Prime Ministers Mikhail Kasyanov and Yevgeny Primakov, put it bluntly to APN on December 21, saying, "Control of Turkmen gas is a categorical imperative for the normal development of Russia over the next 10 years."
"Control of Turkmen gas is a categorical imperative for the normal development of Russia over the next 10 years."
Meanwhile, China has signed a framework agreement to build a pipeline from Turkmenistan by 2009 that could draw gas away from the amount that Russia needs. A projected trans-Caspian pipeline, attractive to Western countries eager to diversify suppliers and anathema to a Russian leadership loath to surrender control, is another potential flashpoint.
Augmenting this unquiet backdrop, no one knows how much gas Turkmenistan really has, and new leadership opens the door to the possibility of doing new deals and undoing old deals over natural gas. And with billions of dollars at stake, outside interference -- be it overt or covert -- cannot be ruled out entirely.
Model For Central Asian Leaders
Finally, there is the region. In life, Niyazov was the most flamboyant of Central Asia's long-ruling post-Soviet leaders, darling of the international media for his quicksilver megalomania, and bane of international watchdogs for his roughshod ride over the rights of Turkmen citizens.
In death, he becomes the first of the remaining four big men -- after Kyrgyz President Askar Akaev's chaotic ouster and flight to Moscow in March 2005 -- to make a final exit. His surviving colleagues -- Kazakh President Nursultan Nazarbaev, Tajik President Imomali Rakhmonov, and Uzbek President Islam Karimov -- lack Niyazov's flair for making gold teeth and lip-synching the focus of national policy, yet they share -- to varying degrees -- a deficit of democratic legitimacy and a surplus of speculation about succession.
Central Asia's first biologically induced transfer of power will now unfold in its most closeted nation, with the broadest possible range of implications for Turkmenistan's 5 million citizens and the geopolitics of the region. There are no guarantees that it will be a pretty sight. And if current trends continue -- with the region's energy resources increasingly important to the globalized economy and its politics stubbornly opaque -- there are just as few guarantees that it will be the last spectacle of its kind.
Saparmurat Niyazov, 1940-2006
Saparmurat Niyazov, 1940-2006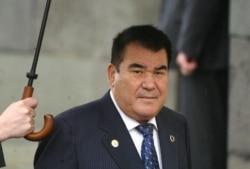 Turkment President Saparmurat Niyazov (bymedia.net)

ERA OF UNCERTAINTY. The death of Turkmen President Saparmurat Niyazov ends an era and begins a period of great uncertainty in Turkmenistan....(more)
RELATED ARTICLES
Could Niyazov's Death Lead To Political Struggle, Instability?
President's Death Brings Muted World Reaction
Energy Analyst Discusses Impact Of Niyazov's Death
Niyazov's Death Prompts Integration Hopes, Gas Worries In Russia
ARCHIVE
RFE/RL's coverage of
Turkmenistan
.