The Russian daily "Kommersant" reported on March 19 that an agreement on forming such a cartel was reached last week. The consortium reportedly will initially include Russia, Iran, Qatar, Venezuela, and Algeria -- which together account for nearly 70 percent of the world's reserves of natural gas.
An announcement on the formation of the cartel is expected to be announced on April 9 in Doha, Qatar, during a meeting of the Gas-Exporting Countries Forum (GECF), "Kommersant" reported, without citing its source.
Mixed Signals
Russian officials have repeatedly denied that Russia intends to form an international gas cartel. However, the person who first floated the idea in 2002, President Vladimir Putin, as recently as February said the idea was "interesting."
As for the meeting of gas-exporting countries next month, an Industry and Energy Ministry spokesman on March 19 confirmed only that "among those who will take part in the conference will be Russian Industry and Energy Minister Viktor Khristenko, who will express his views on creating a 'gas OPEC," Interfax reported.
However, the spokesman said there were no plans to formalize the creation of a natural-gas cartel during the session.
It is widely believed that Iran would have a major role in formulating the cartel's policies.
The denial echoes comments made recently by Deputy Industry and Energy Minister Andrei Reus. "Emphasis should not be put on the word 'cartel,'" Reus said during an energy conference in Houston, Texas, on February 15. "We have not received any specific proposals on the form and structure of a possible organization."
The idea gained traction in 2006 after a
NATO report alerted members
of the alliance of the dangers of the possible formation of a natural-gas cartel. Such a grouping could include major gas producers Russia, Iran, Qatar, and Algeria along with Libya and Central Asian states, according to NATO experts. The purported goal: "To use energy policy to achieve political objectives."
Iran's thoughts on the issue were made crystal clear during a visit to Tehran by Russian Security Council Secretary Igor Ivanov on January 29. "Our countries can establish an organization similar to OPEC," " Nezavisimaya gazeta" quoted Ayatollah Ali Khamenei as telling Ivanov.
Who Stands To Benefit?
Although there are few details available yet on how such a cartel would conduct business, it is expected to be a much more active organization than the GECF, which has been a passive group since its creation in Tehran in 2001.
The GECF is currently anchored by major exporters Russia, Iran, Algeria, and Qatar, along with 11 other members and one observer (Norway).
Three among them stand out for their potential prominence in a "gas OPEC" -- Iran, Russia, and Algeria.
It is widely believed that Iran would have a major role in formulating the cartel's policies and this alone would create jitters in the EU, not to mention open opposition by the United States.
Among those policies, "Kommersant" notes that the currency such a cartel might adopt for its transactions could become the euro at Iran's insistence.
Algeria, which boasts the world's eighth-largest gas reserves and is seen by the European Union as an avenue for reducing its energy dependence on Russia, would stand to gain significant clout.
According to "Kommersant," Algerian President Abdelaziz Bouteflika recently gave his personal backing for the formation of such an organization.
But the main player in the cartel will be without a doubt Russia, the world's largest gas producer, with the largest gas reserves.
Despite the denials from officials, Russia has been the main promoter of the creation of a gas cartel through a stealthy campaign.
And while the West has largely downplayed the impact a gas consortium could have on fixing prices, given that the business largely works on the basis of long-term contracts, there are cracks in this argument.
"Kommersant," for example, points out that Gazprom's contracts "stipulate that prices can be reviewed either quarterly or semiannually."
And, if the gas cartel adopts current Moscow rules in its dealings with customers, its potential to become a very powerful instrument in the hands of Russian foreign policy is obvious.
Ready To Enlist
Other key gas producers from around the world also appear keen to join such a grouping -- much to the chagrin of dependents such as the United States and the European Union.
Caspian and Central Asian gas producers -- notably Azerbaijan, Turkmenistan, and Kazakhstan -- have in the past expressed an interest in seeing the creation of such a body.
Some observers predict that Russia will use all the leverage it has to bring these countries into such a cartel, with the West in turn pulling out all the stops to prevent it.
And smaller but influential players such as Trinidad & Tobago, a major supplier of liquefied natural gas to the U.S. market, has also expressed its interest in a "gas OPEC," according to "Kommersant."
Others, notably Venezuela, see a cartel as an opportunity to counter the United States. Venezuela does not export gas, but it has been successful in creating a mini South American gas cartel consisting of gas producers Bolivia and Argentina.
Venezuelan Energy and Oil Minister Rafael Ramirez was quoted by "Kommersant" as saying that Caracas "supports the idea of a gas OPEC that will supplement OPEC and that will be a excellent mechanism of regulating the two main commodities on the energy market."
Back To The Drawing Board
Such a scenario would likely cause the European Union to revise its current energy strategy.
This is because the EU's envisioned Nabucco gas pipeline -- touted as a means of bypassing Russian routes in supplying Europe with Caspian and Middle East gas -- would be seriously threatened by a cartel.
It could also convince EU-member Hungary to further participate in Russian-sponsored projects, drawing the country closer into the Russian orbit. The country has already faced criticism after agreeing this month to become a hub for Russian gas in Central Europe.
But not all potential members of a gas cartel would have reason to wield their increased energy powers against the European Union or the United States.
Qatar, widely regarded as a solidly pro-American state, would be loath to agree to any cartel policies seen as "anti-Western." Likewise for Trinidad & Tobago.
And Algeria, which has longstanding contracts to export liquefied natural gas to France, would also be reluctant to scare off its most lucrative customer by signing on to any radical policies.
How Much Do The Neighbors Pay?
How Much Do The Neighbors Pay?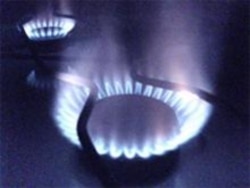 SETTING THE RATES: With Gazprom negotiating new contracts, many states will be paying more for Russian natural gas in 2007.
Belarus, following tense negotiations with Gazprom, will pay $100 per 1,000 cubic meters in -- up from $47 in 2006. Ukraine, which depends on Russia to supply it with about 77 percent of its gas, will pay $130 per 1,000 cubic meters of a Turkmen-Russian gas mix. Moldova, which depends on Russia for 100 percent of its gas, will pay $170 per 1,000 cubic meters, with the price rising to European-level market price by 2011. Georgia has agreed to pay Gazprom $235 per 1,000 cubic meters of gas.
ARCHIVE
A
complete archive
of RFE/RL's coverage of energy issues in the Caspian Sea region and Russia.