The result could be an opposition comprising forces variously described as centrists or pragmatists, on the one hand, and radicals associated with the president on the other.
The realignment comes as reformists -- effectively excluded from power since late 2005 -- try to raise their profile as government critics.
The maneuvering could provide them an opportunity to regroup -- with a somewhat diluted or evolved agenda -- alongside centrist forces hovering around Expediency Council Chairman Ali Akbar Hashemi-Rafsanjani. Rafsanjani is an ex-president with a penchant for liberal economics who has in fact begun to do what reformers have been threatening: criticizing the government in earnest.
Expediency Council Secretary Mohsen Rezai said the council is examining the new policies "because wherever you look in this country, people are suffering from bureaucracy and administrative complexities."
Tough Talk
Rafsanjani targeted the government's economic policies in particular in a speech in Tehran on March 5.
Tehran-based journalist Mohammad Sadeq Javadihesar told Radio Farda on March 6 that Rafsanjani's criticism came slowly, given the gravity of Iran's economic situation. But the remarks are a further sign of Rafsanjani's return to headline politics.
While he has been a constant of institutional life in past decades, Rafsanjani's political profile subsided during the presidency of Hojatoleslam Mohammad Khatami (1997-2005). This was in part due to waning popularity relative to Khatami -- Rafsanjani was perceived as representing a conservative state that was thwarting the reform process. But now he is increasingly seen as an informal opponent of radicalism associated with Ahmadinejad's government.
Rafsanjani has consolidated his position since his success in December's elections for the Assembly of Experts, the body of clerics of which he is now a vice president, and his reinstatement by Supreme Leader Ayatollah Ali Khamenei as chairman of the Expediency Council, a key arbiter and watchdog.
On March 5, Rafsanjani said the government has had enough time to implement its promises. He pledged that the Expediency Council will particularly scrutinize government decisions and expenditures to ensure they conform with the goals of development plans and the constitution -- specifically, the fourth five-year development plan; the 20-year forecast; and Article 44 of the constitution, which calls for large-scale privatizations.
He claimed that several budget amendments so far have contravened those aims. Rafsanjani said council members had "observed them and made do with verbal comments," "Etemad-i Melli" reported on March 6. He warned that this next year's (2007-08) budget text "is even more dependent on oil than those of the previous two years," and cited Iran's stated policy of ending economic dependence on crude oil.
Rafsanjani said the 20-year forecast seeks to reduce that dependence by 10 percent every year "but the trend has been the opposite in the past two years." He conceded that all government branches and the Expediency Council could have been more forceful in implementing these programs in past years.
Rising Chorus?
The comments of other Expediency Council members also hint at newfound political courage. Secretary Mohsen Rezai told reporters on March 6 that the council is examining the formulation of new administrative policies, "because wherever you look in this country, people are suffering from bureaucracy and administrative complexities," ISNA reported.
Rezai said state officials must be informed about broader policies so those plans are not disrupted by changes in government. He predicted that the Expediency Council will face criticism as it seeks to ensure implementation of Article 44, which he said heralds a "revolution." Supreme Leader Khamenei recently said he expects them to prompt an economic revolution.
On March 7, Mahmud Vaezi, the head of the Expediency Council strategic research center called for a similar stabilization -- but of foreign policies, urging an "objective" definition of national interests impervious to changing governments, ILNA reported. Vaezi warned that "today the discourse we use in foreign policy has meant the entire world is against us."
He was perhaps referring to Ahmadinejad's intermittent denunciations of Western powers. Vaezi said the late Ayatollah Ruhollah Khomeini "always separated the West from America, so that" in case of conflict with the United States, Iran "could have the support of European states." Vaezi deplored the "lot of slogans" and "bad discourse" used on the nuclear issue, urging instead "a discourse to which people are willing to listen in the international arena."
...Or 'Extensive Front'?
The criticism has not gone unnoticed inside Ahmadinejad's government.
Ahmadinejad told a gathering on March 7 that "an extensive front" has opened against him. He blamed people "who have lost access to their privileges and the public purse, and cannot just pick up the phone and ask for millions of tumans to be paid into Mr. So-and-So's [bank] account," ISNA reported.
The president alluded to "certain people's" failure to tackle corruption while in office. He also claimed past privatization efforts were implemented "without norms" and through "middlemen," and implied that they are to blame for the plight of "factory workers [who] have lost their jobs and stand outside our offices every day asking for their wages."
The same day as Ahmadinejad's speech, presidential ally Mohammad Ali Ramin accused "people who formed a party" in 1995 of provoking crises for the government "every day," "Etemad-i Melli" reported on March 7. He was referring to the founders of the Executives of Construction Party, a centrist party associated with Rafsanjani.
The ally accused that group and related "gangs" of wielding extensive economic power behind the scenes; of reducing the powers of Iran's supreme leader following the 1989 death of Khomeini so they could form a "land-grabbing" cartel; and of seeking to impose Rafsanjani "on the system" as a "president-for-life."
Stirring The Pot
Reformists have meanwhile stated -- in typically mild fashion -- their own intention to begin scrutinizing government policies. Hossein Musavi-Tabrizi, a cleric and member of the Association of Qom Seminary Researchers and Teachers, said reformists have strengthened ties and addressed "weaknesses" in the past year, ILNA reported on March 6. He said the government has had "an opportunity" to carry out its promises and now, "two years into the life of the government," reformists can "explain to the public" its level of success in working toward long-term economic goals.
Former reformist Interior Minister Abdolvahed Musavi-Lari said the same day that reformists should now coalesce around "acceptable figures and effective ideas" ahead of the next parliamentary elections, ISNA reported. He did not specify who those "figures" might be.
It is fair to say that since the loss of executive office in 2005, reformists have been wary of criticizing government policies. It would have been easy to take them to court on a variety of "elastic" charges now familiar in Iran, which include undermining national security or inciting public opinion. The term "elastic" was coined by reformist journalist Abbas Abdi to mean charges with broad scope for interpretation. Reformists have also sought prominent figures able to unite the various reformist branches.
Rafsanjani, who has cut a mildly reformist figure in the past two years and who has been vilified for it by radical right-wingers, might be such a figure. But that will become evident only with time, once alignments are clarified and lists formulated for coming parliamentary or presidential elections.
The bold reformist agenda of the late 1990s might not be immediately feasible. But some -- or many -- Iranians might reconcile themselves to a gradually liberalizing agenda, beginning with a revival of the private sector.
The Structure Of Iran's Government
The Structure Of Iran's Government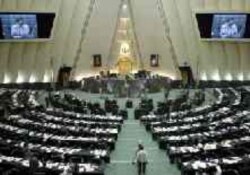 INSIDE THE ISLAMIC REPUBLIC: Iran is a theocratic Islamic republic governed under a 1979 constitution that was revised in 1989, when presidential powers were expanded and the prime minister's post was abolished.
Appointed -- not elected -- offices and bodies hold the real power in the government. The supreme leader, who serves as a chief of state would, is appointed for life by an Islamic religious advisory board that is called the Assembly of Experts. The supreme leader oversees the military as well as the judiciary and appoints members of the Guardians Council and the Expediency Council.
The Guardians Council -- some of whose members are appointed by the judiciary and approved by the parliament -- works closely with the government and must approve political candidates and legislation passed by the parliament. The Expediency Council is responsible for resolving legislative disputes that may arise between parliament and the Guardians Council over legislation.
The president, who is popularly elected for a four-year term, serves as the head of government. The legislative branch is made up of a 290-seat body called the Majlis, whose members are elected by popular vote for four-year terms...(more)
ARCHIVE
RFE/RL's
coverage of Iran
.