It's hardly a new proposal, however.
An Idea Whose Time Has Come
Putin first floated the idea of a gas cartel in 2002, during his second year as president. He quickly met with opposition from Western energy companies and -- in what was to become a feature of his style of governing -- retreated and put the issue on the back burner.
At that time, he was supported by the leaders of Central Asian gas-producing nations, who were lobbying Moscow to create such a cartel.
But Putin, seeking to regain state control over Russia's vast energy sector, had his hands full. He apparently decided to wait for a more opportune moment to return to this idea. It seems that this moment is rapidly approaching.
"We're already trying to coordinate our actions in the markets of third countries," Putin said during his annual Kremlin news conference on February 1. "And we also intend to do it in future."
The Russian leader then backtracked, saying that Russia supports "coordination" in the gas market, rather than the "creation of some kind of cartel."
In May 2006, Gazprom Deputy Chairman Aleksandr Medvedev leveled a threat against the West, saying Russia, if it didn't get its way in energy negotiations with Europe, would create "an alliance of gas suppliers more influential than OPEC" -- the Organization of the Petroleum Exporting Countries, which groups 12 major oil exporters.
A few months later, in August, Russia decided to move forward with the concept of an "alliance of gas suppliers" when Russia and Algeria signed a memorandum of understanding calling for coordinated gas prices, which many saw as an attempt to set up a cartel.
Security For Producers
Meanwhile, Putin could be heard complaining that consumer countries in the West focused too strongly on their own energy interests while slighting those of producers.
Speaking as the head of the country that would most certainly lead any future gas cartel, Putin in September said that consumer countries wanted suppliers to pledge continuity of shipments for the long term.
So, he reasoned, "consumers should not be able to turn around and say, 'We don't need it now.' Security works both ways. We need assurances, too."
With that, it seemed, the groundwork for setting up an alliance was in the works.
Massive PR efforts had already catapulted Russia's state-controlled gas monopoly Gazprom into the upper echelons of international corporate fame. Western companies were being brusquely booted from the Russian energy market. And Russia steadfastly refused to ratify the European Energy Charter treaty that would give foreign investors greater access to Moscow's deposits and pipelines.
Founding Members
Any group of gas-producing nations would likely include Iran, Algeria, and Qatar, in addition to Russia. Iran has signaled it favors such a grouping. Together, Tehran and Moscow control one-half of the world's natural-gas reserves, and a cartel-style partnership would be profitable for both.
A little known quasi-cartel already exists. The Gas Exporting Countries' Forum (GECF) first met in Tehran in 2001, with Algeria, Iran, and Russia among its founding members.
Consisting of 15 gas-producing nations, it controls 73 percent of the world's gas reserves and 41 percent of production.
So far, the GECF is more of a talking shop than a bona fide organization. It has no staff and no headquarters, and it has never attempted to set prices. But with the signing of the Russian-Algerian agreement, it may be only a matter of time before the organization gains prominence. Gazprom and Sonatrach, the Algerian state gas company, may launch a joint marketing of gas in Europe -- something that hints at the potential transformation of GECF into a cartel.
NATO is worried by these developments and in November 2006 warned members that Russia may be seeking to create a natural-gas cartel stretching from Algeria to Central Asia to use as a political weapon in dealings with Europe.
The outcome of Putin's upcoming visit to Qatar, which has the world's third-largest proven gas reserves, might shed more light on Russia's plans.
Another factor is the upcoming presidential election in gas-rich Turkmenistan, the outcome of which might throw a monkey wrench into everyone's plans.
If the new Turkmen leadership decides to lean more toward the West, Russia may be forced to create a gas OPEC in order to insure itself against any disruption of supplies from Central Asia, a region where its standing is no longer as strong as it was when Putin first proposed a cartel in 2002.
How Much Do The Neighbors Pay?
How Much Do The Neighbors Pay?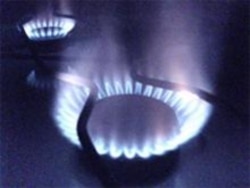 SETTING THE RATES: With Gazprom negotiating new contracts, many states will be paying more for Russian natural gas in 2007.
Belarus, following tense negotiations with Gazprom, will pay $100 per 1,000 cubic meters in -- up from $47 in 2006. Ukraine, which depends on Russia to supply it with about 77 percent of its gas, will pay $130 per 1,000 cubic meters of a Turkmen-Russian gas mix. Moldova, which depends on Russia for 100 percent of its gas, will pay $170 per 1,000 cubic meters, with the price rising to European-level market price by 2011. Georgia has agreed to pay Gazprom $235 per 1,000 cubic meters of gas.
ARCHIVE
A
complete archive
of RFE/RL's coverage of energy issues in the Caspian Sea region and Russia.