The protesters, numbering in the thousands, marched from the White House to Capitol Hill, where the U.S. Congress meets, demanding the withdrawal of U.S. troops from Iraq.
One of the marchers, Jacob Berger, called for the creation of a movement similar to that seen in the United States in the 1960s and '70s against the Vietnam war.
"The large problem today is apathy. Most people feel like they can't make a change in this world," Berger said. "They just feel like its too big. And we are here to prove that we can change, and we need to get that sort of rallying together like people did back in Vietnam. And that's what got us out of Vietnam. And that's what we are trying to do to get out of Iraq."
Pullout Problems
Another demonstrator, Michael Drohan, acknowledged there would be problems if there was a complete U.S. troop withdrawal from Iraq. But he said nothing can be solved by the U.S. military's continued presence in the country.
"Yes, there would be problems if the U.S. withdraws, but those problems cannot be solved by the U.S.," Drohan said. "The United Nations and other international bodies can help the Iraqis to restore peace to their shattered, destroyed country, but the continuous presence of the U.S. Army there serves no purpose."
Some protesters also called for the impeachment of U.S. President George W. Bush.
Police reported about 190 arrests around Capitol Hill, many after protesters forced their way into restricted areas. Reports said police used pepper spray to disperse some demonstrators.
There were smaller counterprotests by supporters of Bush's Iraq policy.
The protests followed a week that saw testimony to lawmakers in Congress from the top U.S. military commander in Iraq, General David Petraeus, and the ambassador to Baghdad, Ryan Crocker. Both expressed optimism that the recent troop surge has improved security conditions.
Progress Notched
In his weekly radio address on September 15, Bush said he accepted Petraeus's recommendations to reduce the number of U.S. troops in Iraq by some 30,000 by next summer, if conditions allow.
Bush said the Al-Anbar and Diyala governorates, as well as the capital, Baghdad, are good examples of the progress being seen in Iraq.
"In Baghdad, sectarian killings are down, and life is beginning to return to normal in many parts of the city," Bush said. "Groups of Shi'ite extremists and Iranian-backed militants are being broken up, and many of their leaders are being captured or killed. These gains are a tribute to our military, to Iraqi forces, and to an Iraqi government that has decided to take on the extremists."
But Bush warned again against a quick withdrawal from the country.
"The success of a free Iraq is critical to the security of the United States," Bush said. "If we were to be driven out of Iraq, extremists of all strains would be emboldened. Al-Qaeda could find new recruits and new sanctuaries. And a failed Iraq could increase the likelihood that our forces would someday have to return -- and confront extremists even more entrenched and even more deadly."
Bush insisted a free Iraq will deny Al-Qaeda a safe haven and will counter the "destructive ambitions" of Iran.
Troops In Iraq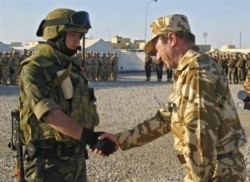 Armenia: Around 50 troops, comprising transportation, engineering, and medical units.

Azerbaijan: 88 troops, mostly infantry soldiers guarding the Hadithah dam.

Bosnia-Herzegovina: 37 troops, comprising munitions and demining units.
Georgia: Around 2,000 troops, mostly involved in combatting weapons smuggling.

Kazakhstan: 29 troops, mostly ordnance-disposal engineers.

Macedonia: 33 troops, mostly special forces.

Moldova: 11 troops, comprising demining and ordnance-disposal specialists.

Romania: Around 600 troops, comprising intelligence, security, and training units.

(Note: Only those countries from RFE/RL's broadcast region are listed.)
(Sources: RFE/RL, Reuters, GlobalSecurity.org)