RFE/RL: Washington has frequently criticized Tehran over supplies of weapons that reach groups fighting coalition forces in the south of Iraq. More recently, the Baghdad government has also protested Iranian cross-border shelling that targets anti-Tehran Kurdish groups that Iran says are sheltering in northern Iraq. How would you describe Tehran's policies towards Iraq: helpful or unhelpful?
Hoshyar Zebari: We have been very clear and direct with them on all these issues: of the intervention, of the usefulness or unusefulness of the role they are playing, and we have been very frank with them that on the one hand, politically, Iran does support the government, the political process and so on, but we have insisted that that should be matched with action and deeds on the ground. And if there is any desire to support the government, that support should go to the government, not to militias, or not to rogue groups here and there.
There is a lot we as Iraq expect our neighbors to do to be more helpful, and soon we will convene a meeting, a ministerial meeting, in Istanbul where all these partners plus the United States, plus the P5, plus the G8 [Group of Eight], will attend at the ministerial level, and we announced that it would be on October 31 and November 1.
RFE/RL: Turning to central Iraq, Washington has said it is much encouraged by cooperation between Sunni tribes and U.S. forces to fight Al-Qaeda in the area. Do you see this as possibly also leading to increased cooperation between Sunni nationalist groups and the government in Baghdad?
Zebari: We've seen the fruit of that [fight against Al-Qaeda] in Anbar, in many parts of Diyala, in some parts of Baghdad, and so on, and this is a very positive development, but at the same time we have to be careful not to create new militias, that these new forces really have to be integrated into the existing Iraqi military, security, police structures, to be part of the state forces and not to act one against the other.
RFE/RL: Moving to southern Iraq, the British government recently withdrew forces from inside the city of Al-Basrah to the airport in preparation for reducing its troop presence in the region. Is the Iraqi army able to fill the vacuum?
Zebari: We've been reassured by the British government, by the prime minister, by the foreign secretary that Britain does not have any plans to withdraw completely from southern Iraq, but this has been in the planning, it has been worked out with the Iraqi authorities, to hand over responsibility in Baghdad to Iraqi authorities. Already, we are moving troops, we are moving police units to fill that vacuum in Basra.
Iraq And Iran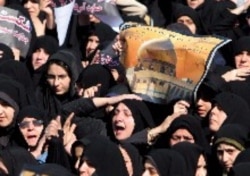 Iranian Shi'a protesting the Golden Mosque Bombing in Iraq on February 24


WHAT IS GOING ON? On March 8, RFE/RL's Washington office hosted a roundtable discussion on relations between Iraq and Iran. Although most analysts agree that Iran has been actively involved in Iraq since the U.S.-led military operation to oust former Iraqi President Saddam Hussein, they continue to debate the nature, extent, and intent of that involvement.
The RFE/RL briefing featured WAYNE WHITE, former deputy director of the U.S. State Department Bureau of Intelligence and Research's Office of Analysis for the Near East and South Asia, and A. WILLIAM SAMII, RFE/RL's regional analyst for Iran and editor of the "RFE/RL Iran Report."
LISTEN
Listen to the complete RFE/RL briefing (about 75 minutes):

Real Audio
Windows Media
RELATED ARTICLES
Iran/Iraq: Bilateral Ties Improving Despite U.S. Worries
Renewed Speculation About Tehran And Instability In Iraq
Iran/Iraq: Neighbors Mending Ties, But Outstanding Issues Remain
ARCHIVE
RFE/RL's
coverage of Iran
. RFE/RL's
coverage of Iraq
.