That move would raise the total manpower of the Georgian armed forces to 32,000, which is more than twice the optimum figure of 13,000-15,000 initially recommended in the 2005 assessment conducted by the U.S. State Department's International Security Advisory Board (ISAB) at the request of the Georgian government.
Meanwhile, the parliament's Defense and Security Committee also approved an increase in defense spending, which the full Georgian parliament is widely expected to adopt in a vote set for September 25. The proposed rise in Georgian defense spending, the latest in several such increases over the last few years, calls for a 315 million-lari ($190.4 million) increase in funding for the military in 2007, making defense spending the largest category of state budgetary expenditures.
Both the planned expansion of the Georgian armed forces and the continued increase in defense spending are justified by some Georgian officials as a necessity in light of a broader military buildup in the region. That argument points to the meager size of the Georgian Army in contrast to its neighbors, a comparison that, at least on paper, is borne out by the fact that Azerbaijan's Army is nearly three times larger and even small Armenia has an army roughly double the size of the Georgian force. The dramatic increases in defense spending in the region in the past few years, most notably in the case of Azerbaijan's current $1 billion defense budget, are also cited as an important factor driving Georgian military planning.
On the other hand, Georgia is not at risk of attack from either Armenia or Azerbaijan. Moreover, many experts argue that the trend toward a significantly larger Georgian military is neither particularly prudent nor beneficial for the country's unique security needs. For example, in conformity with the expert advice of the ISAB, the Georgian leadership agreed in the late 1990s to slash the armed forces' manpower and to move instead to create a smaller, more mobile army that would conform more closely to NATO standards.
The army was duly downsized from approximately 38,000 men to some 20,000 in early 2004, primarily by reducing ancillary, noncombat personnel. But the team of young politicians headed by Mikheil Saakashvili, who came to power in the wake of the November 2003 Rose Revolution, set about reversing that trend.
Building Up Reserves
Visiting Washington in June 2005, then-Defense Minister Irakli Okruashvili first suggested that it may be "necessary" to increase the number of active-duty personnel substantially, by adding an additional infantry brigade to the army's existing four. In its report for 2005 (issued on March 14), the ISAB noted that plans for a four-brigade structure plus an increased reserve force "represent an increase of 25-30 percent on earlier planning figures" as laid out in the Individual Partnership Action Plan (IPAP) agreed with NATO in 2004, and thus "raise questions of affordability."
Rather than proceed immediately to create a new fifth brigade, Tbilisi focused in 2005-06 on an ambitious program, launched in the fall of 2004, to train thousands of reservists who could be mobilized in an emergency. Initially, it was planned to train 15,000-20,000 reservists by the end of 2005, Saakashvili was quoted as saying in January of that year; by August 2006, he said 50,000 men (and women) had already undergone training, and that the total number of reservists should be doubled to at least 100,000.
But some military experts derided that proposal as unworkable and unnecessary. For example, Kakha Katsitadze, a former head of the strategic planning department of the armed forces General Staff, predicted that it would prove impossible to train that many reservists; he also said the three-week training period they are required to undergo is painfully inadequate, according to Caucasus Press on August 12, 2006.
However, the Georgian parliament went ahead and enacted legislation in December 2006 that required all men between the ages of 27-40 to perform 18 days compulsory military training every second year. That legislation went into effect in March 2007. At the same time, National Guard commander Colonel Nika Djandjgava, extended the time frame for completing the training of a 100,000-strong reservist force until 2012, training 20,000 annually, according to Civil Georgia on March 9.

Why Does Georgia Need Bigger Army?
It remains unclear why Georgia has moved at this juncture to increase its armed forces, especially in light of hopes to progress at the NATO summit in Bucharest in April 2009 from Intensified Dialogue with NATO to a Membership Action Plan (MAP). The MAP is regarded as the final phase before a formal invitation to join the alliance is forthcoming, although it is not a watertight guarantee that such an invitation will be issued within a specific time frame: Albania, Croatia, and Macedonia embarked on MAPs prior to the 2004 NATO summit.
In 2005, then-Georgian Defense Minister Okruashvili explained the decision to increase the strength of the armed forces in terms of the presence of some 1,000 Georgian troops in Iraq as part of the international peacekeeping force there. But on September 14 -- the same day that the parliament signed off on the increase -- Defense Minister Davit Kezerashvili announced that Georgia will begin reducing its contingent in Iraq in 2008, Imedi TV reported.
As for the additional 315 million laris in funding for the armed forces, Prime Minister Zurab Noghaideli told parliament it will be used to bring the Georgian Army into compliance with NATO standards. Deputy Defense Minister Vera Dzneladze was more explicit: Caucasus Press on September 8 quoted her as saying that it will be used to build a new military base in Khoni, western Georgia, which will house the planned fifth brigade; to set up a blood bank at the Gori military hospital; for the purchase of munitions, communications systems, and military aircraft; and on the reconstruction of the airfield at Kopitnari, west of Kutaisi.
Thus, taken together, Georgia's decision to increase both army manpower and defense spending raises the question whether Georgia is really interested in complying with NATO standards. Some commentators have suggested that, instead, Georgia's military buildup could be connected to plans to launch a military campaign to regain its breakaway regions of Abkhazia or South Ossetia, or even both.
A Precarious Balance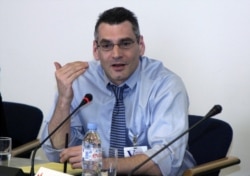 Richard Giragosian at RFE/RL on May 25 (RFE/RL)
SECURITY SLIPPING AWAY?
: On May 25, RFE/RL's Prague broadcasting center hosted a talk by
RICHARD GIRAGOSIAN
titled, "The Military Balance In The South Caucasus And Nagorno-Karabakh." Giragosian, a Washington-based analyst of international relations in the former Soviet Union, concentrated on the military balance between Armenia and Azerbaijan as the two countries continue to increase defense spending. Girogosian argued that corruption is the main threat to the national security of both countries. He also commented on other security issues in the South Caucasus, Iran, elsewhere.
LISTEN
Listen to the entire briefing (about 60 minutes):
Real Audio
Windows Media
Selected Articles By Richard Giragosian:
Nagorno-Karabakh: Peace May Depend On Military Situation
Georgia: Gas Cutoff Highlights National Security Flaws
Azerbaijan: Has Government Taken A Troubling Example From Andijon?
ARCHIVE
For an archive of RFE/RL's coverage of Nagorno-Karabakh, click here.

SUBSCRIBE
For weekly news and in-depth analysis on Armenia, Azerbaijan, Georgia, and Russia's North Caucasus by e-mail, subscribe to "RFE/RL Caucasus Report."