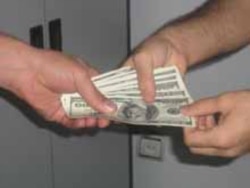 From Turkmenistan
A man from western Balkhan province says, "Corruption is prospering in the country. It is almost impossible to get hired or to be admitted to university for study without bribes. Also, law-enforcement agencies are very corrupt." One resident of the capital, Ashgabat, tells RFE/RL that unemployment, drug abuse, prostitution, and other crime are all rooted in corruption. Bribery and corrupt practices are also said to be rife in the grain- and cotton-producing industries. Namely, inaccurate statistics about the annual harvest are provided by officials of the agriculture sector.
RFE/RL's Turkmen Service reports that the country's level of corruption has reached such a terrible stage that it actually begins in the schools. Parents have to give bribes if they want their child to attend better schools. The Turkmen Initiative For Human Rights group, based in Vienna, says parents are giving bribes of between $50 and $100 in order for a child to be admitted to schools with Russian-language teaching. Such schools often provide a better education than those taught in the Turkmen language.
From Armenia
Armenia's Prosecutor-General's Office announced on August 2 that it has formally asked the Economic Court to strip the Ararat Gold Recovery Company of all operating licenses and fine it almost $22 million for "tax fraud and other violations of the law," according to RFE/RL's Armenian Service. The case is the latest in a series of disputes in the Armenian mining sector, with an earlier conflict between the Environment Ministry and the U.S. Global Gold Corporation culminating in a decision by the ministry to revoke the company's license to carry out exploratory work at a mine located at Marjan, near the Iranian border.
Former Environment Minister Vardan Ayvazian also faced corruption allegations by the same U.S. company, which reportedly submitted documentary evidence to the U.S. government demonstrating the minister's demand for a $3 million bribe to allow the company to continue operating in Armenia.
From Kyrgyzstan
On September 24, five people were detained by the Kyrgyz Interior Ministry on suspicion of taking and giving bribes, RFE/RL's Kyrgyz Service reports. The detained include a senior marketing specialist of a local administration in Bishkek; the head of department of the transport company Kyrgyztemir zholu; a senior engineer of Kygyztelekom; and a deputy dean of one of the technical universities in Osh.
The Interior Ministry says all of them are accused of demanding money for some business favors or contracts. The fifth person was detained when he allegedly tried to bribe a police officer. Police say he offered a bribe of $700 in exchange for the closing of a criminal investigation. The ministry says the man is a suspect in a case of forging documents.