From both inside and outside Iran, the criticism has been strong. By comparison, conservative Islamist bloggers in Iran who usually support Ahmadinejad have been relatively quiet -- posting few details of his appearance at Columbia University, his speech to the UN General Assembly, or the refusal of U.S. authorities to allow him to visit the site of the September 11, 2001, terrorist attacks on the World Trade Center.
One key event that captured the attention of Iranian bloggers was the introduction that Columbia University President Lee Bollinger gave when Ahmadinejad appeared on September 24 at a high-profile academic event there known as the World Leaders Forum.
Bollinger was applauded by the audience when he challenged Ahmadinejad for questioning the Holocaust and for his incendiary remarks about Israel. Bollinger said the Iranian president's comments signaled that he was either "brazenly provocative or astonishingly uneducated."
"Mr. President, you exhibit all the signs of a petty and cruel dictator," Bollinger said. "And so I ask you, why have women, members of the Baha'i faith, homosexuals, and so many of our academic colleagues become targets of persecution in your country?"
'Insulting The Iranian People'
Former Iranian Vice President Mohammad Ali Abtahi maintains a website called "webneveshteha" (written on the web), a Persian-language blog that claims to have some 20,000 regular readers.
Abtahi writes that "one of the most important news developments in the entire world is Ahmadinejad's trip to New York." He goes on to say that, "Unfortunately, Mr. Ahmadinejad, instead of trying to find solutions for our main problems and improving Iran's relations with world leaders, has conducted a propaganda trip. And he was insulted by the media that oppose him."
Abtahi says that "the president of Columbia University insulted Mr. Ahmadinejad, and these insults are insults to the Iranian people," adding that "Our nation expected that President Ahmadinejad wouldn't put himself in a position to be insulted. In the world, political perspectives are different." Abtahi says he "wishes that Ahmadinejad's advisers would have helped him to plan his trip and his answers to questions. People expect the Iranian president to help solve their political and economic problems on these trips."
'The Evil Has Landed'
An anonymous blogger based in Iran who calls himself "Jomhour" (Republic) informs Iranian readers that CNN described Ahmadinejad's speech at Columbia University as a "war of words." But Jomhour says Ahmadinejad's visit to the university goes far beyond a war of words.
He writes: "Maybe we can consider Columbia University as a sister of Amirkabir, the Polytechnic University in Tehran. There, in the last year, [Iranian] students criticized Ahmadinejad and protested against him. The president of Columbia University mentioned the violations of human rights in Iran, conditions of religious and ethnic minorities, repression against women and youth, and media censorship. He told Ahmadinejad that he expected clear and precise answers to these questions. Ahmadinejad, in response to a question about homosexuals in Tehran, claimed that homosexuality doesn't exist in Iran. Outside of the university, many people -- including Americans, Iranian immigrants, Jews, and human-rights activists -- gathered in protest. And most of them chanted slogans against Ahmadinejad. Maybe it should be no surprise that the 'New York Daily News' has chosen 'The Evil Has Landed,' as the title of their front-page article" about Ahmadinejad's arrival in the United States.
Another anonymous blogger in Iran who writes in Persian under the title "Khyaban No. 11" asks readers to imagine U.S. President George W. Bush traveling to Tehran University to make a speech.
Khyaban No. 11 writes: "Can we even imagine that George W. Bush could come to Tehran and criticize the Islamic Republic's policies? Is it possible for George W. Bush to come to Tehran and say that Palestine should be wiped from the map? Can George W. Bush come to Tehran and talk about exporting democracy to Tehran? Can we even imagine that George W. Bush would have enough security in Tehran to prevent Ansar Hizbullah from attacking him?"
Backing Rejection Of World Trade Center Visit
One expatriate Iranian citizen who is unhappy about Ahmadinejad's visit to the United States is a blogger who lives in Europe and identifies himself as "Balouch." He reacted unsympathetically to news that Ahmadinejad's request to visit the site of the World Trade Center -- the location of the September 2001 terrorist attacks in the United States -- was refused by authorities in New York.
Balouch invokes Iranian tragedy and the Khavaran Cemetery where thousands of executed political prisoners were buried in Iran in 1988 to praise U.S. officials' approach.
Balouch says that "if I were the police, I would have sent this note to him: 'From the New York Police Department to Mahmud Ahmadinejad: Mr. President, with all due respect, our office cannot accept your request for several reasons. But you can kindly go to Khavaran Cemetery. You don't need any visa to go there. But in our opinion, forget flowers. Just stop killing U.S. soldiers [in Iraq] with roadside bombs.'"
'This Coat Is Too Big'
Another expatriate Iranian blogger who is unhappy about Ahmadinejad's activities in New York this week is a 29-year-old Iranian-born citizen who identifies himself as "Mr. Behi." Now purportedly living in Libya, Mr. Behi describes himself as a man who "tries to be a person with a free mind" and "a world citizen."
He writes: "There is a proverb in Persian saying: 'This coat is too big for you.' It's used for someone who pretends to do what he or she is too immature for. Since Ahmadinejad became president, we started having feelings of regret because this proverb started to make sense about him. To me, [Ahmadinejad] is so politically immature that he rarely thinks about what he puts himself into and what future outcome his remarks might have. That or he does think about it but his framework of thinking is so far from reality. He is a simple man for whom the presidential chair is too big -- so big that after two years, he still could not come to comprehend his own position and has never learned to abide by the normal diplomatic behavior that is expected from a president."
Mr. Behi goes on to say that "last year after coming back from the UN, [Ahmadinejad] claimed that during his speech, a rim of light surrounded him. Domestically, he claimed so many unrealistic things as well. I would say that his talk about the Holocaust and wiping Israel off the map are as insignificant as his other statement. As a result, I think comparing [Ahmadinejad] to Hitler is very unrealistic and is truly propaganda to fuel a war. The regrettable fact is, 'Why has he put himself and his country in such position by talking before thinking?'" Mr. Behi asks, before answering, "We add this question to the tons of others that are left unanswered by the Islamic Republic."
Iran's 'No Browse' Zone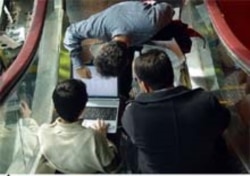 BLOCKED SITES: Iran's state Information Technology Company announced in September 2006 that more than 10 million websites were being "filtered" in Iran. They included the following, organized by category.
Forums, Sharing, and Entertainment:
The Google-owned Internet social network system www.orkut.com
The video-sharing website www.youtube.com
The photo-sharing website and web services www.flickr.com
The Kurdish version of Wikipedia's online encyclopedia www.en.wikipedia.org/wiki/Kurdish
Social and Human Rights:
London-based www.amnesty.org, one of the world's leading human rights defenders
New York-based Human Rights Watch www.hrw.org, also one of the leading human rights defenders in the world
The Paris-based Reporters Without Borders www.rsf.org, a leading media watchdog
The official website of the Tahkim Vahdat Organization, the largest reformist university organization in Iran www.advarnews.us. The group covers news concerning student activism in Persian
The www.gozaar.org website, a monthly Persian-English journal devoted to democracy and human rights
The www.meydaan.com website, a Persian site dedicated to women's rights and activism in Iran
News and Politics:
The Prague- and Washington-based www.radiofarda.com, a joint venture of RFE/RL and VOA covering news in Persian
The Persian service of the London-based BBC www.bbc.co.uk/persian
The Persian service of the Washington-based Voice of America www.voanews.com/persian
The Amsterdam-based www.radiozamaneh.com, which covers news in Persian
The pro Islamic Republic Tehran based www.baztab.ir covering political and social issues
Brussels-based www.gooya.com, featuring articles by journalists and political figures
The Amsterdam-based daily journal www.roozonline.com, which features articles and interviews in Persian and English
Weblogs:
The Google-owned blog publishing system www.blogger.com
The Harvard-based www.globalvoicesonline.org, a blog that summarizes events in the blogosphere in every corner of world
Numerous personal weblogs from around the world, both in Persian and English, with different views and focusing on different subjects including:
www.doomdam.com (satirical blog)
www.kosoof.com (photo blog)
(source: Radio Farda)