The UN war crimes tribunal in The Hague on September 27 handed down sentences of five and 20 years against two Serbs charged with participating in the killing of 194 people sheltering in a hospital in the Croatian town of Vukovar. The third defendant was acquitted for lack of evidence.
Prosecutors had demanded life imprisonment.
Croatian Prime Minister Ivo Sanader, who traveled to Vukovar in an attempt to calm angry residents, said his country will send a protest to the United Nations.
"For me, this is a defeat of the whole idea of The Hague tribunal, which as established by United Nations countries," Sanader said. "Croatia, as a member state of the United Nations, will lodge a strong protest with the UN Security Council over the verdict. The whole world witnessed the Vukovar tragedy and the killing of civilians assassinated after the fighting. For civilian victims, these three men were meant to be held responsible."
The prime minister called the verdicts "shameful" and also gave orders to send a protest to the chairman of the UN war crimes tribunal.
President Stipe Mesic described the sentences as "utterly unacceptable," and parliament speaker Vladimir Seks said the Vukovar victims were "killed once again."
Vukovar has become synonymous with one of the worst mass massacres in the Balkan wars. The eastern Croatian town fell to the Yugoslav army in November 1991 after a destructive three-month siege.
Despite assurances to international observers, Serbian troops beat, tortured, and shot dead more than 260 men captured in Vukovar's hospital.
(RFE/RL's South Slavic and Albanian Languages Service contributed to this report)
While The World Was Sleeping
While The World Was Sleeping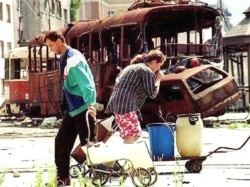 Sarajevo residents fetch water amid war debris in July 1993(AFP)
THREE LONG YEARS: RFE/RL correspondent Vlado Azinovic has also written a book entitled "While The World Was Sleeping," which documents the failure of the international community to respond promptly to the civilian tragedies of the Bosnian War. The book and the audio reports based on it that were produced by RFE/RL's South Slavic and Albanian Languages Service are available online in Bosnian.