Two days after returning from a period of time abroad, Okruashvili unleashed a verbal attack on the president. He was later detained on charges of extortion, money laundering, bribery, and abuse of office while serving as defense minister.
The arrest of Okruashvili, a former Saakashvili ally who also has served as prosecutor-general and interior minister, has sparked large-scale protests from political opposition. Okruashvili spoke to RFE/RL Georgian Service correspondent Eka Tsamalashvili.
RFE/RL: Let's begin with the past. You left politics not as a defense minister, but as a minister of economy – however, you only spent a couple of days in this last post. What prompted you to leave the government – personal issues or general principles?
Irakli Okruashvili: There were no personal issues, I left the government on my free will. Be it the defense minister's post, or that of economy minister. It is possible to say that I haven't even served as economy minister, it was only outlines on paper and nothing else. As to why I imposed that limit, beyond which I wasn't going to stay in the government – that limit was January 1, 2007, and Saakashvili was well aware that I was not going to stay in the government.
RFE/RL: Maybe you can remember how this estrangement started. Perhaps it was connected to your statement about celebrating New Year's in Tskhinvali, which was seen as an aggressive threat against South Ossetia?
Okruashvili: No, but this statement was a sign that I was not going to stay in the government.
RFE/RL: Were you consulting with the president about such statements? How did he react toward your famous statements – about New Year's in Tskhinvali, or your famous statement about feces?
Okruashvili: I only consulted Saakashvili about issues that were within his responsibilities, and nothing else
RFE/RL: When you were making these statements, was there a danger that the country would face problems in its foreign relations?
Okruashvili: The country already had problems in its foreign relations. These problems are present, because estrangement between us and Russia was already creating discomfort for Europe and the United States. Of course, these relations were not strained on artificial grounds – it was not because of Okruashvili's statement about wine, or Saakashvili's statement that would insult Putin. This was a logical process, and was based on two problems – those of Tskhinvali and Abkhazia. If not for these problems, we would have had much more resources to normalize out relations with Russia.
RFE/RL: We spoke about the ways in which your estrangement started. Representatives of the government claim it was due to a [anti-corruption] campaign in Gori that resulted in the arrest of your associates?
Okruashvili: I don't know these individuals, and have never even heard their names.
RFE/RL: Your return to politics this week was marked with scandal and grave accusations. The public wants to see evidence in support of these. When will it be possible for them to see such evidence?
Okruashvili: The public is more awaiting Saakashvili's answer right now.
RFE/RL: After your statements about the plan to liquidate [a business tycoon and co-owner of Imedi TV] Badri Patarkatsishvili, did you meet this man?
Okruashvili: No, he is not in Georgia as far as I know.
RFE/RL: Do you consider him as your future business or political partner?
Okruashvili: I can't say anything about this now.
RFE/RL: You said that you realize your responsibility for not speaking about these wrongdoings in public already then. Do you think assuming responsibility is enough?
Okruashvili: Not only for this. I assume responsibility about all other wrongdoings as well, regardless of whether I agreed to it or not. I was a member of that team, and of course I carried responsibility. However, I don't think it would have been right that, say, when Saakashvili was ordering the beating of [opposition deputy] Valeri Gelashvili, to come out and start saying things in public. There was a time when I could effectively stop these kind of things from within. But after a certain point, my resources were no longer sufficient for this.
RFE/RL: Are you able to provide evidence in support of your claims about Saakashvili?
Okruashvili: Like I said, everything should happen in due time. I am now going to do positive things, instead of continuing the war of compromising evidence. However, if this is what the government wants, I will be ready.
RFE/RL: Do you think you will be arrested?
Okruashvili: I don't know. I am ready for everything.
Georgia's Road To The West
Georgia's Road To The West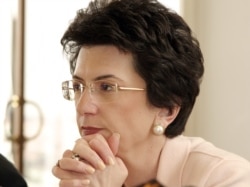 Georgian parliament speaker Nino Burjanadze giving a presentation at RFE/RL's Prague broadcasting center (RFE/RL)
BETWEEN RUSSIA AND THE WEST: Georgian parliament speaker Nino Burjanadze told an RFE/RL briefing that her country is under intense pressure from Russia.
LISTEN
Listen to the entire briefing (about 55 minutes):

Real Audio
Windows Media
RELATED ARTICLES
Georgian Speaker Reflects On Regional Relations
Is Putin's CFE Threat Aimed At The Caucasus?
EU Envoy Touts Georgian Confidence-Building Measures
SUBSCRIBE
For weekly news and in-depth analysis on Armenia, Azerbaijan, Georgia, and Russia's North Caucasus by e-mail,
subscribe to "RFE/RL Caucasus Report."