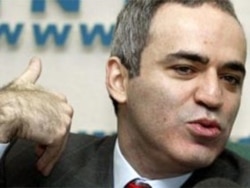 Born: April 13, 1963
Birthplace: Baku, Azerbaijan
Birthname: Garri Weinstein. He took his mother's Armenian surname, Kasparyan, at the age of 12, changing the spelling to Russify it.
Place of residence: Moscow
CHESS CAREER
-- Kasparov began playing chess at the age of 5.
-- In 1976, he became the youngest player in history to win the Soviet junior championship title, at the age of 12.
-- He achieved grandmaster status in 1980 at the age of 17.
-- He was the world's No. 1-rated player from 1984 to 2005.
-- On November 8, 1985, he became the youngest-ever World Chess champion when he defeated Anatoli Karpov at the age of 22.
-- Kasparov's reign as world champion ended in 2000 with a loss to Vladimir Kramnik of Russia.
-- In 1996 and 1997, Kasparov played IBM's Deep Blue computer to a draw, with one match each. In 2003, he played to a 3-3 draw against a top-ranked Israeli computer program called Deep Junior.
POLITICAL CAREER
-- Kasparov, an outspoken critic of Russian President Vladimir Putin, announced his retirement from competitive chess on March 11, 2005, and began to focus on his political career.
-- In May 2006, he became chairman of the United Civil Front of Russia, which he had formed in 2005.
-- He played a key role in establishing Other Russia, a coalition of disparate opposition parties including Kasparov's United Civil Front, the National Bolshevik Party, and the Russian Republican Party.
-- He helped organize the Marches of Dissent in St. Petersburg and Moscow in the spring of 2007, in which several thousand people rallied against the Putin government. Kasparov was one of around 150 protesters detained by police.