Of the 494 delegates who took part in the Other Russia congress, 379 voted for Kasparov as their candidate. Speaking after the vote, Kasparov told the congress he would "seek victory and not turn off this path."
Aleksei Mukhin, the director of the independent Center for Political Information, says it's unclear to what degree Other Russia can draw support away from traditional opposition groups like the Communist Party, the Liberal Democratic Party, and the Union of Rightist Forces.
"I think Kasparov wants to show that there is an alternative to the official opposition," Mukhin says. "But as for how effectively Other Russia can stand up to the government or to 'official' opposition parties, that's the real question. Because Kasparov is an intelligent man and he must understand himself that opposition parties in Russia today simply aren't in vogue."
Chances Slim-To-None
The March 2008 presidential vote is widely expected to see victory for an as-yet-unnamed Kremlin candidate. President Vladimir Putin, who cannot serve a third term under the Russian Constitution, enjoys enormous popularity in Russia. Anyone he endorses for next year's vote is likely to sail through the polls.
"Kasparov is an intelligent man and he must understand himself that opposition parties in Russia today simply aren't in vogue." -- Aleksei Mukhin, Center for Political Information
Kasparov's already-slim chances are made even more unlikely by an ongoing dispute within the leadership of the Other Russia bloc. Earlier this year, Kasparov and ex-Prime Minister Mikhail Kasyanov fell out because they couldn't decide who should run as Other Russia's presidential candidate. Kasyanov left the Other Russia coalition, and will run in the presidential election alongside his erstwhile colleague.
This internal sparring has played into the hands of the Kremlin, says Mukhin.
"The fact that the Kremlin has managed to a significant degree to marginalize the radical opposition, to destroy it almost entirely -- that is the work of the Kremlin," Mukhin says. "They have achieved, let's say, a technical success. But this current tension is the fault of the leadership [of the Other Russia bloc], because they weren't able to reach an agreement. As a result of this conflict, the Other Russia is simply heading for a dead end."
'An Awful Lot Could Change'
But Yevgeny Volk, Moscow director of the Washington-based Heritage Foundation, says it is too early to predict the outcome of next year's vote and that Other Russia may gain sufficient strength to at least present a challenge to the Communists and other parties.
"There's also the so-called 'part-of-the-system' opposition, the Communist Party, for example, who will no doubt take part in the elections," Volk says. "That's to say that there will be some competition among the opposition parties themselves. But the most important thing, in my opinion, is that there are still five months until the election. During this time, an awful lot could change in Russia."
Participants at the Other Russia congress also chose Kasparov, Limonov, and former Central Bank Chairman Viktor Gerashchenko to head the movement's list of candidates for the December 2 elections to the State Duma.
As an unregistered movement, Other Russia is technically ineligible to participate in the parliamentary campaign. Limonov told the conference that the movement must nonetheless conduct a complete campaign.
Garry Kasparov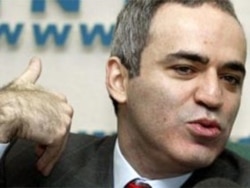 Born: April 13, 1963
Birthplace: Baku, Azerbaijan
Birthname: Garri Weinstein. He took his mother's Armenian surname, Kasparyan, at the age of 12, changing the spelling to Russify it.
Place of residence: Moscow
CHESS CAREER
-- Kasparov began playing chess at the age of 5.
-- In 1976, he became the youngest player in history to win the Soviet junior championship title, at the age of 12.
-- He achieved grandmaster status in 1980 at the age of 17.
-- He was the world's No. 1-rated player from 1984 to 2005.
-- On November 8, 1985, he became the youngest-ever World Chess champion when he defeated Anatoli Karpov at the age of 22.
-- Kasparov's reign as world champion ended in 2000 with a loss to Vladimir Kramnik of Russia.
-- In 1996 and 1997, Kasparov played IBM's Deep Blue computer to a draw, with one match each. In 2003, he played to a 3-3 draw against a top-ranked Israeli computer program called Deep Junior.
POLITICAL CAREER
-- Kasparov, an outspoken critic of Russian President Vladimir Putin, announced his retirement from competitive chess on March 11, 2005, and began to focus on his political career.
-- In May 2006, he became chairman of the United Civil Front of Russia, which he had formed in 2005.
-- He played a key role in establishing Other Russia, a coalition of disparate opposition parties including Kasparov's United Civil Front, the National Bolshevik Party, and the Russian Republican Party.
-- He helped organize the Marches of Dissent in St. Petersburg and Moscow in the spring of 2007, in which several thousand people rallied against the Putin government. Kasparov was one of around 150 protesters detained by police.