Moldova Calls For More Eastern Europe Seats At UN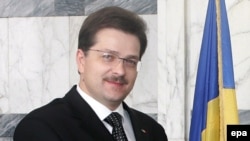 Andrei Stratan (file) (epa) October 1, 2007 (RFE/RL) -- Moldova's Foreign Minister Andrei Stratan says Eastern European countries need greater representation on the UN Security Council.
Under the current system only one nonpermanent seat on the Security Council is allocated to Eastern Europe every two years.
Speaking at the UN General Assembly today, Stratan said that for a regional group consisting of 23 countries such small representation was unfair.