CIS: Real Action At Summit Likely To Be On Sidelines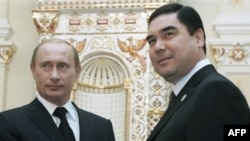 Russian President Vladimir Putin (left) wants to use the CIS summit to discuss natural gas with Turkmen President Gurbanguly Berdymukhammedov (file photo) (AFP) October 4, 2007 (RFE/RL) -- Migration policy, counterterrorism, and military cooperation will all be on the official agenda when the Commonwealth of Independent States (CIS) holds its summit on October 5-6 in the Tajik capital, Dushanbe. But the real action will be on the sidelines.
In a statement released last week, the Russian Foreign Ministry said that in addition to the 20 items on the agenda, CIS officials will also discuss a proposal to reform the organization. But analysts say they do not expect any consequential decisions to come out of the summit. This is because the CIS has become an increasingly less cohesive organization in the 15 years since it emerged from the breakup of the Soviet Union.
"I think the main action will be in bilateral meetings," says Fyodor Lukyanov, editor in chief of the journal "Russia In Global Affairs." "This is connected to the fact that the CIS's general function has changed. It is no longer a format to make decisions, but rather a platform to conduct negotiations."
Energy Likely To Dominate
Ghodratollah Shahidi, director of RFE/RL's Tajik Service, is in Dushanbe covering the summit. Shahidi explains that one of the key items on the informal agenda will be energy, as is often the case when Russia meets with its former Soviet neighbors.
"Russia has been pushing very hard to sign bilateral contracts and agreements with several countries in the region," Shahidi says.
In what analysts describe as a key meeting, Russian President Vladimir Putin is due to get together with Turkmen President Gurbanguly Berdymukhammedov to discuss the transport of natural gas. Russia has controlled Turkmen natural-gas exports since the Soviet breakup because the only pipelines exporting gas out of the country -- other than a small pipeline to Iran -- pass through Russia.
"Turkmenistan has strongly signaled to the West that it is interested in different [gas] routes. For Russia, this is a question of principle. If the European Union and the United States manage to break up Gazprom's monopoly on the Eurasian territory, then everything changes." -- Fyodor Lukyanov, "Russia in Global Affairs"
In May, Putin, Berdymukhammedov, and Kazakh President Nursultan Nazarbaev agreed to build a pipeline along the Caspian Sea coast to transport natural gas from Turkmenistan to Europe via Kazakhstan and Russia. But the United States has been pressing Berdymukhammedov to participate in a project to build pipelines under the Caspian Sea that would bypass Russia and deliver Turkmen gas to Europe via Turkey.
Breaking Gazprom's Monopoly?
Berdymukhammedov has expressed an interest in joining these projects. Such a move would diminish Moscow's dominance of the region's energy markets -- and its geopolitical influence, Lukyanov says.
"Turkmenistan has strongly signaled to the West that it is interested in different [gas] routes," he says. "For Russia, this is a question of principle. If the European Union and the United States manage to break up Gazprom's monopoly on the Eurasian territory, then everything changes."
Berdymukhammedov was in the United States in September and is due to meet EU officials in Brussels this month. Lukyanov adds that Putin is keen to get Turkmenistan's confirmation of the project Berdymukhammedov agreed to in May and keep the country in Moscow's sphere of influence.
"The Turkmen president has demonstrated that he is not in Putin's pocket. He was just in America. He is going to Brussels in October. This game around Turkmenistan will continue and unfold," Lukyanov says.
Another issue looming over the CIS summit is who will be the organization's new executive secretary. In June, Moscow floated the name of Aleksandr Veshnyakov, the former head of the Russian Central Election Commission. But in a clear snub to Moscow, Belarus made it clear that it would not support him, and Russia withdrew his name from consideration.
The outgoing executive secretary, Vladimir Rushailo, whose term ended on June 14, is still the acting CIS head. Lukyanov said it is unclear whether Rushailo will stay in office, or whether Russia will try to submit Veshnyakov's name again.
"At the last summit, Belarus refused to support Veshnyakov and that was all. Rushailo is the acting executive secretary until now even though his term ended long ago," he says. "It will be interesting to see if there will be some kind of agreement or if Russia puts forward another candidate."
Breaking Free Of Moscow
Russia's difficulties with Belarus over the CIS executive secretary and with Turkmenistan over gas are indicative of a larger trend in the organization as more and more former Soviet states seek to break free of Moscow's sphere of influence.
"There are several members of the CIS who are now more favorable to the West than to Russia," says Shahidi. "And this has created problems, as before, that they cannot reach agreement on some major issues."
The CIS comprises Armenia, Azerbaijan, Belarus, Georgia, Kazakhstan, Kyrgyzstan, Moldova, Russia, Tajikistan, Ukraine, and Uzbekistan. Turkmenistan is an associate member.
Georgia has made joining NATO and the European Union a cornerstone of its policy. Azerbaijan is seeking closer ties with the United States and Europe. And Ukraine's pro-Western President Viktor Yushchenko has said he will not attend the summit at all. Two other regional organizations that include CIS members -- the Collective Security Treaty Organization and the Eurasian Economic Community -- are also scheduled to hold summits in Dushanbe on October 6.