The tough-talking French president brings to the table a long list of criticisms leveled at the Russian government. Since coming to power earlier this year, he has criticized Russia's human-rights record, blamed Russia for complicating global problems, and accused the Kremlin of using its vast oil and gas reserves to bully European governments.
Putin, himself known for not mincing his words, may be wondering whether he has met his match.
Vyacheslav Igrunov, the director of the International Institute for Humanitarian and Political Studies in Moscow, says the two men are starkly opposed on a number of key issues. "It seems to me that one shouldn't expect any serious results from this meeting, first and foremost because the positions of these two countries have in recent months sharply differed," Igrunov says.
The question of Iran's nuclear program is likely to be central to the two presidents' agenda. In an interview published in today's "Rossiiskaya gazeta," Sarkozy calls for taking a "responsible stance: [that of] toughening sanctions, with the aim of bringing Iran to its senses. No one should put in doubt France's seriousness and resoluteness on this issue," he says, echoing the U.S. government's stance on Iran.
Russia is fiercely opposed to sanctioning Iran, and has used its veto power at the UN Security Council to dilute previous sanctions.
Kosovo, Human Rights
Moscow and Paris also differ on the future status of Kosovo. France backs U.S. plans to grant independence to Kosovo, a position fiercely rejected by Russia.
Sarkozy will likely want to discuss Russia's human-rights record with Putin. Rights advocates have pointed to a lack of media freedom and the detention of opposition activists in the run-up to parliamentary elections later this year. Sarkozy arrives in Moscow a year after the assassination of Anna Politkovskaya, a fierce Kremlin critic who exposed rights abuses in Chechnya.
"When Russia cuts supplies of energy to one part of Europe without warning, trust suffers." -- French President Nicolas Sarkozy
Russia's expansive energy reserves also are likely to be high on the agenda, with Russia currently supplying one-quarter of Europe's gas needs. Earlier this year, Sarkozy accused Russia of "a certain brutality" toward smaller countries formerly under its sphere of influence.
"When Russia cuts supplies of energy to one part of Europe without warning, trust suffers," he told "Rossiiskaya gazeta." In recent years, Ukraine and Georgia have been forced to renegotiate gas deals with Russia or lose their gas supplies.
But Vladimir Gutnik, the director of the Center for European Studies at the Russian Academy of Sciences, says Europe is deliberately creating unfavorable conditions for Russian energy.
"It seems to me this is rather a serious question -- not just a commercial question, but a political one," he says. "One gets the feeling that Europe, that the European Union as a whole, is trying to close the market to powerful structures from oil and gas-producing countries, not just to Russia, but also to Arab countries, so as not to allow companies, especially those with state involvement, to compete in their market."
Common Ground
Nevertheless, despite their differences, the two men may find common ground, says Kira Zuyeva, a senior research fellow at the European department of the Institute for Global Economy and International Relations.
"They're both, let's say, pragmatists. They're both realists," she says. "They're both serious politicians who are striving in their own ways to change the situation inside their own countries for the better. In spite of Sarkozy's pro-American comments, there won't be any serious differences between Russia and France."
The two countries enjoy healthy trade relations. The French energy giant is teaming up with Russia's state-owned Gazprom to develop one of Russia's largest gas fields, and the two sides may discuss a proposed aerospace joint venture between the European Aeronautic Defense and Space Company, EADS, and its Russian counterpart, UAC.
READ MORE: France's Sarkozy Takes Critical Stand On First Trip To Moscow
Russia And The EU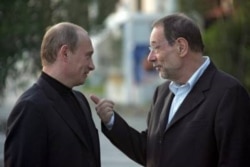 Russian President Vladimir Putin (left) with EU foreign policy representative Javier Solana in Sochi in May 2006 (epa)


A POLICY OF APPEASEMENT? Ralf Fuecks, head of the Heinrich Boell Foundation and a Green Party activist, spoke at RFE/RL's Prague broadcast center about the EU's complex relations with a resurgent Russia. RFE/RL President Jeff Gedmin moderated the discussion.
LISTEN
Listen to the entire briefing (about 60 minutes):

Real Audio
Windows Media
RELATED ARTICLES
Moscow Hosts PACE Standing Committee
Brussels Mulls Over Its Energy Sources
Council Of Europe 'Convinced' Of Chechnya Torture
ARCHIVE
RFE/RL's coverage of
Russia
.