She methodically combs through all of
her neighborhood stores, carefully comparing prices on staples like
eggs, bread, and oil. Food prices have spiked throughout the former
Soviet Union, and even in the region's most prosperous city, people are
feeling the pinch.
"Baby food has gotten much more expensive," Gracheva says. "Bread is more expensive. Meat -- my sons need meat. I wish they would lower prices. Or raise salaries. Maybe they'll help multichild families."
Rosstat, the federal state statistics service, has marked a 17 percent price hike in basic foodstuffs since the start of the year, a jump that officials variously attribute to everything from global overpopulation to biofuel production to poor harvests at home, RFE/RL's Russian Service reports.
Pressure Increasing On Officials...
Questions about food prices are expected to dominate the annual live question-and-answer session on October 18 between President Vladimir Putin and the Russian public. The official website monitoring the session reports that the most popular query submitted ahead of the event is whether the price hikes signal the start of another financial crisis like the one that crippled Russia in 1998.
Many Russians, whose average monthly income broke the $500 barrier for the first time this summer, are deeply alarmed by the reality staring back at them from market shelves. The price of bread -- a highly symbolic staple Russians refer to as "our wealth" -- has more than doubled. A package of 10 eggs has risen from $1 to $1.60; a bottle of olive oil that previously sold for $1.20 now costs $2.
Many Russians, alarmed by the price hike, have resorted to an old Soviet-era habit: hoarding. Flour, pasta, salt, sugar, and matches are all being bought up and stored as a buffer against continued inflation.
As ever, the people hit hardest by the vagaries of the market are the country's pensioners. "I receive a pension of about 5,000 rubles a month [$260]," says Tatyana Ivanova. "I went to the store, and cheese is 300 rubles [$15]. Why is that? Can't Putin do something? Zubkov came, apparently, and started to work on the problem. But then he dropped it."
Viktor Zubkov, Russia's new prime minister, has been front and center in the public battle against the price hikes. A recent newspaper article quoted a Russian shop director as telling the prime minister that the reasons for the skyrocketing costs "are a mystery for us." Zubkov, reportedly deep in thought, replied, "For us as well."
Other officials apparently find the issue less mysterious. Aleksei Gordeyev, the Russian agriculture minister, has pointed to global population growth outpacing food-production capabilities. "Along with the 1 billion members of the upper class residing in developed nations, the middle class in China, India, and Vietnam is increasing by 800 million people," he said. "The need for food products is increasing sharply. Another serious factor is that a lot of biomass -- mainly grain and oil cultures -- is now being used for the production of biofuel."
More locally, a series of droughts and poor harvests are blamed for low grain yields and higher prices. In Soviet times, Russia harvested between 100 million and 120 million tons of wheat a year. By 2002, that number had dropped to 85 million tons; the final projected yield for 2007 is expected to be 75 million -- less than half of what is traditionally considered safe food-provision norms for Russia, especially as Russia continues exports of wheat and other grains.
Arkady Zlochevsky, the president of the Russian Grain Union, said Russian prices are in step with the world market. "Yes, there are current conditions that are causing price growth," he says. "The government is taking measures, and soon tariffs will be implemented, and this will influence exports and restrain price hikes."
...To Act Before Upcoming Elections
High food prices, of course, are a distinct political liability in an election season. As Russia heads toward a parliamentary vote in December and a presidential ballot in March 2008, Russia's opposition parties have been quick to try to use the economic situation to advance their political ends.
The Union of Rightist Forces scheduled a protest against a Moscow supermarket that is part of a chain owned by a wealthy supporter of the pro-Kremlin party Unified Russia. Grigory Yavlinsky, the head of Yabloko, alleged that price hikes in a number of Russian regions are higher than official figures indicate, and placed blame for the spike on "collusion" between "political monopolists and economic monopolists." The problem, he added, is exacerbated by increased corruption and bribe-taking in a season when politicians are uncertain of their future and trying to get maximum gains while they can.
The Kremlin has its own allegations about price rings run among the country's largest food suppliers; the Federal Antimonopoly Service claims to have unearthed price-fixing networks in nine Russian regions. The government has vowed to crack down on monopolists. But it has stopped short of immediate relief measures, like artificial price regulation. "Artificial regulation will lead to a deficit, and eventually to the same price increases," said Arkady Dvorkovich, an expert with the presidential administration.
Oleg Shein, the deputy chair of the State Duma Committee on Labor and Social Policy, has proposed a multipronged system for tackling the pricing crisis: higher tariffs on grain exports, lower fuel costs for agricultural producers, and pension and salary hikes. "We need to increase pensions in proportion to price growth," Shein said. "Civil servants have felt this as well -- schoolteachers, for example, make just 3,000 rubles a month [$155]. It's the same for doctors and artists."
Yevgeny Gontmakher, of the Russian Academy of Sciences' center for social sciences and innovations, says the root of the problem is the failure of the government to honestly assess the situation. Exports continue despite deficits and reserve-dipping at home; domestic producers, meanwhile, lobby against cheap imports. "Most importantly," Gontmakher says, "our government recently promised that inflation is decreasing and will stay under 8 percent per year. All evidence pointed to the contrary, so either they were afraid to report to President Putin, or they were giving him false information."
This, Gontmakher says, is called "manual" economic governing -- "only after receiving a direct order from above does the government start doing something." He adds that it's reasonable to expect that one such direct order might eventually resolve the food-price crisis -- right before Duma elections on December 2.
For Centuries, A Symbolic Staple
For Centuries, A Symbolic Staple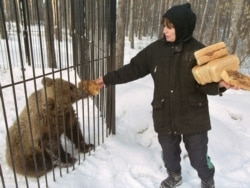 Feeding time at the zoo in Novosibirsk (TASS file photo)
THEIR DAILY BREAD. There are a number of theories about why Russians, upon converting to Christianity in the 10th century, chose the Byzantine Orthodox Church over Roman Catholicism. One theory suggests it all came down to bread. Orthodoxy permitted the use of leavened bread in Eucharist rites; Catholicism did not.
As Russia's bread-baking culture developed through the years, many foreigners found the taste -- particularly that of the rye bread -- unpalatably sour. But for Russians, it was an essential and irreplaceable basic. If in Europe the primary sources of protein were traditionally cheese and fish, in Russia it was bread. A poor wheat or rye harvest automatically signified hunger, even though the country's lakes and rivers teemed with fish, and its forests flourished with animals, mushrooms, and berries.
Years ago, Russians baked their traditional pirogi with a filling made from flour -- in other words, bread stuffed with more bread. And there's no other place in the world where people eat bread together with other starchy staples, like grains or noodles. Russians eat three times more bread than people in the United States or the European Union.
It's clear that bread carries a strong symbolic meaning. To this day, esteemed guests are greeted with an offering of bread and salt. A synonym for gosteprimstvo, or hospitality, is actually khlebosolstvo -- literally, "bread-and-saltiness." Many Russians are reluctant to leave even a crumb of bread uneaten -- perhaps because popular wisdom holds that any bread that's thrown away will be picked up and eaten by the Devil.
-- Peter Vail, managing editor, RFE/RL's Russian Service


UPDATED CONSTANTLY: Visit RFE/RL's Russian-language website, featuring news, analysis, features, streaming audio, and more, in Russian, from RFE/RL's Russian Service.
ARCHIVE
RFE/RL's English-language
coverage of Russia
.