The amendments don't appear to represent major changes, and are in fact focused on a "national tourism zone" with special legal, tax, and customs regimes. The package was signed on October 1, but only announced nearly two weeks later, on October 12. But once the news was out, both Western and Russian media were quick to assess the move as a serious attempt to attract investment.
The changes purport to strengthen investors' hands by harmonizing a handful of laws that apply to foreign investment -- including on land use, tourism, a free economic zone -- and it allows them to rent land for long-term use. To protect Turkmenistan's natural resources -- including vast fossil-fuel deposits -- foreign entities are banned from owning land with sizable mineral deposits.
Insufficient Changes?
According to Anna Walker, a senior editor with the Economic Intelligence Unit (EIU) in London, there are other long-standing obstacles to investment in Turkmenistan, and she says the amended law does not go far enough to make the business climate truly attractive to potential Western investors.
"Although they allowed foreigners, for example, to start up ventures on their own without the need to form joint ventures with government companies, they don't relax a lot of the other restrictions," Walker says. "I mean, it has always been difficult to invest in Turkmenistan. For example, the restrictions on the access to the foreign exchange -- there is no mention it would be easier for foreigners to gain access to the foreign exchange. There is also no mention that the official exchange rate will be made more realistic."
Walker says the official exchange rate inside the country of the Turkmen currency, the manat, is about five times the black-market rate. Last week, the government announced its plan to redenominate the manat in 2009, removing three zeros. News agencies quoted analysts as saying the move could facilitate foreign investment.
Walker and other experts suggest that the recent amendments appear to demonstrate an eagerness to usher in foreign capital to boost the Turkmen economy. Turkmen state media quoted President Berdymukhammedov as saying that development of the country's energy sector requires foreign investment and new technology.
During his trip to New York in September, Berdymukhammedov said he wanted to accelerate economic reforms and his country's transition to a market economy, in part to stimulate economic growth and boost living standards. "Turkmenistan supports the concept of mutually beneficial exploitation of raw energy resources by energy providers, as well as by end consumers," he said. "In this context, we believe that the development of Turkmenistan's energy-resource projects for international markets will add an extra impulse to invigorate intergovernmental and interregional trade and economic relations."
Courting Investors
Turkmen state media reported that Berdymukhammedov met in New York with representatives of top U.S. businesses and the heads of several international companies, including oil companies BP and Shell, to discuss potential cooperation opportunities. State media has quoted Berdymukhammedov as saying Turkmen gas production will reach 250 million cubic meters and oil production 100 million tons a year by 2030. International oil giants -- including Chevron, BP, and Total -- have reportedly expressed interest in investing in Turkmenistan's energy sector.
The EU, in particular, has been eager for Turkmen gas as part of an effort to reduce its dependency on Russia. Britain's minister of state for energy, Malcolm Wicks, visited Ashgabat last month, and potential Western investments in the Turkmen gas sector reportedly dominated his meeting with the Turkmen leaders. Wicks said afterward that he has been "impressed by how Turkmenistan is considering the many options available to it, including the opportunities for energy trade with the EU." He expressed Britain's willingness to cooperate with Turkmenistan, and -- drawing a sharp contrast with Russia -- he offered to pay market price for the Turkmen gas.
But experts say that despite Turkmenistan's clear desire to attract Western investors -- in addition to existing deals with Russia and China -- and the West's willingness to cooperate with Ashgabat, they doubt that cooperation will happen anytime soon. There are currently no export pipelines that transport Turkmen gas to Europe without crossing Russian territory. But plans have been proposed for trans-Caspian projects that would transfer Turkmen and Kazakh hydrocarbons through Azerbaijan, Georgia, and Turkey to the European market. Another proposal envisions piping gas through Iran, but that plan would face strong opposition from Washington.
Mathew Clements, Eurasia editor in the country-risk department for Jane's Information Group in Britain, says that Western representatives like Wicks have their eyes fixed squarely on longer-term plans and cooperation with Turkmenistan. "I think one of the reasons why they'd make statements like this is to try and encourage Turkmenistan to agree to the construction of a pipeline across the Caspian, to try and focus its energy on supplying its gas through this method, and try to give it beneficial market prices, make it beneficial for them economically to do this," Clements says.
Many observers say Turkmenistan needs to do much more than simply lift a few restrictions to bring Western investment to the country. They say Ashgabat should create a better business environment, which requires a wider range of reforms -- both economic and political. Walker says reform of the Turkmen judicial system should be part of a broader process.
Russia is currently Turkmenistan's main partner in the energy sector, with more than 50 billion cubic meters of Turkmen gas flowing annually to Russia. Beijing's landmark deal with Ashgabat in July earmarked some 30 billion cubic meters of gas a year for 30 years through a planned pipeline. So Russia and China appear poised to remain Turkmenistan's primary business partners in the energy sector in the immediate future, regardless of any tentative steps to reform economically or establish firm ground rules for would-be investors.

Exporting Kazakhstan's Energy
Exporting Kazakhstan's Energy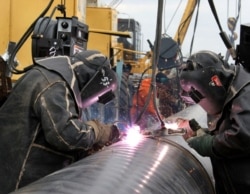 Work on a Kazakh pipeline (TASS file photo)


PRESSURE FROM THE KREMLIN? Columbia University political science professor Kimberly Marten told an RFE/RL briefing that Russia seems to be using its control of gas pipelines in the former Soviet Union to pursue its goals in Kazakhstan.
LISTEN
Listen to the entire briefing (about 60 minutes):

Real Audio
Windows Media
RELATED ARTICLES
The Emerging Post-Soviet Petrostates
Nazarbaev, Merkel Discuss Energy, Bilateral Ties
Nazarbaev Talking Energy, Economic Cooperation On China Visit
ARCHIVE
RFE/RL's coverage of
Kazakhstan
.