Tabatadze, a 20-year-old dance teacher, was among 12 young Georgians selected to compete in the fourth season of "GeoBar." The popular reality television show, a Swedish import that purports to promote social diversity in a former Soviet republic, features "real-life" characters who live and work together as they vie for the chance to run a fashionable bar.
But when Tabatadze came out, his dream ended.
After just one episode on October 14, Tabatadze was booted off the show after openly declaring his homosexuality. His sexual orientation apparently too "real" for reality television, Tabatadze says that, "Now, when walking down the street, I have to hang my head low."
But the incident has amounted to more than just the public shaming of a young gay man. It has helped to spark a deeper nationwide debate about changing mores in a socially conservative country struggling to embrace not only Western political values, but also social ones, such as tolerance.
Aired on Rustavi 2 television, "GeoBar" purports to be part of the network's efforts to portray itself as a voice of novelty, diversity, and progress. But all that seemed not to apply to Tabatadze. The show normally leaves it up to viewers to vote off contestants, but not this time.
"Of course they knew that this was going to cause quite a stir. If they didn't want me, they should not have let me into the project." -- Tabatadze
He says the show's producers selected him largely because he is gay. But they then turned around and kicked Tabatadze off, telling him that the network had received disapproving calls from the public and the Georgian Orthodox Church following his debut.

"It was the show's producers who told me [to do this] -- they told me they would include me in the project if I was going to admit that I was gay," Tabatadze said. "Of course they knew that this was going to cause quite a stir. If they didn't want me, they should not have let me into the project. But if they wanted me, then why did they kick me out?"

In the course of the show, Tabatadze performed a provocative dance and declared his sexual orientation -- all in keeping, he says, with the producers' efforts to mold his image into that of the stereotypical, effeminate, gay man.

"They gave me new a haircut, shaved one side and put my name on my head," he said. "When I went to shoot the opening clip, I hated the makeup they gave me, and didn't want to be filmed like that. But they said if I didn't want to do it, I could leave."

The Georgian Patriarchate told RFE/RL that to the church's knowledge, no official complaint had been filed in relation to this episode of "GeoBar."

Representatives of Rustavi 2 were not available to be interviewed by RFE/RL, but the network's general director, Koba Davarashvili, issued a statement following Tabatadze's dismissal.

"GeoBar" is a program that should primarily show young people's relationships and their struggle for success from a positive angle," he was quoted as saying by the Georgian English-language daily "The Messenger," adding that one person's "social problem" should not be the focus.
Long-Established Prejudice
Keeping such issues out of the public eye has long been Georgia's method of dealing with them -- and old habits die hard. In its report on Georgia issued this week, the International Lesbian and Gay Association (ILGA) said "homosexuals are the most despised group in Georgian society."

Paata Sabelashvili, a representative of Georgia's only gay-rights group, the recently established Inclusive Foundation, says overcoming the public's negative perception of homosexuals is a tremendous challenge.


"In this respect, things have always been difficult in Georgia, for it was only seven years ago that homosexuality was decriminalized -- and this has left a significant mark on the public mentality," Sabelashvili said. "On top of this, there is no reliable source of mass information on this issue, and the media are openly homophobic. Hence, society regards homosexuality as limited to [the public's] understanding of it as a disease, crime, debauchery, or sin. These four definitions are predominant in relation to homosexuality."
Some say this is a legacy of the Soviet system, under which sexuality in general was a taboo topic and homosexuality was criminalized. Others point to the Caucasus's traditional cult of machismo and strictly defined gender roles. And the influence of the Georgian Orthodox Church -- which, like its Russian counterpart, has strongly expressed its anti-gay views -- cannot be overlooked.
Inclusive Foundation project manager Eka Aghdgomelashvili says things became particularly heated in July, when a rally promoted by the Council of Europe that was intended to support equality, diversity, and tolerance was cancelled after the media portrayed it as a gay-pride parade.
The International Lesbian and Gay Association says "homosexuals are the most despised group in Georgian society."
Organizers of the rally reportedly received abusive phone calls and e-mails. Internet forums were overrun with threats and calls to violence. The influential head of the Georgian Orthodox Church, Ilia II, said such an event would be "unacceptable" and could lead to physical violence. And right-wing figures lamented the erosion of "Georgianness."

Politicizing homosexuality is common, with some opposition politicians using the divisive issue to fuel populist and slanderous campaigns against the ruling government, which has sought to present itself as embracing liberal values and integration with the West.

Aghdgomelashvili says this was evident after the cancellation of the July rally. When she read some of the severe characterizations of the eve, Aghdgomelashvili said, "to my big surprise I discovered that aggression was channeled not so much toward our organization -- of course, it was mentioned that Inclusive was the main propagator of the theme -- but toward the government. It was like hysteria, and almost all articles concluded with the statement that it was the government that lobbied in our interest."
Breaking The Taboo
On paper, much has been done in Georgia following the fall of the Soviet Union to facilitate the development of a freer society. The country is a signatory to the European Convention of Human Rights and other human-rights documents. The country's new Labor Code, adopted in 2006, protects employees from being discriminated against on the basis of sexual orientation. And homosexuality was officially decriminalized in 2000.

But the strength of the new legislation has rarely been tested and, as Sopo Japaridze -- an attorney and member of the Young Lawyers Association in Georgia -- explains, under the surface lies a judicial system that is not yet ready to fully defend equal rights.

"The 14th paragraph of Georgian Constitution says that all people are equal in the face of law, regardless of their race, sex, etc. -- and then concludes this sentence with a full stop," Japaridze said. "However, unfortunately, sexual orientation does not figure among the components that are listed. Now according to international practice, sexuality is often considered as falling in the sex/gender category, but our legislation, our courts, and judges do not think this way."

Tabatadze says he has openly lived as a gay man for quite some time and has found acceptance among his family and friends. Now, despite the obvious hurdles of taking his expulsion from "GeoBar" to the courts, that is exactly what he intends to do.

"I won't leave this issue like this, and will do everything in my power to file a complaint. I'm not going to forgive them," he said. "I can't let this happen."
Human Rights In Georgia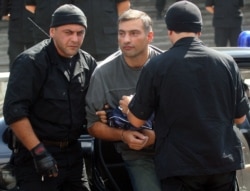 Georgian police arresting a suspect in September 2006 (InterPressNews)


NOT A ROSY PICTURE: Ana Dolidze, former president of the Georgian Young Lawyers Association and a visiting scholar at Columbia University, told an RFE/RL briefing that many obstacles remain before Georgia's courts and law enforcement organs will be able to ensure human rights.
LISTEN
Listen to the entire briefing (about 60 minutes):

Real Audio
Windows Media
RELATED ARTICLES
'Architect Of German Lustration' Discusses Georgian Archive
U.S. Official Discusses Rights Issues In Russia, Caucasus
Freedom House Sees Further Democracy Decline
Women's Rights Project Employs Film As Advocacy Tool
SUBSCRIBE
For a regular review of civil-society developments throughout RFE/RL's broadcast region,
subscribe to "RFE/RL (Un)Civil Societies."