In recent weeks, Iran has opened a new air base, unveiled new domestically produced military hardware, and issued defense pronouncements at a rapid-fire pace.
At a military parade on September 22 to mark the 27th anniversary of Saddam Hussein's invasion of Iran, the Iranian military presented what it claimed was a new, medium-range ballistic missile.
Military commander Major General Ataollah Salehi described the domestic production of the Saeqeh fighter jet as "a warning to Western countries that threaten" Iran.
The Qadr-1 appeared to be an advanced variant of the Shahab-3. A former director of Israel's Ballistic Missile Defense Organization, Uzi Rubin, noted that the Qadr missile "which appeared in the 2004 parade was then said to have a range of 2,000 kilometers."
If those and other reports are correct, the Qadr-1 is capable of striking Israel, southern Europe, and U.S. bases in the Middle East.
Just days earlier, Iran unveiled three prototypes of what it claims is a domestically manufactured fighter jet. The aircraft, called the Saeqeh (Thunderbolt), is the latest generation of the previously tested Azarkhash (Thunder) fighter jet. A joint product of the Iranian Air Force and its Defense and Armed Forces Logistics Ministry, the Saeqeh has been described as similar to the U.S. F-18 fighter jet. Iranian authorities say they have begun industrial-scale production of the Saeqeh.
Military commander Major General Ataollah Salehi has described the domestic production of the Saeqeh as "a warning to Western countries that threaten" Iran. He added that such countries "must know that while they are trying to turn other countries against [Iran] with their limited capabilities in the region," Iran "possesses unlimited technology" with which it can oppose those threats.
On October 9, Iran inaugurated a production line for the manufacture of a one-ton smart bomb called the Qadr. Fars News Agency reported that this bomb -- a variant of the Qased (Messenger) smart bomb -- is an optically guided, air-to-surface, long-range bomb that meets the Iranian Air Force's need for a powerful weapon. Fars' defense reporter added that Iran's "attainment of the technology for designing and mass-producing smart bombs with a high degree of power and accuracy is one of the achievements of Iran's defense specialists," and said the Qased is one such weapon.
Guarding The Eastern Front
Also this month, Iran opened a new air base near its eastern border with Afghanistan. The new air base -- named Qa'em Al-e Muhammad in a reference to Shi'a Islam's 12th, or hidden, imam -- lies in Birjand, the capital of the sparsely populated province of South Khorasan, and is about 1,300 kilometers from Tehran. While most of Iran's air bases, mainly constructed under the Pahlavi Dynasty between 1925-79, lie along its western borders in anticipation of threats from that direction, the Qa'em Al-e Muhammad facility is meant to enhance the presence of Iran's air force along its eastern borders, together with three other bases in Mashhad, Zahedan, and Chah Bahar.
The commander of the Iranian air force, Brigadier General Ahmad Miqani, told state television after the base was opened that "in light of the threats that Iran faced in the past, Iran paid more attention to the southern and western region." But he said that "the inauguration of this air base is aimed at responding swiftly if an attack is launched against the country."
Miqani accused "extra-regional and global powers" of "attempts...to threaten the Islamic republic," and said the country's air force is fully prepared to respond to possible attacks.
In addition to these efforts to boost its military capabilities, Iran has taken steps to improve its passive defenses -- such as radar and other detection -- that might minimize damage in the event of hostilities by the United States or Israel.
On 27 September, Iran's Defense Industries Organization held its first conference on passive defense, inviting representatives of engineering consultancies, as well as planners and managers from a number of ministries.
In a reference to Iran's experience in passive defense during the Iran-Iraq war in 1980-88, the head of the country's Passive Defense Organization, Brigadier General Gholam Reza Jalali, has argued that "implementing the principles that govern passive defense can reduce costs and provide a durable defense" against enemy attack.
Calculated Show Of Strength
The rising tensions between Washington and Tehran have no doubt influenced the timing of Iran's displays of military progress.
While U.S. officials have repeatedly stressed their desire to resolve the Iranian nuclear standoff diplomatically, administration officials have pointedly avoided taking a military option "off the table."
U.S. Vice President Dick Cheney on October 21 described Iran as an "obstacle to peace in the Middle East," and warned that "the international community is prepared to impose serious consequences" if Iran's leadership maintains its "present course."
Two new European leaders, British Prime Minister Gordon Brown and French President Nicolas Sarkozy, have issued blunt statements on the topic of a possible military option if diplomatic efforts fail to curb Iran's nuclear activities.
While Iran's top brass have suggested that the United States is in no position -- economically or politically -- to attack Iran, current and former generals are well aware of U.S. military might.
Addressing students at Tehran's Sharif University recently, former Islamic Revolutionary Guards Corps commander Yaha Rahim-Safavi warned against "looking at military issues simplistically." Rahim-Safavi went on to say that "America, with its military forces in the region, has the capacity to cause problems" for Iran.
Reports of an alleged Israeli air attack against mysterious targets in Syria in September has compounded Iranian concerns. Iran's generals appear to be wondering why two state-of-the-art, Russian-built radar systems in Syria failed to detect Israeli jets entering Syrian territory.
Iran in January received a $750 million shipment of 29 Tor-M1 short-range, mobile surface-to-air missile systems from Russia to help guard Iranian nuclear facilities.

Iran: Missiles And More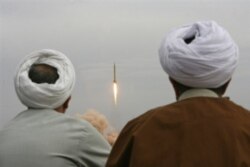 Iran tests its Shahab-3 medium-range missile in November 2006 (AFP)


HOW LONG A REACH? As the debate on missile defense sharpens, Tehran continues to develop its Shahab-3 missile, which is already capable of reaching some parts of Europe.... (more)
RELATED ARTICLES
Independent Nuclear Physicist Evaluates Iran's Nuclear Program
Iran Rocket Launch Another Show Of Prowess
How Close Is Iran To Getting Nuclear Bomb?
Iran's Super Weapons Claims Met With Skepticism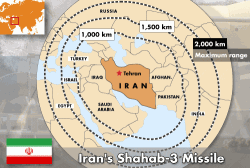 Click to enlarge the image.