Yushchenko's press service said it had registered some 18,000 separate cyberattacks, most of them from Russia, Kazakhstan, Ukraine, the United States, Israel, and the United Kingdom.
The Eurasian Youth Union said at an October 30 news conference in Moscow that it had hacked Yushchenko's site starting two days earlier, in retaliation for what it said was Ukrainian authorities' attack on one of its own sites.
If the claims are true, it's the latest run-in between the group, which is banned in Ukraine, and authorities in Kyiv.
Last week its leader, Russian Pavel Zarifulin, was banned from entering Ukraine, as was Aleksandr Dugin, a Russian nationalist who heads the affiliated International Eurasian Movement.
The ban followed what authorities said was an attempt by Eurasian Youth Union members to destroy Ukrainian national emblems on Hoverla Mountain, which is part of the Carpathians in western Ukraine.

An analyst with Kaspersky Lab, a Moscow-based company specializing in computer security, told Ukrainian media that the attacks were expensive to keep up, costing the hackers an estimated several thousand dollars a day.
It's not the first time government websites in a former Soviet republic have been disabled by hackers said to be operating from Russia.
Estonia suffered cyberattacks in May amid a row over the relocation of a Soviet-era war memorial, which had angered Moscow and sparked rioting by Estonia's Russian minority.
Estonian officials at the time said the hackers appeared to be operating from computers in Russia. The Kremlin denied any involvement in the attacks.
Rising Russian Nationalism
Rising Russian Nationalism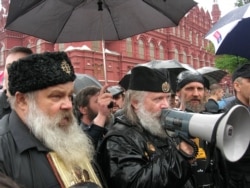 Orthodox believers and nationalists heckling a gay-rights rally in Moscow in May 2006 (RFE/RL)
A THREAT TO CIVIL, RELIGIOUS LIBERTIES: Several leading experts told a briefing hosted by RFE/RL and the U.S. Commission on International Religious Freedom that several mounting trends in Russia are posing a growing threat to human rights, especially for members of the country's ethnic and religious minorities.
LISTEN
Listen to the entire briefing (about 90 minutes):

Real Audio
Windows Media
RELATED ARTICLES
Why Putin Is Going To The Vatican
Bishop Assails Russian Orthodox Church

A thematic webpage devoted to issues of religious tolerance in RFE/RL's broadcast region and around the globe.