Alisher Saipov, an ethnic Uzbek whose reports frequently criticized the authorities in neighboring Uzbekistan, was gunned down in southern Kyrgyzstan on October 24.
Friends have accused Uzbek intelligence of masterminding the murder, and it is unclear what bearing purported ties to outlawed groups would have on an investigation to find Saipov's killer or killers.
Long List Of Accusations
The Interior Ministry said Saipov met with and "regularly" received money from the leader of the militant Islamic Movement of Uzbekistan (IMU), and that he had "close ties" to the banned Islamist Hizb ut-Tahrir.
"It was established that Alisher Saipov had close ties to many people," said Bakyt Seitov, a ministry spokesman. "One of them was the leader of an Uzbek opposition party, Muhammad Solih. [Others are] leaders of Hizb ut-Tahrir, a religious extremist group banned in our country, and also Tohir Yuldosh, the leader of the Islamic Movement of Uzbekistan, with whom [Saipov] had close ties."
The ministry said evidence gathered from Saipov's office included books by Solih -- who is also a prominent poet -- leaflets of Solih's Erk party, and Hizb ut-Tahrir pamphlets and books.
The Kyrgyz authorities also accused Saipov of abetting the escape to Kazakhstan of Qobil Parpiev -- a fugitive identified by Uzbek authorities as a leader in the 2005 unrest in the city of Andijon that prompted a deadly crackdown by security forces.
They also alleged that Saipov had ties to Rashod Kamalov, whose father, the prominent Islamic cleric Muhammadrafiq Kamalov -- also known as Rafiq Qori Kamoluddin -- was killed by Kyrgyz police in 2006 and subsequently accused of ties to banned Islamists.
Spokesman Seitov also said three bullet casings at the scene of Saipov's murder matched others found in the past, and that the perpetrators were already identified and being sought.
IMU Link Rejected
A former IMU member whom Saipov interviewed several times rejected talk of any ties between Saipov and the IMU's leader.
"I have known Alisher since 2005. We met two or three times," the man told RFE/RL's Uzbek Service on condition of anonymity. "But he did not have any contacts with Tohir Yuldosh. He never received financial or any other assistance from Yuldosh. He never met [Yuldosh] and never interviewed him."
As for the "close ties" to the exiled critic of Uzbekistan's ruling elite, Erk party leader Solih says he met Saipov several times. He acknowledges that party members had given Saipov leaflets that urged strongman Uzbek President Islam Karimov to leave office after the upcoming election in December.
"It should be true. We have distributed those leaflets in Uzbekistan. Some of them were given to Alisher for distribution among Uzbeks in Osh," Solih said. "We first published the appeal, 'Your Term Is Over! Leave!' in our newspaper last month. The appeal does not have any criminal connotation; it rather reflected the demand of many people that Karimov's presidential term is over and he must leave office. It is our right to express this demand."
Political Controversy
Many have questioned the Interior Ministry's motive in announcing its initial findings in the case. They include a blunt assessment today by one of Kyrgyzstan's ruling parties.
Prime Minister Almazbek Atambaev's Social Democratic Party suggested that the Interior Ministry had caved in to pressure from Uzbek authorities.
Adil Turdukulov, a member of the party's political council, warned that "good neighborly relations" should not prevent an "unbiased" investigation into Saipov's killing. Turdukulov said the Interior Ministry's press release was "full of biased and politically motivated interpretations," and added that it was based solely on information that was well known to special services long before the journalist's murder.
Turdukulov called on law enforcement to stop "manipulating the findings and misleading the population" and bring the killer or killers to justice.
'Dangerously Popular'
Friends and colleagues suspect that Saipov was killed in response to his numerous articles criticizing Uzbekistan's ruling administration and a popularity that extended beyond Kyrgzystan to neighboring Uzbekistan.
Saipov was an editor of the "Siyosat" (Politics) newspaper, and a Voice of America correspondent and contributor to RFE/RL.
The journalist, a native of the heavily Uzbek-populated region of Osh in southern Kyrgyzstan, had told acquaintances that he thought he was being followed by Uzbek secret service agents.
Oleg Panfilov, who heads the Moscow-based nongovernmental Center for Journalism in Extreme Situations, said he thinks Saipov's murder and the actions of Kyrgyz law enforcement are politically motivated. Panfilov told the independent website ferghana.ru on October 30 that the Interior Ministry's announcement about an ongoing investigation was "unprofessional" and suggested that it might have been a concession to Uzbek authorities.
Daniil Kislov, a former colleague of Saipov's who runs ferghana.ru from Moscow, accused the Kyrgyz Interior Ministry of "deliberately trying to blacken our friend's name." Kislov dismissed allegations that Saipov received money from Islamists, and he wrote that Saipov regarded IMU leader Yuldosh as a "scumbag."
International Condemnation
The European Union today condemned Saipov's killing and credited him with making an important contribution to the promotion of human rights. Brussels called for Kyrgyz authorities to conduct an immediate and thorough investigation into the murder and bring the perpetrators to justice.
Saipov's killing has also been condemned by international rights groups and by UNESCO Director-General Koichiro Matsuura.
In Uzbekistan, state-controlled media has carried numerous reports targeting Saipov in recent months, describing him as an "enemy of the Uzbek nation" who was trying to destablize that country.
Ferghana.ru reported on October 26 that articles on the Saipov shooting on several Uzbekistan-based, Russian-language websites were mysteriously rendered inaccessible.
Uzbek state-run regional television aired a 20-minute program on October 29 that said Saipov served "some evil forces" and was "controlled from abroad."
It is a charge reminiscent of those made against instigators of the public unrest and demonstration that preceded the killing of hundreds of unarmed protesters in eastern Uzbekistan in 2005.
A man identified as political scientist Obidxon Mamatov at Uzbekistan's Namangan State University said that "Saipov worked for Radio Liberty, Voice of America, and the fergana.ru website, in addition to keeping in contact with several other organizations." The man goes on to say that Saipov "met with Uzbek refugees in Iran and Turkey and did other things, too." Mamatov accused those "forces" of trying to manufacture conflict between Uzbekistan and the rest of the world.
(RFE/RL's Uzbek Service correspondents Shukhrat Babajanov and Khurmat Babadjanov, and RFE/RL Kyrgyz Service correspondent Shairbek Mukarramov contributed to this report from Prague and Bishkek)
The Erosion Of CIS Press Freedom
The Erosion Of CIS Press Freedom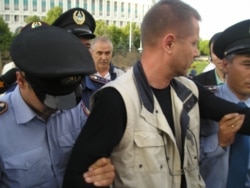 Prominent Kazakh journalist Sergei Duvanov being arrested in Almaty last month (RFE/RL)
FROM BAD TO WORSE. RFE/RL and Freedom House experts held a panel discussion at which they analyzed the erosion of press freedom in many CIS countries. According to Freedom House rankings, in 1994, six of the 12 CIS countries were rated "partly free"; by 2004, 11 of the 12 were rated "not free."
LISTEN
Listen to the entire briefing (about 70 minutes):

Real Audio
Windows Media
SUBSCRIBE
For regular news and analysis on media issues throughout RFE/RL's broadcast area by e-mail,
subscribe to "RFE/RL Media Matters."