The independent website ferghana.ru reported today that all articles on Saipov on several Uzbekistan-based, Russian-language websites became inaccessible. Many of the articles were about possible reasons behind the October 24 killing of Saipov, a prominent journalist based in Osh, Kyrgyzstan.
Saipov, 26, wrote articles critical of both the Uzbek and Kyrgyz governments. He also criticized the growing cooperation between the Uzbek and Kyrgyz governments and wrote that Uzbek intelligence officers were operating freely in southern Kyrgyzstan.
In recent months, Uzbek state media carried numerous reports about Saipov, who was an ethnic Uzbek, calling him an "enemy of the Uzbek nation" and accusing him of destabilizing the situation in Uzbekistan, according to RFE/RL's Uzbek Service.
Saipov was beaten badly in 2005 and had received several death threats ordering him to cease his journalistic practices.
One of the blocked sites, newsru.com, wrote on October 25 that Saipov was considered "Enemy No. 1" in circles close to Uzbek President Islam Karimov.
The office of Kyrgyz President Kurmanbek Bakiev announced on October 25 that Bakiev will personally oversee the investigation into the killing, RFE/RL's Kyrgyz Service reported.
A demonstration was held today in front of the Interior Ministry in Bishkek by journalists and nongovernmental-organization officials demanding that Saipov's killers be brought to justice. A similar demonstration was held on the day before in Osh after Saipov's funeral.
Saipov launched an Uzbek-language newspaper, "Siyosat" (Politics), earlier this year. It became popular soon after it debuted. Saipov also worked as a stringer for the Voice of America.
The Erosion Of CIS Press Freedom
The Erosion Of CIS Press Freedom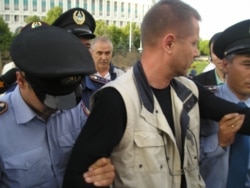 Prominent Kazakh journalist Sergei Duvanov being arrested in Almaty last month (RFE/RL)
FROM BAD TO WORSE. RFE/RL and Freedom House experts held a panel discussion at which they analyzed the erosion of press freedom in many CIS countries. According to Freedom House rankings, in 1994, six of the 12 CIS countries were rated "partly free"; by 2004, 11 of the 12 were rated "not free."
LISTEN
Listen to the entire briefing (about 70 minutes):

Real Audio
Windows Media
SUBSCRIBE
For regular news and analysis on media issues throughout RFE/RL's broadcast area by e-mail,
subscribe to "RFE/RL Media Matters."