But the proposal turned out to be a reiteration of its old position that foreign troops are fueling the instability in Iraq and must leave. Tehran also suggested that coalition troops be replaced with soldiers from neighboring countries -- including Iran and Syria -- a suggestion that was rejected outright by other conference participants, such as the United States and Saudi Arabia.
But Iranian media have suggested that the lack of any new proposal at the conference could simply reflect a realization by Tehran that the only way to improve security in Iraq involves the resumption of direct talks on security between Washington and Tehran.
Many Points, But Little Detail
On the sidelines of the conference, Iranian Foreign Minister Manuchehr Mottaki said that the foreign troops in Iraq are aggravating problems there because of their ignorance of Iraqi culture, society, and history.
He also continued to deplore the creation of "parallel formations" and "dozens of security organizations and formations," presumably referring to private security firms. Mottaki said Iraq's government has minimal decision-making powers and he called for action -- not "ceremonial" meetings -- to help Iraq.
The foreign minister also presented a 14-point plan for Iraq's political and economic regeneration and stabilization. The plan calls for Iraq's government to set a timetable for the departure of foreign troops; for the immediate transfer of "state" powers to the Iraqi government; for Iraqi forces to be in charge of all security issues; for the expulsion of "organized terrorist groups"; and for Baghdad to make agreements with its neighbors on border security.
The terrorists mentioned include the Kurdistan Workers Party (PKK) and the Party for a Free Life in Kurdistan (PJAK) -- Kurdish groups battling Turkish and Iranian forces, respectively -- and the left-wing militants of the Mujahedin Khalq Organization, a group opposed to Tehran and currently based in Iraq with the permission of coalition forces, which has angered Iran.
Other items in the Iranian plan for Iraq are the expulsion of private security firms such as Blackwater; an extensive amnesty for those jailed for offenses committed against the "occupying" forces; and the handover of weapons by "militias" that have "not cooperated with known terrorist groups" and an amnesty for their members or their partial inclusion in Iraqi government forces.
Mottaki's plan also urges regional states to help Iraq with security and other items related to reconstruction and energy provision. It cited the main neighboring powers as Iran, Turkey, Saudi Arabia, and Syria, and included a role for the United Nations.
Certain items are ill-defined, and not for the first time in Iranian policy. Who are the terrorists and who are the militias eligible for amnesty, or the women and children the plan cites as unjustly jailed by coalition authorities?
Iran would surely disagree with Saudi Arabia over the identity of terrorists and militias. The Saudis might take a more benevolent view of some Sunni groups, as Iran has toward Shi'ite militia groups.
Why Was Plan Even Offered?
Iran's plan, as reported by Iranian media, essentially depicts the presence of U.S. forces as the chief cause of insurgency, international terrorism activity, and Sunni-Shi'a hatred. The solution proposed is to seek the help of Iraq's neighbors, but how disinterested are these neighbors? Iranian media are disinclined to report a presumed willingness in the Iraqi government to maintain a U.S. troop presence, or anything suggesting distrust in Iraq of Iranian or Saudi intentions.
In other words, the plan seems almost the sort of "ceremonial" proposal Mottaki said Iraq can do without, unlikely as it is to be implemented or backed by conservative Arab states. If Iranian officials espouse political realism, then this plan lacks conviction -- making it unclear why it was proposed at all.
Iran's government must know the United States will not leave Iraq now and allow Shi'ite and Sunni radicals to fight it out with the discreet or open backing of their respective neighboring patron states. The proposal and response -- as in some other international questions -- touch on wider issues affecting Iran, the distrust it provokes, the distrust it has of Western states and their regional allies, and the international credibility of its system.
The reformist daily "Etemad-i Melli" presented a more realistic view on November 3. It commented that "without a doubt the immediate withdrawal of the U.S. Army would leave the unstable [Prime Minister Nuri] al-Maliki government alone with terrorists and opponents." But the editorial reminded the United States that it could not assure Iraq's long-term security without the cooperation of Iraq's neighbors, and expressed the hope that the Istanbul conference would bring regional states and "influential powers" to cooperate over Iraq.
It may well be a realization of the United States' crucial role in Iraq that has prompted Iranian media to report as much on the possible renewal of U.S.-Iran talks over Iraq as they have about the Istanbul conference. As with dispute over its nuclear program, Iran uses the vocabulary of legalism and constitutionality. But its willingness to talk to the EU -- or in this case to the United States, the world power that it keeps telling to leave Iraq -- shows a willingness to negotiate and presumably compromise behind closed doors in the manner of 19th-century great-power diplomacy.
Reports in Tehran on the resumption of talks with the United States have given an impression that this -- not the Istanbul conference -- is the news of interest to Iranians: the pursuit of contacts with the United States, perceived by many in Iran to be the key to resolving Iran's many problems.
U.S.-Iranian Talks In Baghdad
U.S.-Iranian Talks In Baghdad
Some perspectives on the U.S.-Iranian talks of May 28, 2007, as expressed to Radio Farda.
Mehrdad Khansari, a former Iranian diplomat and analyst who is based in London: "Today the talks with the U.S. have begun but that does not mean that the talks will have reached a result. The Iranian and U.S. governments need to [tell] their audiences that they are not abstaining from talking to each other."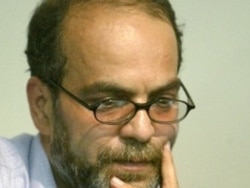 Tehran-based journalist Mashaollah Shamsolvaezin (pictured above): "There is a necessity that has forced the two countries to accept a series of new issues; these new issues are the talks that are going to begin between the two sides and I am hopeful about its future. The U.S. is facing serious [problems] regarding the situation in Iraq, from the other side is Iran facing some threats in the Middle East that come from insecurity in Iraq and also insecurity in Afghanistan. The seriousness of talks depend on the will of both sides and it seems that both sides are determined to seriously deal with issues, therefore I see a positive perspective for the Iran/U.S.talks."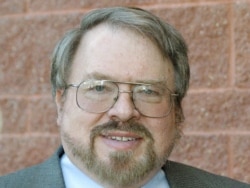 Ted Galen Carpenter, a U.S. foreign policy analyst at the Cato Institute in Washington (pictured above), says he believes the talks can help: "The United States is in a difficult position right now in that the current U.S policy in Iraq simply has not worked at all; and I think we are beginning to cast about for some alternatives and Iran can be at least modestly hopeful in that regard as long as we recognize that Iranian influence in Iraq is going to be inevitably much, much stronger than it was before."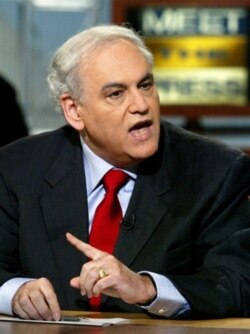 Richard Perle, a former Pentagon official (pictured above) who lobbied forcefully for a U.S. invasion of Iraq: "I don't believe [talking to Iran will] help because I don't believe there is any interest on the part of the mullahs in Tehran in changing the behavior of the government of Iran, which has been -- and I think will continue to be -- to encourage violence and disorder in Iraq."