24.11.2007. After the conclusion of the formal March of Dissent, a group of about 100 apparent supporters of National Bolshevik Party leader Eduard Limonov with black flags emblazoned with the hammer and sickle, along with representatives of the United Civic Front and several people with Union of Rightist Forces flags, begin marching down Sakharov Prospect toward the Garden Ring. They cross the Garden Ring, followed by about 1,000 others who had been listening to the speeches. Seemingly confused police officers run after them.
A column of people chanting "We need a different Russia!" and "Putin, leave!" stretches from the Garden to the Boulevard Ring, where their route to the Central Election Commission building is blocked by OMON special police forces.
Soon another group of OMON forces in buses and paddywagons catches up with the protesters. Myasnitskaya Street is cordoned off. Selective arrests begin.
Minutes later, United Civic Front leader Garry Kasparov, Limonov, and For Human Rights leader Lev Ponomarev catch up with the crowd near the Turgrnevskaya metro station. Organizers of the formal rally on Sakharov Prospect appear intent on carrying a Dissenters' resolution to the Central Election Commission. But the group is immediately set upon by OMON forces and plainclothed special-services officers. Ponomarev is detained and allegedly beaten.
Kasparov is protected by his supporters as police make their first attempt to arrest him. But soon he is swept up and detained along with Limonov and Yabloko youth group leader Ilya Yashin, who was urging protesters to leave the area. Union of Rightist Forces Duma candidate Maria Gaidar is detained as well. All are taken to the Basmanny police station.
After the arrest of the opposition leaders, OMON forces begin a methodical clearing out of Myasnitskaya Street. People leaving the site are sporadically assailed by groups of people dressed in civilian clothes and carrying walkie-talkies. The most indignant among them are arrested. By 3 p.m., Myasnitskaya is completely cleared of protesters and journalists.
Some participants in the March of Dissent -- the United Civic Front's Denis Bilunov and Marina Litvinovych -- manage to deliver the protesters' resolution to an official from the Central Election Commission.
(By RFE/RL Russian Service correspondent Mikhail Sokolov)
Garry Kasparov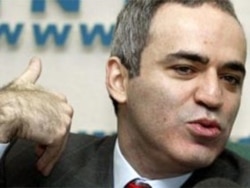 Born: April 13, 1963
Birthplace: Baku, Azerbaijan
Birthname: Garri Weinstein. He took his mother's Armenian surname, Kasparyan, at the age of 12, changing the spelling to Russify it.
Place of residence: Moscow
CHESS CAREER
-- Kasparov began playing chess at the age of 5.
-- In 1976, he became the youngest player in history to win the Soviet junior championship title, at the age of 12.
-- He achieved grandmaster status in 1980 at the age of 17.
-- He was the world's No. 1-rated player from 1984 to 2005.
-- On November 8, 1985, he became the youngest-ever World Chess champion when he defeated Anatoli Karpov at the age of 22.
-- Kasparov's reign as world champion ended in 2000 with a loss to Vladimir Kramnik of Russia.
-- In 1996 and 1997, Kasparov played IBM's Deep Blue computer to a draw, with one match each. In 2003, he played to a 3-3 draw against a top-ranked Israeli computer program called Deep Junior.
POLITICAL CAREER
-- Kasparov, an outspoken critic of Russian President Vladimir Putin, announced his retirement from competitive chess on March 11, 2005, and began to focus on his political career.
-- In May 2006, he became chairman of the United Civil Front of Russia, which he had formed in 2005.
-- He played a key role in establishing Other Russia, a coalition of disparate opposition parties including Kasparov's United Civil Front, the National Bolshevik Party, and the Russian Republican Party.
-- He helped organize the Marches of Dissent in St. Petersburg and Moscow in the spring of 2007, in which several thousand people rallied against the Putin government. Kasparov was one of around 150 protesters detained by police.