The December 16 elections follow nearly three years of bitter confrontation, street protests, and general political turmoil as President Kurmanbek Bakiev and an energized opposition vied for control of the country following what many dubbed the Tulip Revolution.
Western officials are watching the poll closely for signs of backsliding on democracy in a country long considered the most politically open in the region. Russia and the United States, both of which have bases in Kyrgyzstan, are also on the alert for any signs of unrest.
In a nationally broadcast address, Bakiev promised a clean election and said he hoped the new legislature will function "more fruitfully than the previous parliament." The president also accused political opponents of resorting to the kind of open confrontation that led to the unseating of his predecessor.
"When the opposition calls for the takeover of state buildings and a change of authority, what kind of opposition is it? It tastes distinctly of something else," Bakiev said on December 14, answering citizens' questions on state television.
Opposition leaders, meanwhile, accused Bakiev of using intimidation, media manipulation, and procedural obstacles to assure a victory for the pro-government Ak-Jol Eldik (Best Path Popular) Party.
Fraud Allegations
Almazbek Atambaev, leader of the opposition Social Democratic Party, accused the authorities of pressuring citizens to vote for Ak-Jol Eldik and intimidating activists from his party.
"There certainly will be fraud," Atambaev, a former prime minister who was fired by Bakiev in November, told reporters in Bishkek on December 14. "We will not watch idly in case of lawlessness...A number of parties are preparing protests."
Opposition leaders also claim they are being denied fair and equal access to the media. The Ata-Meken (Fatherland) Socialist Party, led by former parliamentary speaker Omurbek Tekebaev, recently took Kyrgyz National Television and Radio to court for not providing equal airtime -- and won.
Democratic watchdog groups praised the ruling as a positive sign.
"Our reaction to this news is that it shows that law exists because the trial was fair," Toleikan Ismailova, head of the Kyrgyz nongovernmental organization Civil Society Against Corruption, told RFE/RL's Kyrgyz Service. "Such news sometimes brings us rare joy. We regarded the Kyrgyz National Television and Radio Corporation's restrictions policy against Ata-Meken and other parties as [officially sanctioned] pressure."
Ata-Meken, which analysts consider one of the strongest challengers to the pro-presidential Ak-Jol Eldik, has also alleged that its campaigners have been harassed in the southern Osh Province. Earlier this week, the party said three of its members were beaten at the party's local headquarters.
Atambaev's Social Democratic Party has run into difficulties of a different kind. Party member and well-known rights activist Edil Baisalov photographed a ballot for the upcoming election and posted it on his website. The Central Election Commission quickly charged that fake ballots could now be made from the posted photo and used to stuff ballot boxes.
The commission ordered the printing of new ballots, and a court ruled this week that the Social Democrats must pick up the $570,000 tab for that process. With his party leadership enraged over the incident, Baisalov has fled to neighboring Kazakhstan.
Meanwhile, Jenish Nazaraliev, who is famous internationally for his radical treatments for drug addiction, withdrew as a candidate from the Asaba (Flag) Party on December 12 after claiming the election was already rigged in Ak-Jol's favor. Nazaraliev, who topped the Asaba party list, said it was a waste of money to continue campaigning when there was no hope of winning.
Odd Rules
Bakiev came to power after mass protests in MArch 2005 over a rigged parliamentary election drove Kyrgyzstan's previous president, Askar Akayev, from power.
Since that time, Bakiev has constantly clashed with lawmakers over cabinet appointments and presidential powers and opposition protests frequently paralyzed the capital, Bishkek.
In October, Bakiev pushed through a referendum changing the way parliament was elected -- scrapping single-member districts with proportional representation by party lists. Under the new system, to win seats in the 90-member parliament, parties must receive five percent of the national vote and 0.5 percent of the vote in the country's seven regions and two largest cities.
Critics say that due to regional and clan leaders' influence over the vote, the rules will prevent opposition parties from winning seats.
Christian Strohal, the head the Office for Democratic Institutions and Human Rights (ODHIR), the OSCE's main election-monitoring body, said the regional threshold is unusual and its effect still unclear.
"In the case of the 0.5 threshold -- which certainly tries to address the regional diversity of the country -- this is new and this is certainly something which we are interested in and which we'll see how this works out," Strohal said. "It's certainly an unusual rule or a regulation which we have to see how this works in practice, this is why we have observers throughout the country."
Dan Malinovich of the International Foundation for Electoral Systems pointed out that both the national and regional threshold are calculated based on registered voters and not on actual turnout -- which could significantly raise the actual threshold and therefore make it even more difficult for parties to win seats in parliament.
"Now to the best of our knowledge and we did some research on this with IDEA and an organization from Sweden, this may for the first time ever that the threshold is calculated from the number of registered voters," Malinovich said. "If the turnout happens to be 50 percent, the threshold will effectively be 10 percent [nationally] and 1 percent [for the regions], respectively."
The pro-government Ak-Jol Eldik is widely expected to win the elections in a landslide. Bakiev formed Ak-Jol Eldik in mid-October, saying that since the opposition parties were "blackening the government's reputation" it made sense to establish one party to "support the government." Bakiev then suspended his active participation in the party's affairs to abide by a constitutional requirement to keep the presidency nonpartisan.
In addition to Ak-Jol Eldik and the opposition Social Democrats and Ata-Meken, nine other smaller parties are running in the elections, but are given little chance of winning seats.
(with RFE/RL's Kyrgyz Service, agencies)

Kyrgyz Voices
RFE/RL's Kyrgyz Service on April 12 asked participants in the protest rally on Bishkek's Alatoo Square why they had come out into the streets.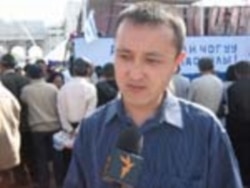 Cholponbek, a youth group member from Bishkek:
"We want to change the political system and to build the worthy future for young people. That is why we came here."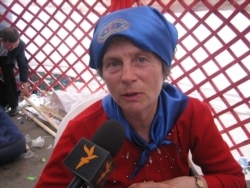 Tatyana Nikolaevna, an ethnic Russian pensioner from Kaiyngdy, Chui Oblast:
"I came here to seek fairness. I was taken to the court and accused of mudslinging."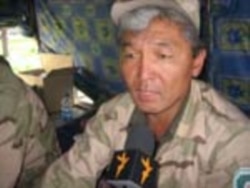 Turatbek, an Afghan War veteran from Bishkek:
"To improve the life of the people, we must change the constitution. We demand an early presidential election."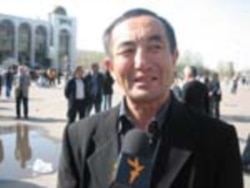 Mambetimin, NGO representative:
"If Bakiev was able to keep his promises and make reforms people would not come to the street. But he hasn't done anything and it forced people to come to the rally. We are strongly against the current government"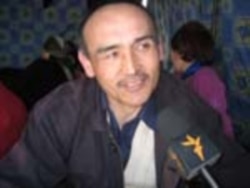 Kamchybek, unemployed from Bishkek:
"We must change the existing system. This is very important."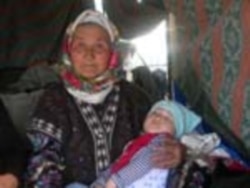 Kakan-apa, pensioner from Talas District, Talas Oblast:
"I came here to express my concern about the demolition of the Kulov-Bakiev tandem. I'm a mother of 10 children, with 30 grandchildren, and I am very much worried about their future."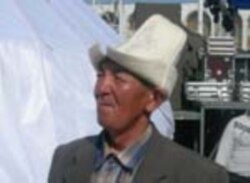 Kudaibergen, Naryn district of Naryn Oblast:
"If Bakiev is following Akaev's path, then let him go away. Otherwise, he should take care of people and raise the youth. The future belongs to the young generation."
ARCHIVE
RFE/RL's coverage of
Kyrgyzstan
. The Kyrgyz-language website of
RFE/RL's Kyrgyz Service
.