There are nine total candidates participating in the race, but polls indicate the ballot comes down to a contest between Tadic and Nikolic.

Neither man is likely to garner the 50 percent needed to secure a first-round win. Many observers are already looking ahead to a probable runoff on February 3.

The two candidates are dramatically different. Incumbent Tadic is seen as the heir to Zoran Djindjic, the dynamic, reformist prime minister, assassinated in 2003, who set Serbia on a new pro-Western course after the fall of Slobodan Milosevic.
Enticement Of Europe
Some polls indicate as many as 70 percent of Serbs favor EU integration. In an interview with RFE/RL's South Slavic and Albanian Languages Service, Tadic says he is confident the country will remain on its Western course despite efforts by his election rivals to paint the EU in a negative light.

"I'm convinced that the presidential campaign won't reverse the political process in Serbia -- in other words, Serbia is not going to stray from the European path, because we don't have an alternative," Tadic says.

Nikolic, who heads the Serbian Radical Party, favors closer ties with Russia, and says that, if elected, he will offer Moscow the use of military bases on Serbian territory. He has also pledged to make Radical Party founder Vojislav Seselj, currently on trial for war crimes at the UN tribunal in The Hague, his prime minister.
"[Kosovo is] a hugely emotional issue, for historical, traditional, and cultural reasons -- because of ancestry and orthodoxy, and also because of the sacrifices the Serbian people have made for Kosovo. I can't even explain to myself what attaches me to Kosovo and what it would mean to me if Kosovo would break from Serbia." -- Tomislav Milenkovic, economist in Belgrade
At the same time, Nikolic has acknowledged Serbia's EU inclinations and says he too would back greater integration -- were it not for Brussels' position on the critical issue of Kosovo, the Albanian-majority province that is set to declare independence from Serbia in a few weeks' time. "There are lines," he says, "that no self-respecting state or nation can cross."

"Nobody has asked Serbian citizens if they want to enter the EU if the EU takes Kosovo away from them. Everyone surveyed is in favor of EU membership. I'm also in favor of EU membership," Nikolic explains. "But there are conditions that we can't satisfy. One is giving away our territory. Citizens should be informed about this."

Nikolic laments that "nobody has told [voters] openly and clearly -- we can enter the EU, but we have to give Kosovo away to do it," adding that Tadic avoids the issue "because the citizens of Serbia are not willing to accept it."

Claiming he is the only candidate willing to make a stand, Nikolic says, "I am for the EU, but the EU should accept that Kosovo will remain in Serbia. I will admire those who sign that kind of an agreement."
Who Loses Kosovo?
The issue of Kosovo's anticipated independence declaration looms large over the Serbian elections. Of the nine presidential candidates, only one -- Cedomir Jovanovic of the Liberal Democrats -- supports independence for Kosovo.
Although Kosovo independence is widely accepted as inevitable outside the Balkans, inside Serbia, officials continue to present the issue as far from resolved -- adding to worries that the ultimate winner will be burdened with the legacy of "the leader who lost Kosovo."
Kosovo, which has functioned as a UN protectorate since NATO's 1999 bombing campaign to force the withdrawal of Serbian forces from the territory, is a deeply emotional issue for some Serbs, who see the province as an inseparable part of their country.
"Serbs are emotional people, we follow our heart," Sasa Budimovic, a shipper, tells RFE/RL in Belgrade. "Kosovo is an integral part of Serbia. We were born in a country where Kosovo was an integral part. Kosovo is a part of us; it can't be cut off so easily."
"The majority of our politicians have used the media and their public speeches to exaggerate the importance of the Kosovo issue for the Serbs. These are all myths, but people become emotionally attached to such myths." -- Tanja Matic, NGO activist in Belgrade
Others, such as Danijela Varsakovic, a hairdresser in Belgrade, "don't have a problem with it."

"I have no problem accepting the secession of Kosovo," she tells RFE/RL. "I don't understand people who attach themselves to Kosovo emotionally, I really don't."

In practical terms, the powers of the presidential post are limited. The president can neither dissolve the government nor determine foreign policy. But the outcome of Sunday's vote is important in determining the composition of the future parliament.

Currently, the ruling coalition is a fragile partnership between Tadic's Democratic Party and the Democratic Party of Serbia (DSS) of Prime Minister Vojislav Kostunica.

Kostunica takes a far more stringent line on Kosovo and the EU than Tadic. The prime minister has made clear he will back neither Tadic nor Nikolic in a first round, and has refused to commit to a candidate in a potential second round.
Expect Another Round
Should Nikolic win, a future ruling coalition would likely be made up of the Radicals and Kostunica's DSS. Such a grouping would mean a definitive step back from the West and stronger ties with Moscow.

But RFE/RL Balkans analyst Patrick Moore says the outcome of a second round is nearly impossible to predict. Despite the prominence of political issues such as Kosovo and the EU in the current race, he adds, many voters may have bread-and-butter issues in mind as they head to the polls.

"I really think it's anyone's call right now," Moore says. "There are so many variables and we should also remember that -- besides the Kosovo issue, which has been widely publicized abroad -- Serbia has a very high poverty rate, and even those who are above the poverty line often have difficulties making ends meet."

Such realities, Moore predicts, means "voters are likely to be swayed not just by Kosovo and other nationalist issues, but by their economic concerns and how they perceive Tadic and Nikolic as being able to deal with them."
(RFE/RL's South Slavic and Albanian Languages Service contributed to this report.)
Between The EU And Russia
Between The EU And Russia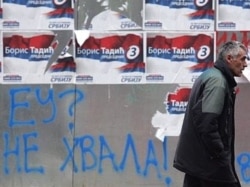 'EU? No thanks!' (AFP)
SERBIA'S FUTURE. With many observers seeing this presidential election as a referendum on Serbia's EU ambitions, RFE/RL asked Belgrade residents ahead of the first-round vote whether they saw their future with Europe or with Russia, and why the Kosovo issue was such an emotional one for Serbs.

(see Photo Gallery)