Kosovo's parliament is widely expected to declare independence from Serbia on February 17, but it will be a statehood subject to tight European Union supervision and -- due to Russia's threat to use its Security Council veto -- one lacking formal UN recognition.
Moreover, Belgrade's sway over communities with ethnic-Serbian majorities in Kosovo's north means that even after independence, ethnic-Albanian leaders will lack true control over all of their own territory. And while the United States and most EU member states are widely expected to recognize Kosovo's independence, Serbia and Russia will not.
Analysts familiar with the situation say this continued ambiguity of Kosovo's status does not bode well for stability in the restive Balkan region. Additionally, the hostility Kosovo will face in its own backyard means it will be overwhelmingly dependent on outside assistance and protection.
"It is a very bad thing to start your history without recognition by your biggest neighbor and your biggest security threat. It is a very bad thing," says Daniel Serwer, the vice president of the Center for Post-Conflict Peace and Stability Operations at the U.S. Institute of Peace.
Serwer, a former U.S. diplomat who served as an envoy to Bosnia-Herzegovina in the 1990s, adds that Kosovo "won't be members of the [UN] General Assembly and therefore won't have the ultimate membership card in the club of sovereign states," which will lead to continued ambiguity about their status -- and possible instability.
"The most important thing it means is that in Serbian eyes, the Kosovo issue will still be open, which will continue to strengthen nationalist forces in Serbia," Serwer says. "In Kosovo, what it means is that they're going to be relying on [Western assistance and protection] much more than we want them to or that is healthy for them. So, we're locking ourselves into a long-term commitment."
The Inner Courtyard Of EU, NATO
In essence, Kosovo will go from being a UN protectorate to an EU protectorate -- in an increasingly hostile neighborhood.
In anticipation of the expected independence declaration, the European Union is preparing to send approximately 2,000 police, judges, and civil administrators to the province. The EU team is to replace the existing UN mission by June.
Tim Judah, the Balkans correspondent for Britain's "The Economist" weekly and author of the book "Kosovo: War and Revenge," says despite the long odds, the EU mission's success is vital for Brussels.
"Look at the map, look at the location. This is not on the periphery of Europe. This is in the inner courtyard of NATO and EU territory. This is right in the middle," Judah says.
"Life will be difficult. There will be turbulence. There will be problems. But it ain't somewhere out there on the edge of the Black Sea. It is totally surrounded by EU territory. And therefore, it is in the EU's interest -- and that is a very powerful bloc of 500 million people and 27 states -- not to let this fail."
The mission, and the thorny issue of diplomatic recognition, however, are highly controversial among EU member states.
EU foreign ministers are scheduled to hold their regular monthly meeting on February 18 in Brussels, and are expected to discuss recognition for Kosovo. Media reports citing unidentified EU officials say the ministers will likely leave it to individual states to make their own decisions about recognition.
Citing unidentified EU diplomats, Reuters reported that six countries -- Cyprus, Greece, Romania, Bulgaria, Slovakia, and Spain -- are not planning to immediately recognize Kosovo.
The length of the EU mission and the powers it will enjoy are still unclear. But many Balkan watchers expect it to last a very long time. "Basically, the thing to keep in mind is that it could take a number of decades," says James Lyon, a Belgrade-based Balkan expert with the International Crisis Group.
"If the international community thinks it is going to take less than a number of decades, they are probably kidding themselves," Lyon adds. "And we need to ask, how long were the allied powers in Europe, in Germany, after World War II. This is the type of engagement we need to be thinking about here, long-term, in the Balkans."
Northern Exposure
Brussels hopes UN Secretary-General Ban Ki-moon will endorse the mission, thereby lending it broader international legitimacy. But Russia, which is blocking recognition of Kosovo by the Security Council, has been pressuring the UN chief not to do so.
Speaking at a press conference in Moscow on February 14, Russian President Vladimir Putin reiterated the Kremlin's opposition to Kosovo's independence.
"We think that support for a unilateral declaration of Kosovo's independence would be immoral and illegal. The territorial integrity of states is embedded in the founding principles of international law," Putin told journalists.
After declaring independence, Kosovo's parliament is expected to get down to work on a series of laws recommended in a report by UN envoy Martti Ahtisaari last year. Ahtisaari's plan, which was rejected by Serbia, calls for "supervised independence" for Kosovo.
Kosovar lawmakers are expected to choose a new flag, national anthem, and crest. Additionally, they are due to pass a series of measures giving Serbian-majority provinces in northern Kosovo a large degree of autonomy, as well as legislation protecting religious sites.
"The core of the thing is really a decentralization. And the decentralization envisions that Serbian areas would have a kind of autonomy," Judah says. "And not only would they have autonomy, they would be able to have special links among themselves and special links to Belgrade."
But it appears that Belgrade is already building those links on its own.
Serbia has opened a government office in Mitrovica in northern Kosovo to oversee public services. Kosovar Serbs are planning to establish their own "assembly" in the northern Mitrovica region.
Many analysts believe that if such trends continue, Kosovo could be heading for a de facto partition. "What you will have is that a vast majority of the people and the larger part of the territory will be sort of moving on to a new phase, while the Serbian areas will stay as these de facto parts of Serbia," Judah says.
Serbian Catharsis?
Lyon of the International Crisis Group says that in terms of EU integration, the drawn-out uncertainty over Kosovo has been "holding up the entire region for quite some time" by dominating the agenda. It is also causing concerns about security.
Likewise, Biljana Vankovska, a professor of international relations at Skopje University in Macedonia, tells RFE/RL's South Slavic and Albanian Languages Service that other former Yugoslav countries are concerned about possible instability, and are likely to feel pressure from Serbia not to recognize Kosovo.
"Some destabilization, or even an intentionally provoked destabilization, cannot be ruled out," Vankovska says. "For the sake of internal peace and stability, Macedonia has to support the new Kosovo state and we are likely to be one of the first states to recognize Kosovo. But on the other hand, there is a fear that because of that we will come under pressure from Serbia, which may be a problem because of our dependence in the energy sector."
The apprehension, uncertainty, and fear of instability will of course remain as long as Kosovo's status remains an open question for Serbia -- and judging from the comments coming out of Belgrade, it will remain open for some time to come.
But as Lyon points out, sooner or later Belgrade will need to face the new reality. He says Kosovo's status "will be an open question" for Serbia, "but there will also come a moment of catharsis. I am under the impression that, no matter how emotional and traumatic an issue it is, most Serbs realize somewhere deep in their hearts that it is lost and that it was lost in 1999 by [former Yugoslav leader Slobodan] Milosevic."
(RFE/RL's South Slavic and Albanian Languages Service contributed to this report.)
Kosovo's Uncertain Future
Kosovo's Uncertain Future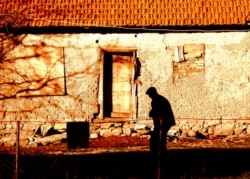 An ethnic Serb silhouetted against his home in the ethnically divided town of Caglavica. (Photo by Valentinas Mite)
In December, RFE/RL correspondent Valentinas Mite traveled to Kosovo, where he photographed the everyday realities that underlie the emotionally charged debate surrounding the region's ethnic divisions.

Click here for a slideshow of images from Kosovo.