Armenia: Polls Close Amid Allegations Of Voting Irregularities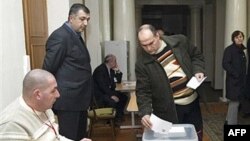 Voting in Yerevan (AFP) Even before polling stations in Armenia closed at 8 p.m. local time, candidates were lodging complaints of voting irregularities.
The most vocal were the two leading opposition candidates -- former President Levon Ter-Petrossian and former parliament speaker Artur Baghdasarian.

After casting his vote in central Yerevan, the self-nominated Ter-Petrossian told RFE/RL that the election was fraught with violations, and predicted a first-round victory.

Asked if he was happy with the way voting is going, Ter-Petrossian said, "No, according to my information, a lot of bad things are taking place."

Later in the day, Ter-Petrossian's campaign secretary, Arman Musinian, expounded on the allegations. In addition to widespread cases of ballot-box stuffing and vote buying, he also claimed that dozens of the former president's supporters were beaten or intimidated at numerous locations in Yerevan.

Separately, the campaign headquarters of Orinats Yerkir (Law-Based State) candidate Baghdasarian issued a statement in which it complained of voter intimidation and ballot-box stuffing and called on law enforcement authorities to investigate.

There are also reported incidents of attacks on journalists.

Ahead of the vote, Ter-Petrossian had vowed that he would rally his supporters to take to the streets for peaceful protest on February 20 in the event of vote rigging.

After casting his vote at a public school early on February 19, leading candidate Serzh Sarkisian, who is the sitting prime minister and has received the backing of current President Robert Kocharian, said the integrity of the elections superceded the results.

"For me, the most important thing is that these elections go well, and that people trust the results that emerge," Sarkisian said. Regardless of "whether it's the first or second round."

A first-round victory would require more than 50 percent of the vote. Going into the election, such a result was viewed as a possibility for Sarkisian, while Ter-Petrossian and Baghdasarian were seen to be fighting for second place, which would place them against Sarkisian if the election were to go to a second round.

Ahead of the vote, Tom de Waal, Caucasus editor for the London-based Institute For War And Peace Reporting, said the outcome of the election and the possibility of protests was difficult to predict.

"I think it's actually quite a worrying situation in Armenia, because I think the opposition will probably not accept a Serzh Sarkisian victory in the first round, and I think they are already preparing to demonstrate against this," de Waal said. "And so it's quite an unpredictable situation."

Welfare and social issues were the main domestic issues addressed by candidates during the campaign.

Sarkisian touted the country's double-digit economic growth, in contrast to the dismal economy during Ter-Petrossian's reign as Armenia's first post-Soviet president.

Ter-Petrossian, meanwhile, targeted widespread corruption, and promised a better and transparent future for a country in which more than one in four people lives below the poverty line.

The status of the disputed territory of Nagorno-Karabakh, over which Armenia and Azerbaijan fought a bloody war from 1988-94, was also a hot-button topic. Ter-Petrossian and Sarkisian have long-standing differences over how to tackle the issue of formally resolving the conflict.

The issue has gained traction among voters after another so-called "frozen conflict," that between Serbia and Kosovo, entered a new phase with Kosovo's declaration of independence on February 17.

The initial results are expected on February 20, and the final results must be released within seven days of the vote.

The vote is being monitored by hundreds of observers from the Organization for Security and Cooperation in Europe (OSCE) and the Commonwealth of Independent States (CIS), as well as dozens of monitors from the Council of Europe and other organizations. The OSCE observers will give their assessment on February 20.

As polls closed, the latest figures indicated that voter turnout was just over 57 percent.