The former deputy editor in chief of the "Zhoda" newspaper confirmed his release in a telephone conversation with RFE/RL within hours of a closed-door meeting at which the Supreme Court shortened his sentence from three years to three months.
"I was asked to leave my cell with all my belongings," Zdzvizhkou said. "I thought they might have decided to transport me to the [penal] colony. Later, it became clear that I was being processed for release." He added that rather than releasing him directly, authorities put him in a vehicle with tinted windows and, over his objections, drove him to a train station.
Zdzvizhkou was sentenced on January 18 but had been in detention since his arrest in November.
He complained that his incarceration had left his "hearing and sight deteriorated" and he had lost "half his teeth." He added that he was "feeling unwell" after his release and that "paramount for me now is to regain my health."
Zdzvizhkou was convicted of "inciting racial, national, or religious enmity or discord" after his newspaper reprinted controversial cartoons of the Prophet Muhammad. His former newspaper, "Zhoda," was ordered closed after the publication of those cartoons in 2006.
Zdzvizhkou's lawyer, Maya Alyaksandrava, told RFE/RL that the Supreme Court made the decision based on the "extraordinary circumstances" of the case, but did not elaborate.
"I had hoped for such a decision, but it was only a very slim hope," the journalist's mother, Hanna Zdzvizhkova, said upon hearing of his imminent release.
Prisoners Of Conscience
Zdzvizhkou is one of several Belarusians considered to be political prisoners by Western governments and human rights groups. In recent weeks, at least four such prisoners of conscience have unexpectedly been set free by court rulings or extraordinary decrees by President Alyaksandr Lukashenka.
Opposition leader and former lawmaker Andrey Klimau was released from prison on February 15 after a presidential decree, which he said came as a "complete surprise." He had been serving a two-year jail term that started in August for insulting the president and calling for revolution in an article posted on the Internet.
Two student activists, Artur Finkevich and Zmitser Dashkevich, both leaders of the Youth Front opposition movement, have also been released from prison or "light confinement" in detention facilities since the beginning of the year.
Jan Maksymiuk, the acting director of RFE/RL's Belarus Service, said Lukashenka looks to be responding to the European Union's demand that Belarus release political prisoners if it wants dialogue with the West. "Everything depends on one man in Belarus," Maksymiuk said.
The release of political prisoners has been at the top of the EU's list of conditions for Belarus to meet before it can expect improved relations with the bloc.
The Supreme Court's decision to release Zdzvizhkou came one day after the European Parliament on February 21 unanimously adopted a resolution calling on the Belarusian authorities to release Zdzvizhkou and another political prisoner, former presidential candidate Alyaksandr Kazulin. Kazulin is currently serving a 5 1/2-year prison term for organizing antigovernment demonstrations in the wake of the 2006 presidential election, .
Zdzvizhkou is the head of the Belarusian Social Democratic Party, or Hramada, the body that founded the "Zhoda" newspaper.
The European Parliament resolution has welcomed the recent releases but condemns new measures taken against opposition activists who have participated in peaceful demonstrations, some of whom have been jailed or expelled from university in recent weeks.
(RFE/RL's Belarus Service contributed to this report.)
Belarusian Political Prisoners
Belarusian Political Prisoners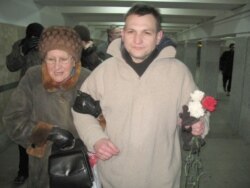 Andrey Klimau after his release on February 16

A number of Belarusian prisoners have been freed unexpectedly in recent weeks by court decisions or special presidential decrees. They include a journalist, a politician, and student activists, but they have one thing in common; all were considered by Western governments to be prisoners of conscience.

See slideshow of Belarusian political prisoners