His wife, Iryna, died on February 23 after a long battle with breast cancer.
Kazulin had said that he would starve himself to death and be buried together with his wife. A person on "dry" hunger strike usually lives no longer than a week. It was Kazulin's second hunger strike since he was jailed in July 2006 for staging antigovernment rallies.
Belarusian law permits prisoners to be temporarily released for funerals of family members. But the warden of the prison in Vitsebsk where Kazulin is being held had said that Kazulin is guilty of several conduct violations and will not be permitted to leave without special permission from Minsk.
Many Belarusians spoke out in support of Kazulin being released. "A lot of people are calling from the regions and saying they are ready to converge in the capital for a political protest," Kazulin's former lawyer, Ihar Rynkevich, told RFE/RL's Belarus Service. "But we are urging them not to do this because we are confident that authorities will have the sense to respect the law and that Alyaksandr Kazulin will be able to visit his family."
Kazulin is serving a 5 1/2-year sentence for organizing antigovernment protests following the March 2006 presidential election, in which he ran unsuccessfully against President Alyaksandr Lukashenka.
International Outcry
His first hunger strike, held shortly after his detention to protest Lukashenka's authoritarian rule, lasted 53 days.
Kazulin's supporters are keeping a particularly keen eye on his fate since he is now Belarus's last political prisoner, despite an international outcry and concerns over his health.
Over the past few weeks, authorities have unexpectedly released six detainees regarded by Western states as prisoners of conscience -- businessmen Yury Lyavonau and Mikalay Autukhovich, opposition youth activists Artur Finkevich and Zmitser Dashkevich, journalist Alyaksandr Zdvizhkou, and opposition politician Andrey Klimau.
The most recent to walk free was Zdvizhkou, who was released on February 22 after three months in prison. He had been sentenced to three years' imprisonment in connection with his newspaper's republication of controversial Danish cartoons of the Prophet Muhammad.
"My health is not good. I had severe flu, almost without medicine, which affected my hearing. I want to undergo tests and restore what I can. I lost half my teeth."
Zdvizhkou has said that his short stay in prison was enough to seriously damage his health.
"My health is not good," he says. "I had severe flu, almost without medicine, which affected my hearing. I want to undergo tests and restore what I can. I lost half my teeth."
Belarusian officials have yet to provide precise motives for the early releases.
Finkevich, a leader of the opposition Youth Front organization, who was jailed for writing political graffiti, says his release likely fits into Lukashenka's efforts to seek rapprochement with the West.
"Youth Front activists and people concerned about my fate protested every day in my defense," he said. "Salidarnasc, the Committee of Defense of the Repressed headed by Alyaksandr Milinkevich and Ina Kulay, worked through diplomatic channels and lobbied for this decision. It can also be interpreted as an attempt by Lukashenka to make concessions to Europe."
Western Pressure
Brussels and Washington have consistently urged Belarus, described by many as "Europe's last dictatorship," to free its political prisoners and put an end to the repression of dissidents. Persistent human rights violations have led Western countries to slap sanctions on Belarusian officials and enterprises.
Lukashenka obviously expects to be rewarded for the releases, which he has himself described as a "goodwill gesture." After the first detainees walked free earlier this month, the Belarusian leader said it was now "the turn of the European Union to show its good intentions."
Lukashenka's regime has taken other steps signaling a desire to make up with its foes in the West.
Lukashenka this month gave the European Commission the green light to open a branch in Minsk, approval the commission had been waiting for since 2005. Belarus also softened its public stance on NATO, with Defense Minister Leanid Maltsev stating that the military alliance's eastward expansion posed no threat to the country.
But EU officials, who are believed to have lobbied for the release of individual prisoners, insist that any "good intentions" will come only after Belarus frees all political prisoners, including Kazulin.
"Yes, this is a step in the right direction. But nevertheless it is not sufficient," says Christina Gallach, the spokeswoman for the European Union's foreign-policy chief, Javier Solana. "What matters now is that all political prisoners are released. This is what will prompt the European Union to progressively normalize relations."
Eugeniusz Smolar, a political analyst at the Warsaw-based Center for International Relations, says Belarus will have to take more radical reforms to win Western trust.
"We need to remind ourselves of the policies of the Soviet regime before 1989," he says. "There were ups and downs, there was a time when people were jailed and then a time when people were released without major policy changes. However happy we are that people are no longer in jail, we need to look not at individual cases but at whether consistent policies are taking place toward liberalization, freedom of the media, freedom of association."
The latest developments in Belarus have sparked speculation of a new chill in Lukashenka's once-warm ties with Moscow.
The outcome of talks this month between Lukashenka, Russian President Vladimir Putin, and Putin's chosen candidate in the March 2 presidential election, Dmitry Medvedev, remains unclear.
But energy issues are very likely to have topped the agenda. Medvedev, who chairs Russia's gas monopoly, Gazprom, has a record of showdowns with Lukashenka that culminated with Gazprom briefly cutting natural-gas deliveries to Belarus in January 2007.
Russia's ambassador to Belarus, Aleksandr Surikov, has pledged that his country will raise natural-gas prices for Belarus by no more than 10 percent this year. But in a recent interview with Russian television, Lukashenka claimed Gazprom is threatening to double gas prices.
Minsk and Moscow are also embroiled in an ongoing quarrel over a planned joint union state between the two countries, with Belarus refusing to give up any of its sovereignty.
Both issues may be pushing Lukashenka to consider warmer ties with the West. But severing ties with Moscow altogether is not an option, according to Konstantin Zatulin, a pro-Kremlin State Duma deputy who heads the Commonwealth of Independent States (CIS) Institute.
"There is no doubt that Belarus is seeking to build bridges with Europe," says Zatulin. "But this is nothing more than an ordinary game aimed at raising one's own stakes. In reality, Belarus cannot afford to turn down Russian energy or any other forms of ties with Russia."
Kazulin's case will put Lukashenka's drive to mend fences with Europe and the United States to the test this week.
Belarusian Political Prisoners
Belarusian Political Prisoners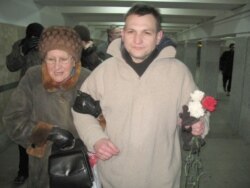 Andrey Klimau after his release on February 16

A number of Belarusian prisoners have been freed unexpectedly in recent weeks by court decisions or special presidential decrees. They include a journalist, a politician, and student activists, but they have one thing in common; all were considered by Western governments to be prisoners of conscience.

See slideshow of Belarusian political prisoners